French District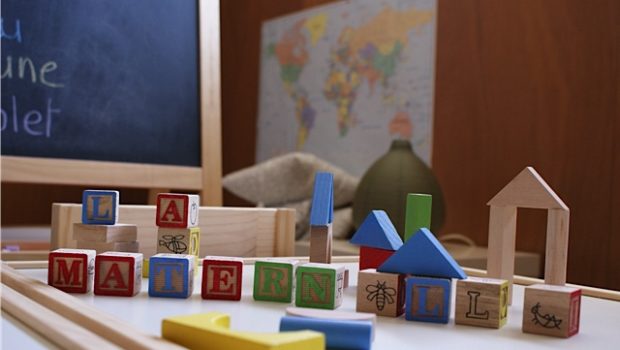 Published on July 11th, 2014 | by Isabelle Karamooz, Founder of FQM
0
A new French Preschool in Daly city
Francophone and Francophile parents in the Southwestern part of San Francisco, in Daly City, are lucky. The district will be hosting « La Maternelle. » It is a school that offers education in French for children from 3 to 5 years of age.
« La Maternelle » is the story of a mother who wanted to give her two year-old little girl an education in French. But, with the lack of options, she decided to open a kindergarten. A project for which Virginie Arbusto resumed her studies at City College in San Francisco to obtain her diploma in Child Development.
Implemented by Virginie and a teacher from Monaco, this school offers « a full immersion program that is the best way to learn a foreign language at a young age, » says Virginie Arbusto. The program offers academic teaching, without neglecting the teaching of language through artistic awareness. "Art, music, drawing, singing, gardening, free games, disguise, walks" will be part of the offered activities, she said.
« La Maternelle » seeks, at least, six children in order to open the class at the beginning of September and aims to grow in the future. "A young French woman, who is on training, needs to join me quickly," said Virginie Arbusto. Registration is now open and Virginie is ready to welcome all children in her kindergarten.
For more information, visit the website of « La Maternelle » :
www.frenchmaternelle.com
How to find remedies online? So it's no wonder that online pharmacies is becoming more pops over the last years. Few remedies are used to treat impotence. Topics such as "buy sildenafil citrate online" and "sildenafil 50 mg price" are so pop now. This article focuses on the evaluation of erectile dysfunction and "sildenafil citrate side effects". Of all the matters in the field of healthcare that pique our note most, it's sexual heartiness problem, notably "undefined". Low self-esteem, venous leak, some diseases, and specific medicines can reduce your sex drive. Stress affects all sides of existence including sex drive. People must always ask physician for professional advice about Viagra. Keep in mind online pharmacy which is prepared to sell such medicaments like Viagra without a valid formula is fraudulent. When you get from an unknown company, you run the risk of getting counterfeit drugs.