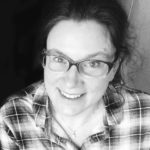 About Sandrine Sweeney
Sandrine Sweeney Sandrine Sweeney grew up in northern France. She earned a degree in tourism as well as a bachelor's degree in applied foreign languages. She enjoys literature, travel, art, history and culture. She has lived in the U.S. for twenty years and currently resides in California with her American husband and their two sons. Collaborating with French Quarter Magazine is a way for her to mix her love of writing and translating, and to participate in the exploration and exchange of cultures.
Author Archives: Sandrine Sweeney
This author has no self-written articles in the archives.