Art & Photography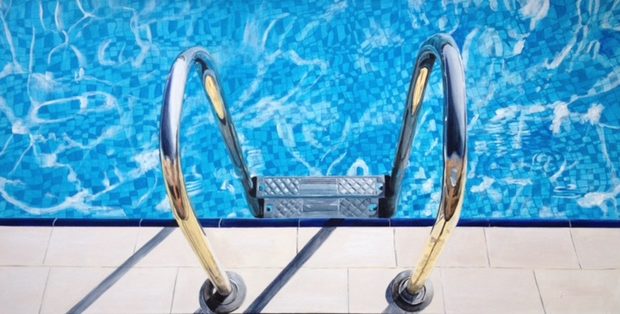 Published on July 11th, 2017 | by Isabelle Karamooz, Founder of FQM
0
[:en]Interview of Laurence de Valmy, a French contemporary artist in New York[:fr]Interview de Laurence de Valmy, artiste francaise contemporaine sur New York[:]
[:en]
I am happy to welcome Laurence de Valmy, an artist whose paintings seduced me at first glance! I discovered an artist not only of great talent but also very generous. In early April 2017, Laurence joined the ESKFF, the foundation of the art collector Eileen Kaminsky, and one of Mana Contemporary's two artist residencies in Jersey City, New Jersey. She was awarded a three-month studio space at this renowned art institution. In the United States, private foundations often finance these residencies and they allow local and international artists to devote themselves entirely to their artistic project. Laurence gave us some time between two brush strokes and the preparation of her next exhibition, opening in July in New York, to answer our questions. 
French Quarter Magazine: Hello Laurence de Valmy, can you introduce the artist painter that you are in a few words?
Laurence de Valmy: I am a French figurative painter. My main objective is to be able to create and share colorful snapshots in order to provoke a positive feeling in the viewer. Having a fairly positive vision of life, I want to be able to convey this feeling through my paintings.
French Quarter Magazine: What, in your opinion, has led you towards painting rather than another mode of expression?
Laurence de Valmy: I've tried other modes of expression … I did some music but I never had this impression of alignment that I have with painting. So I was never really tempted by anything else. Other artists will prefer dance, music, etc. For me, it's painting. Besides, my mother is also a painter so I guess it was a very natural choice!
French Quarter Magazine: Does your life and its stages influence the direction of your work and how?
Laurence de Valmy: I came to be a full time artist after different steps. I started painting when I was a teenager. After high school, I did an MBA, which led me to a career in the corporate world, and I continued to paint in parallel. In 2003, I took a sabbatical and went to the United States where I devoted myself entirely to painting. This American stay allowed me to discover American contemporary realism that was born a little after Pop Art. Both of these movements have influenced my work and what I do today. Back in France, between my career and founding a family, I had less time for my artistic work. In 2013, my husband and I decided to come back to live in the United States and with this change of life, I had the opportunity to get back to it. So yes, my life has necessarily influenced my journey.
French Quarter Magazine: How would you define your artistic work? What do you say about your work to a person who has never seen them?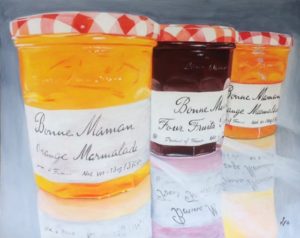 Laurence de Valmy: I make positive paintings because my conviction is that our mood is influenced by what we see. If we can admire beautiful things, we have a greater sense of peace. More recently, I developed the POST series on which I worked for the ESKFF residency, which revisits art history through imagined Instagram of famous painters, combining a painting and dialogues between an artist and his friends. Through this work of appropriation, my objective is both to share my passion for art and to invite my viewers to rediscover those artworks so famous and part of our cultural heritage that we almost end up not seeing them anymore.
French Quarter Magazine: With which artist would you like to have a discussion? And why?
Laurence de Valmy: If I choose among living artists, it would be David Hockney! He is someone I admire a lot, for his artistic work, his vision of life and his wide knowledge of art history. He is a very literate man who has written extensively on art and its evolution. For example, he wrote a great book on the study of the techniques used by the great masters of the Italian or Dutch Renaissance (ed: Secret Knowledge: Rediscovering the Lost Techniques of the Old Masters). He demonstrates how these painters used the darkroom, which explains the level of precision they obtained. It is someone who really has an impressive wide knowledge and I love his very colorful and very positive paintings.
French Quarter Magazine: In your opinion, when does an artist, a photographer, a musician, a painter become an artist?
Laurence de Valmy: I believe we can all be artists at any time of our lives and for example nowadays, with a smartphone, we can all transform a banal everyday shot into something very beautiful. From the moment when what you create allows you to express something, I think you're an artist. Obviously, one must not confuse being an artist, do artistic things and make a living from it. That is indeed something else. My belief is that the need to create is innate: the cavemen painted on the walls when they had barely satisfied their basic vital needs of eating, having warmth and being safe. In my opinion, this desire to create has always existed, and throughout all civilizations, simply more or less according to individuals.
French Quarter Magazine: What exhibition of another artist has left you the biggest impression?
Laurence de Valmy: It's not really an exhibition of one specific artist but I have a very striking memory of my first visit to the Musée d'Orsay when it opened to the public in the late 80s in Paris. For me it was a strong moment. I remember exactly how I discovered Manet's Olympia. This painting touched me more particularly and led me to take an interest in Manet and his work even more than in the Impressionists. He is associated with the Impressionists, of whom he was very close, but he always maintained his independence and in a way made the transition between Courbet and the Impressionists.
French Quarter Magazine: What is your strongest artist's memory?
Laurence de Valmy: There was a psychologically important step for me when I returned to France in 2004 after my year spent in the United States. I was contacted by two young women to participate in an auction of contemporary artists at Drouot. It was pretty flattering for me to have paintings at Drouot and to have buyers even if I was not a known artist. They were sold at a modest price but psychologically, it gave me the idea that it was possible.
French Quarter Magazine: Do you mainly sell your paintings online?
Laurence de Valmy: It is rather a mix… some of my paintings are available on saatchiart.com and others are available through my exhibitions. I am pleased to announce that the curator Renée Riccardo has offered to present my POST series in the exhibition Wrap around 13, which will take place in New York at Arena Suite 806 and will open on July 15th.
French Quarter Magazine: Artistically speaking, is there a dream that you have not yet reached?
Laurence de Valmy: Oh yes, there are more than one (laughs)! I like to think that my career is in front of me. Today, I am still very young in my career as an artist. I think the dream of every artist is to get some recognition of his work. This recognition can have several facets of course. Being represented in a gallery where the art dealer works so that his artists gain visibility from collectors and influential professionals, is of course a seducing dream … and simply to be able to continue doing what I love!
French Quarter Magazine: Thank you Laurence for this interesting artistic interview. Looking forward to contemplating your creations!
Check out Laurence de Valmy's works here:
Exhibition Wrap around 13: Laurence de Valmy, George Horner, Karen Lederer, curated by Renée Riccardo, ARENA at Suite 806, 89 Fifth Avenue, New York, NY. Opening on July 15th, 2-5pm. The exhibition will remain on view through November (by appointment).
[:fr]
Je suis heureuse d'accueillir sur French Quarter Magazine Laurence de Valmy, une artiste dont les peintures m'ont séduite dès le premier regard ! J'ai découvert une artiste non seulement de grand talent mais aussi très généreuse. Au début du mois d'avril 2017, Laurence a intégré l'ESKFF, la fondation de la collectionneuse d'art Eileen Kaminsky et l'une des deux résidences d'artistes de Mana Contemporary à Jersey City (New Jersey). Elle s'est vue accorder un studio de travail pour une durée de trois mois dans cette institution artistique de renom. Aux Etats-Unis, ces résidences sont souvent financées par des fondations privées qui permettent aux artistes locaux et internationaux de se consacrer entièrement à leur projet artistique. Laurence nous accorde un peu de temps entre deux coups de pinceaux et la préparation de sa prochaine exposition qui démarre en juillet à New York pour répondre à notre interview. 
French Quarter Magazine : Bonjour Laurence de Valmy, pouvez-vous présenter l'artiste peintre que vous êtes en quelques mots?
Laurence de Valmy : Je suis une artiste peintre française figurative. Mon principal objectif est de pouvoir créer et partager des instantanés colorés et lumineux afin de provoquer chez la personne qui regarde le tableau un sentiment positif. Ayant une vision de la vie assez positive, je veux pouvoir transmettre ce sentiment à travers ma peinture.
French Quarter Magazine : Qu'est-ce qui, selon vous, vous a orienté vers la peinture plutôt qu'un autre mode d'expression ?
Laurence de Valmy : J'ai essayé d'autres modes d'expression… J'ai fait un peu de musique mais je n'ai jamais eu cette impression d'alignement comme je l'ai avec la peinture. Donc je n'ai jamais été vraiment tentée par autre chose. D'autres artistes vont préférer la danse, la musique etc. Pour moi, c'est la peinture. Par ailleurs, ma mère est également peintre donc cela a été un choix très naturel…
French Quarter Magazine : Votre vie et ses étapes influencent-t-elles l'orientation de votre travail et de quelle manière ?
Laurence de Valmy : Je suis venue à la peinture professionnelle après différentes étapes. J'ai commencé à faire de la peinture quand j'étais adolescente. Après le lycée, j'ai choisi de poursuivre des études de business qui m'ont amenée à une carrière en entreprise et j'ai continué à peindre en parallèle. En 2003, j'ai pris une année sabbatique et je suis partie aux Etats-Unis où je me suis consacrée entièrement à la peinture. Ce séjour américain m'a permis de découvrir le réalisme contemporain américain qui est né un peu après le Pop Art et qui a beaucoup influencé mon travail et ce que je fais aujourd'hui. De retour en France, prise entre ma carrière et fonder une famille, j'ai eu moins de temps pour mon travail artistique. En 2013, mon mari et moi avons décidé de venir vivre à nouveau aux Etats-Unis et avec ce changement de vie, j'ai eu la possibilité de m'y remettre. Donc oui, ma vie a forcément influencé mon parcours.
French Quarter Magazine : Comment définiriez-vous votre travail artistique ? Que dites-vous de vos œuvres à une personne qui ne les a jamais vues ?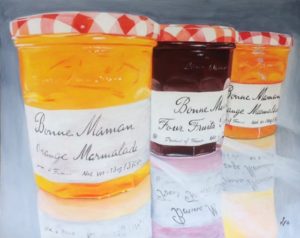 Laurence de Valmy : Je fais des peintures volontairement positives car ma conviction est que notre humeur est influencée par ce qui nous entoure. Si nous pouvons admirer de belles choses, nous avons un sentiment de zénitude plus important. Plus récemment, j'ai développé la série POST sur laquelle j'ai travaillé pour la résidence à l'ESKFF, qui revisite l'histoire de l'art à travers d'Instagram imaginaires de peintres célèbres combinant une peinture et des dialogues entre l'artiste et ses amis. A travers ce travail d'appropriation, mon objectif est de partager ma passion de l'art et d'inviter à redécouvrir ces œuvres si célèbres, que l'on finit presque par ne plus les voir tellement elles font partie de notre patrimoine culturel.
French Quarter Magazine : Avec quel artiste d'art aimeriez-vous entretenir une discussion ? Et pourquoi ?
Laurence de Valmy : Dans ceux qui sont encore vivants, ce serait David Hockney ! C'est quelqu'un que j'admire énormément tant pour son œuvre artistique que pour sa vision de la vie et pour sa large connaissance de l'histoire de l'art. C'est un homme très cultivé qui a beaucoup écrit sur l'art et son évolution. Il a par exemple écrit un livre passionnant (Secret Knowledge : Rediscovering the Lost Techniques of the Old Masters NDLR) sur l'étude des techniques utilisées par les grands maîtres de la Renaissance italiens ou hollandais. Il y démontre comment ces peintres utilisaient la chambre noire ce qui explique le niveau de précision qu'ils obtenaient. C'est quelqu'un qui vraiment à un champ de connaissance impressionnant et j'adore sa peinture très colorée et très positive.
French Quarter Magazine : Selon vous, à partir de quel moment un artiste, un photographe, un musicien, un peintre… devient un artiste ?
Laurence de Valmy : Je crois que nous pouvons tous être artiste à tout moment de notre vie et aujourd'hui, avec un smartphone, nous pouvons tous transformer un cliché banal du quotidien en quelque chose de très beau. A partir du moment où ce que l'on crée permet d'exprimer quelque chose, je pense qu'on est artiste. Evidemment, il ne faut pas confondre être artiste, faire des choses artistiques et vivre de son art. Là, effectivement c'est autre chose. Ma conviction est que le besoin de créer est inné : les hommes des cavernes ont peint sur les murs alors qu'ils avaient à peine satisfait leur besoins vitaux de manger, d'avoir chaud et d'être en sécurité. Selon moi, cette envie de créer existe depuis toujours et à travers toutes les civilisations, simplement plus ou moins selon les individus. Nous pouvons tous être artistes mais pas forcément vivre de notre art.
French Quarter Magazine : Quelle exposition d'un autre artiste vous a le plus marqué ?
Laurence de Valmy : Je ne sais pas si je peux parler d'exposition mais j'ai un souvenir très marquant de ma première visite au Musée d'Orsay lorsqu'il a ouvert au public à la fin des années 80. Pour moi, ce fut un énorme coup de cœur. Je me rappelle de façon précise avoir découvert l'Olympia de Manet. Cette toile m'a touchée plus particulièrement et m'a amenée à m'intéresser à Manet et à son œuvre encore plus qu'aux Impressionnistes. On l'associe aux Impressionnistes dont il était très proche mais il a toujours gardé son indépendance et selon moi a fait la transition entre Courbet et les Impressionnistes.
French Quarter Magazine : Quel est votre plus fort souvenir d'artiste ?
Laurence de Valmy : Il y a eu une étape psychologiquement importante pour moi lorsqu'en 2004 je suis rentrée en France après mon année passée aux Etats-Unis. J'ai été contactée par deux jeunes femmes pour participer à une vente aux enchères d'artistes contemporains chez Drouot. Cela a été assez flatteur pour moi d'avoir des toiles chez Drouot et d'avoir des acheteurs même si je n'étais pas cotée. Elles ont été vendues à un prix modeste mais psychologiquement, cela m'a donné l'idée que c'était possible.
French Quarter Magazine : Vous vendez vos toiles en ligne principalement ?
Laurence de Valmy : c'est plutôt un mix… certaines de mes toiles sont disponibles sur saatchiart.com et d'autres le sont plutôt à travers des expositions. Je suis heureuse d'annoncer que la curatrice Renée Riccardo m'a proposé de présenter ma série POST dans l'exposition Wrap around 13 qui aura lieu à New York chez Arena Suite 806 et dont le vernissage aura lieu le 15 juillet.
French Quarter Magazine : Artistiquement parlant, y a-t-il un rêve que vous n'avez pas encore réalisé ?
Laurence de Valmy : Oh oui, il y en a plus d'un (rires) ! J'aime à penser que ma carrière est devant moi. Aujourd'hui, je suis encore très jeune dans ma carrière d'artiste. Je pense que le rêve de tout artiste est que son travail soit reconnu. Cette reconnaissance peut avoir plusieurs facettes bien sûr. Etre représentée dans une galerie où l'art dealer travaille en sorte que ses artistes gagnent en visibilité auprès de collectionneurs et de professionnels influents, cela fait bien sûr rêver… et simplement de pouvoir continuer à faire ce que j'aime !
French Quarter Magazine : Je vous remercie Laurence pour cette interview artistique passionnante. Au plaisir de contempler vos créations !
Retrouvez les œuvres de Laurence de Valmy ici !
Exposition Wrap around 13: Laurence de Valmy, George Horner, Karen Lederer, organisée par Renée Riccardo, ARENA at Suite 806, 89 Fifth Avenue, New York, NY. Vernissage le 15 juillet, 2-5pm. L'exposition sera visible jusqu'en novembre (sur rendez vous).
[:]