Art & Culture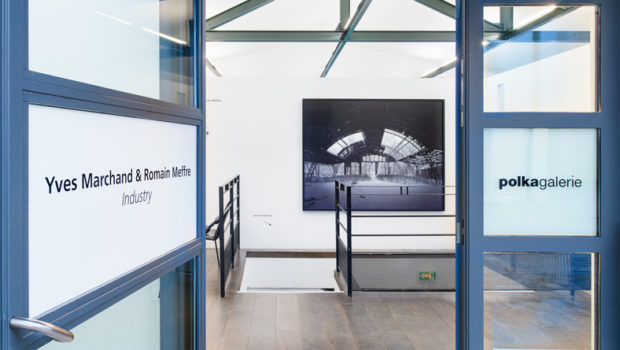 Published on January 13th, 2015 | by Pascal Ordonneau
0
« Industry» – An Yves Marchant and Romain Meffre Exhibition at Polka Gallery
12 Rue Saint-Gilles, 75003 Paris. Now through January 15.
Within the vast courtyard surrounded by ancient buildings from the 18th century stand the main premises of Polka Gallery. From today to January 15th, it offers a comprehensive exhibition of the works of Yves Marchant and Romain Meffre. Both photographers are pretty young, yet already they have become famous.
Before reading this Chronicle, it makes sense to have an idea of the type of artists that they are. They have just published a book on the famous architect Gehry's latest work in Paris : « La fondation Louis Vuiton. » They have proposed an outstanding set of photos on this very « Gehry styled » building, which resembles an unidendified flying object, as if it were a very light and fragile craft that would have landed, per chance, close to the city of Paris, in the midst of « le bois de Boulogne. »
Of course, one cannot imagine that Yves Marchant and Romain Meffre were entitled to do this job just because they are young, smart guys with a bright and promising potential. They have been elected because of their talent and also because of their creative works.
Polka Gallery's exhibition displays photos demonstrating the characteristics of the artists' talent and the vision they propose to visitors. This exhibition is called « Industry » (and not « Industrie »). The photographers have been travelling around the industrial areas of the world, mostly in the United States, in Russia, Ukraine, and in France, chasing old industrial remains. They seem fascinated by ancient factories, old nuclear plants, steel industry plants, wrecked buildings with monstrous equipment. They want to highlight the remaining violence and the lingering flavor of rotten forces. Each photo plunges viewers into an atmosphere of death, disarray and decay.
Sometimes, when viewing certain photos, viewers might think of a sort of a prehistoric time full of wild terrific animals ; other times, it might be devastating war-like views, reminiscent of the agricultural tractor factory just after the end of the Stalingrad battle. The worst buildings appear to have been deserted, the victims of new trends in market prices, of new technologies.
Yves Marchant and Romain Meffre works are large scale. The photos are immense. As a result, viewers feel overwhelmed by both the spirit of the industrial sites and the physical enormity of the ruined and abandoned buildings. Amazingly, there is room for charm and delicacy even in declining parts of modern society: two photos provide this insight. One was shot from within a large cooling tower in a nuclear plant. It is a fantastic piece of pure concrete walls, colored in a slight pastel-like rose color! Delicacy challenges strength and industrial power. The other one is a symphony of hundreds of ropes and lines hanging from a sky-scrap style ceiling.
Are both young photographers driven by figures of architecture that would be considered contemporaneous or emerging from a recent past ? Are they building «décors» and sceneries to present to us strange or striking events ? In old buildings, factories, nuclear plants, as in former opera theaters, and dancing rooms transformed into parking lots, are they searching for the « absurd » that spoils so-called develop societies ?
It is up to visitors to decide.
How to find remedies online? So it's no wonder that online pharmacies is becoming more popular over the last years. Few remedies are used to treat impotency. Topics such as "buy sildenafil citrate online" and "sildenafil 50 mg price" are so popular now. This article focuses on the evaluation of erectile dysfunction and "sildenafil citrate side effects". Of all the matters in the field of healthcare that pique our note most, it's sexual health problem, notably "undefined". Low self-esteem, venous leak, some diseases, and certain medicines can reduce your sex drive. Stress affects all sides of breath including sex drive. People must always ask doc for occupational advice about Viagra. Keep in mind online pharmacy which is prepared to sell such medicaments like Viagra without a valid recipe is fraudulent. When you get from an unknown company, you run the risk of getting counterfeit drugs.