Business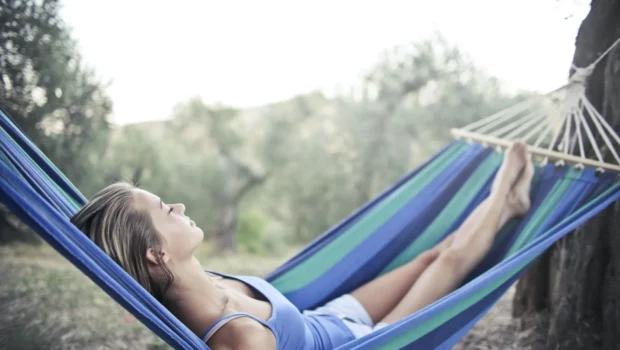 Published on June 30th, 2023 | by Rebecca D. Walker
0
6 Awesome Reasons To Buy A Wooden Hammock Stand 
Over the recent years, people have devised creative ways to relax and stay comfortable outdoors. A hammock stand is one of those ideas. People are abandoning the old ways of tying their hammocks between trees and poles. Rather, they opt for hammock stands where they can easily hook and unhook their hammocks whenever and wherever they please.
Like hammocks, the stands are available in various types. These include; wooden, plastic, and metal. People consider various factors when buying a hammock stand, including price, durability, and strength. Nonetheless, today's concentration will be mainly on the wooden hammock stand.
A wooden hammock stand is made of wood as the core material and is associated with various benefits extending beyond comfort and relaxation. It offers durability, convenience, and adaptability to suit a variety of hammocks. Also, it helps improve the attractive look of your space, all at a budget-friendly price. It is key to understand these benefits as they are ideal reasons to persuade you to purchase one.
Thus, this post will explore the top six reasons for buying a wooden hammock stand, from enhanced durability and longevity to improved aesthetic appeal. For these reasons, you will understand the importance of purchasing one for indoor or outdoor space.
1. Increased Durability and Longevity
One great reason to buy a wooden hammock stand is its enhanced durability and longevity. It is made of high-quality materials like treated wood which are strong and resistant to damage caused by moisture, fungi, insects, and harsh weather conditions. This resistance ability enables wooden hammock stands to cope with exposure to such features for a long time without being weakened or damaged.
Furthermore, one can employ other preventive measures to ensure their wooden hammock stand withstands the test of time. These include; regularly cleaning the stand with nonabrasive products to do away with dirt and necessarily applying the protective coat on the wood areas. Also, storing it in a dry area or covering it with a protective layer during winter helps prevent damage caused by cold weather as it is not ultimately cold weather resistant.
2. Environment Friendly and Sustainable
If you are environmentally conscious, a wooden hammock stand's environmental friendliness and sustainability is a great reasons to convince you to buy it. Wood is recyclable and renewable compared to other materials used to make stands, like metals and plastics.
With exposure to favorable conditions such as moisture and oxygen, wood will naturally break down by itself, becoming a great source of compost. It also requires less time and less energy to recycle wood than other materials. These environmental advantages of wood make it a great reason to purchase a wooden hammock stand.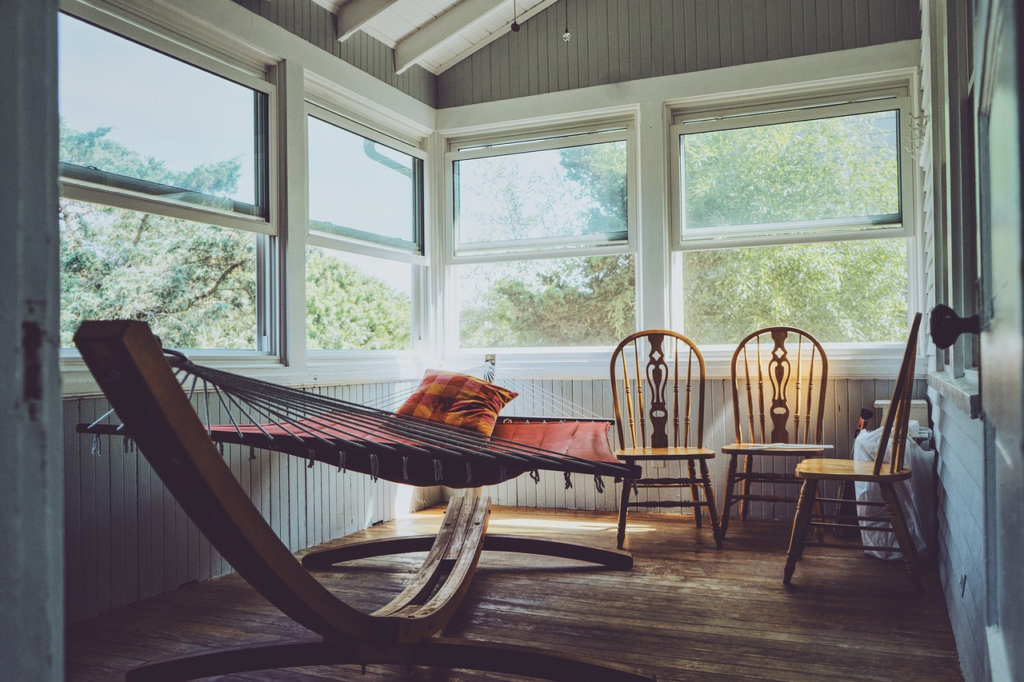 Photo by StockSnap: https://pixabay.com/photos/house-home-empty-chairs-hammock-2590083/
3. Improved Aesthetic Appeal
A wooden hammock stand is an ideal addition to your outdoor space due to its improved aesthetic appearance. Wood, the primary material used to make wooden hammock stands, is an excellent material with natural qualities that are hard to find in other materials. It is available in various textures and finishes, from natural wood to penetrating or surface finishes.
Also, you can paint it to match the color of your outdoor space or style. These enhanced features in wood ease your picking process to one that aligns with your preferences and the appearance of your outdoors.
4. It is Convenient and Versatile
When considering buying a hammock stand, the convenience and versatility of a wooden one is a go-for choice. You can easily move a wooden hammock stand to a more convenient spot as it is lightweight and easy to assemble. This makes traveling with it to various places simple, as you can easily bring it down and reassemble it.
Moreover, the wooden hammock stand is versatile because it can hold various hammocks, including spreader bars and rope hammocks. It can hold your taste and preference in various hammocks on a budget.
Photo by dpleiss: https://pixabay.com/photos/beach-chair-hammock-lounge-658072/
5. Cost-effectiveness
Another reason to purchase a wooden hammock stand is it is easily affordable. Unlike traditional outdoor furniture, a wooden hammock stand is cheap, fits in various spaces, and can be easily moved. It is a perfect piece that can make you unwind your stress and relax in your desired compound spot without going deep into your pocket.
Additionally, it can be adjusted to fit the sizes of different people. By altering the angle of the hammock, you can suit the size requirements of various individuals, thus saving on the need to purchase many stands due to size variation.
6. Enhanced Comfort and Stability
A wooden hammock stand offers great comfort and stability that is hard to find elsewhere, thus a surprising reason to purchase one. It meets all the relaxation demands due to its supportive and secure design that helps reduce the movements and sway into a gentle one when in use.
Also, the material one lays on conforms to the body's shape and gives you the weightless feeling of being suspended steadily in the air. This grants you a comfortable and restful experience that is hard to resist.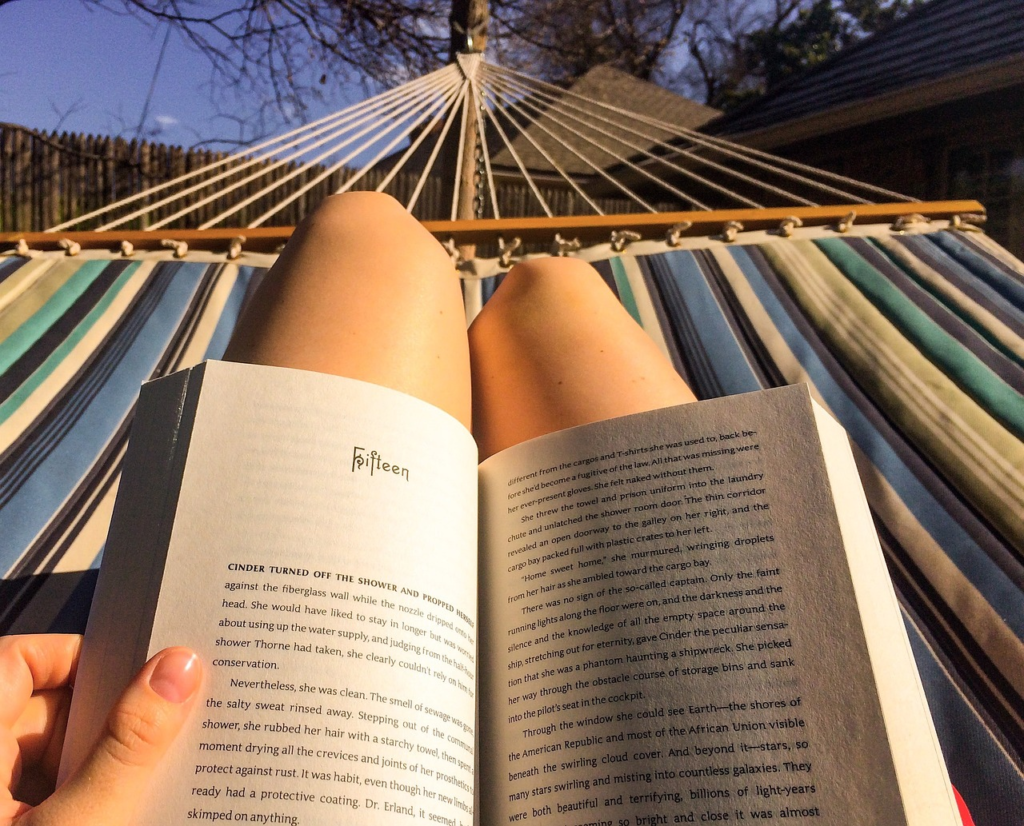 Photo by CandiceP: https://pixabay.com/photos/reading-hammock-relax-female-1567669/
Moreover, the comfort and stability of a wooden hammock stand have been shown to provide other health benefits, including decreased back pain and enhanced posture. Also, its gentle swaying motion helps improve sleep quality and minimize stress.
Conclusion
Various reasons make purchasing a wooden hammock stand a wise investment that can enhance your indoor and outdoor experience. These include; improved comfort and stability, convenience and versatility, and enhanced aesthetic appeal. Wooden hammock stands are eco-friendly and sustainable, making them the perfect choice for environment-conscious customers. Also, a wooden hammock stand can save you a lot of money due to its affordability and increased durability and strength.
Header photo credit: https://www.pexels.com/photo/woman-in-blue-tank-top-lying-on-blue-and-green-stripped-hammock-3771832/