Art & Culture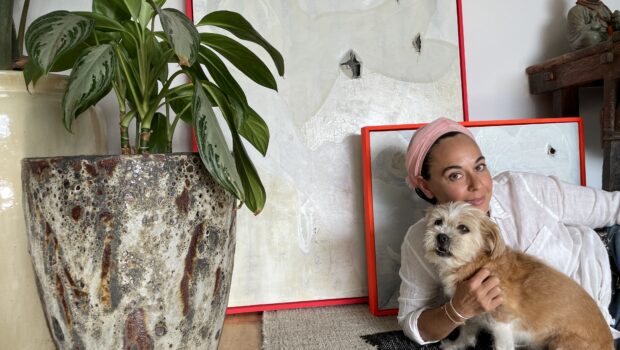 Published on April 21st, 2023 | by Laurence de Valmy
0
Joanna Cutri, artist and world citizen: "I create my art the way I live my life"
Joanna Cutri, an artist based in southern California, is a citizen of the world. A Los Angeles native from an Argentinian family, she has lived and worked in Italy, Bali, France and Hong Kong where she did an artist in residency program with the Nock Art Foundation. In 2022, she exhibited in a two artists exhibition with Aurelia Rocher, at the Chateau Charleval in Aix en Provence.
Her exposure to different cultures and world travels have greatly impacted how she creates and approaches her own work. Her paintings are collected internationally, featured in exclusive design projects, and exhibited in various galleries. Her complex, personal style combines various mixed mediums and collage elements, resulting in layers upon layers of color, texture and imagery. The recurring theme and signature style of her work is a monochromatic palette, translucent, ethereal layers and fluid, dreamlike shapes that evoke a sense of calm and peace.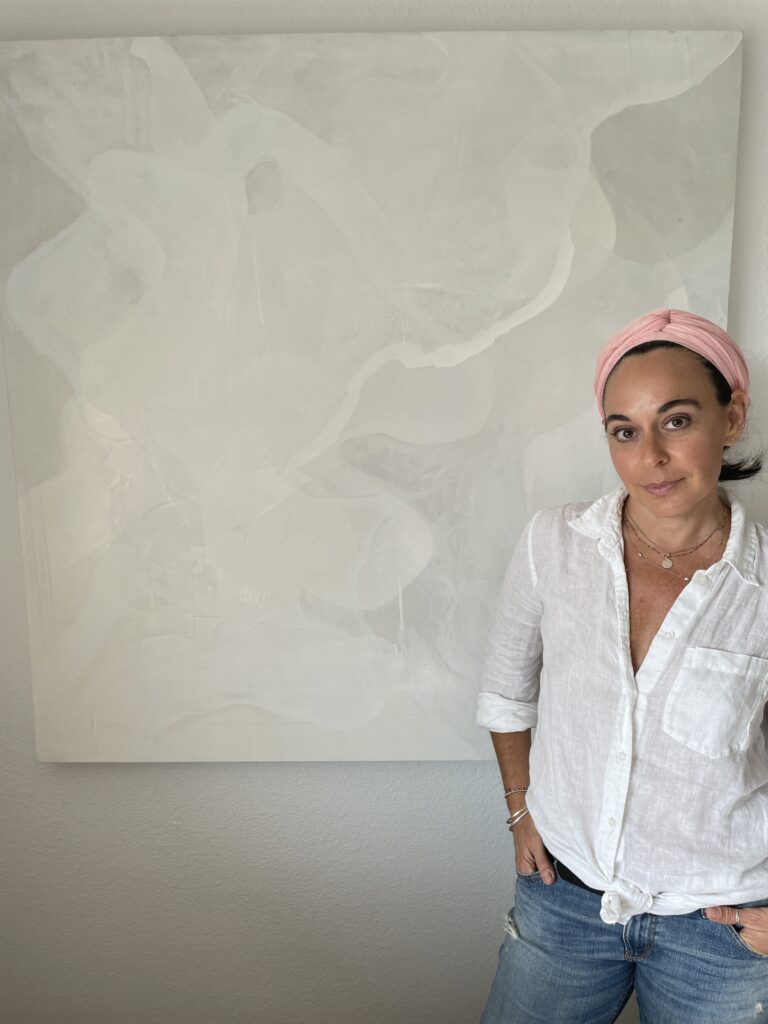 Tell us about your processes – both artistically and conceptually.
My work is very thin layers of a pale palette of first acrylic paint, then oil paint on the surface. Each layer needs to dry. And not all white paint is the same so I need to watch how each layer dries. It's a play of glossy and matte on the surface with elements of line and combination of textures.
Conceptually I'm abstracting organic botanical forms such as dried flowers or leaves. The California coast has such a foggy and misty landscape that I'm inspired and affected by so the light and color comes out in my work.
How did you meet with Aurelia Rocher and how did the idea of exhibiting together at the Chateau Charleval come along?
We met in Bali, Indonesia almost 20 years ago when we were living there as expats. I always loved getting together with Aurelia to talk about art, ideas, and life. I always appreciated her perspective and talent, plus she was super cool. It felt like at the time we were two of very few women fine artists that were serious about their art practice and art career. She became my "Art buddy" and when I would visit France we would get together to see exhibitions. We always said we would have an exhibition together and it was just a matter of time.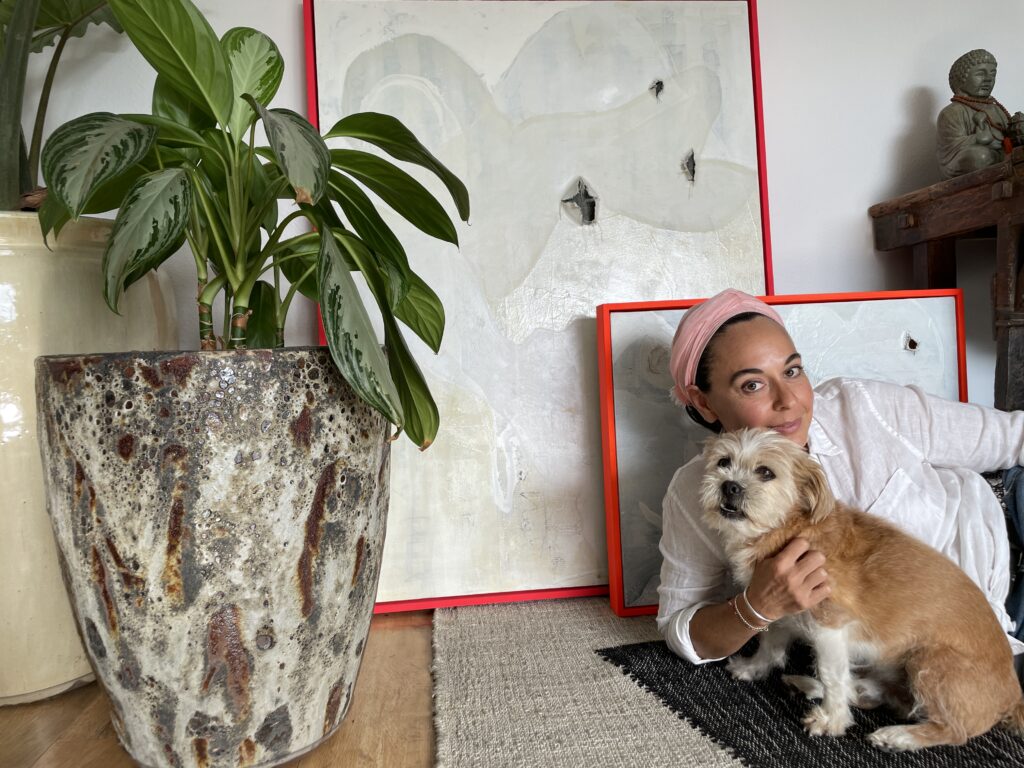 We spoke briefly about creating a joint exhibition at Chateau Charleval and then set a date and went to work. I worked in my studio in Southern California while she worked in the South of France. We knew the collective idea and feeling behind the exhibition but we just let eachother evolve. I absolutely trusted her and what she would manifest creatively. I trusted her work ethic and visual sensitivities. We truly are connected in a way that is hard to describe, we have karmic heart strings and some kind of bond that just completely transpired with total conviction through our work. It felt seamless and quietly poetic. The work belongs together. We never spoke about what the other was doing and we never shared the work or process. To simply say "It just happened" feels futile and a bit one dimensional. It also sounds like an easy explanation and dismissal but in all honesty, I know this body of work and our friendship took lifetimes in the making. It was the most beautiful exhibition to date that I've ever had. The experience is something I am still processing.
You work with different mediums and have a unique universe. What is the common ground between your practices ?
We are both intuitive and sensitive in our process and practice. We share such a similar outlook on the world around us and it comes out in our work. Aurelia's work is almost a 3 dimensional manifestation of my 2D paintings and vice versa.They truly mirror each other.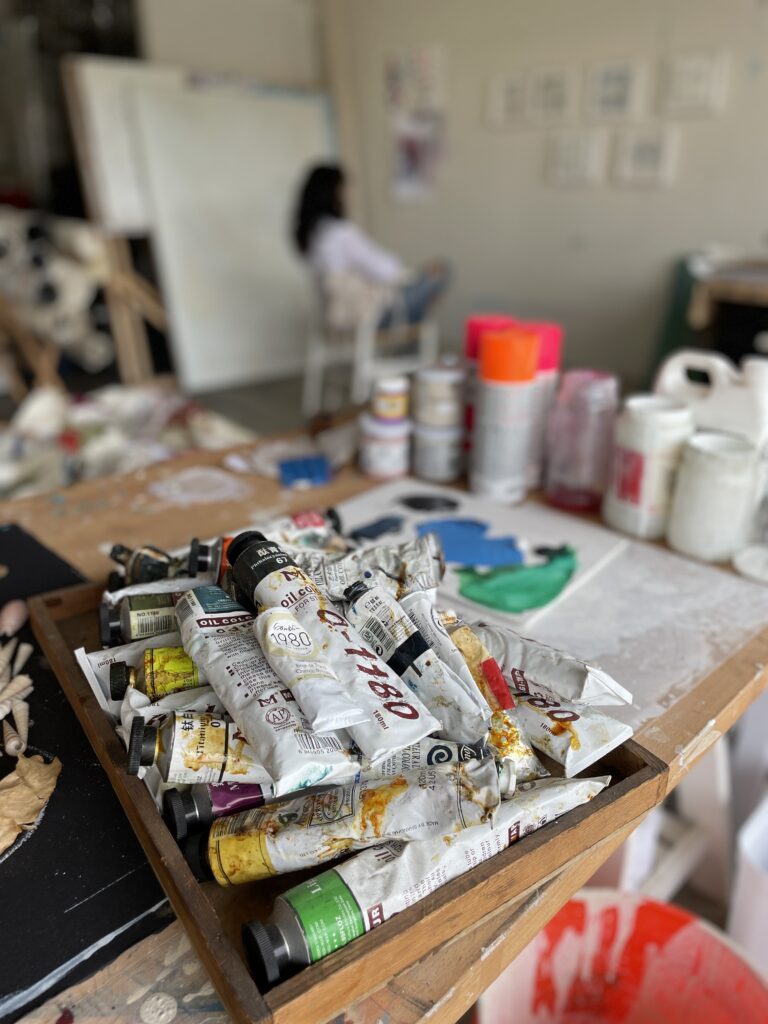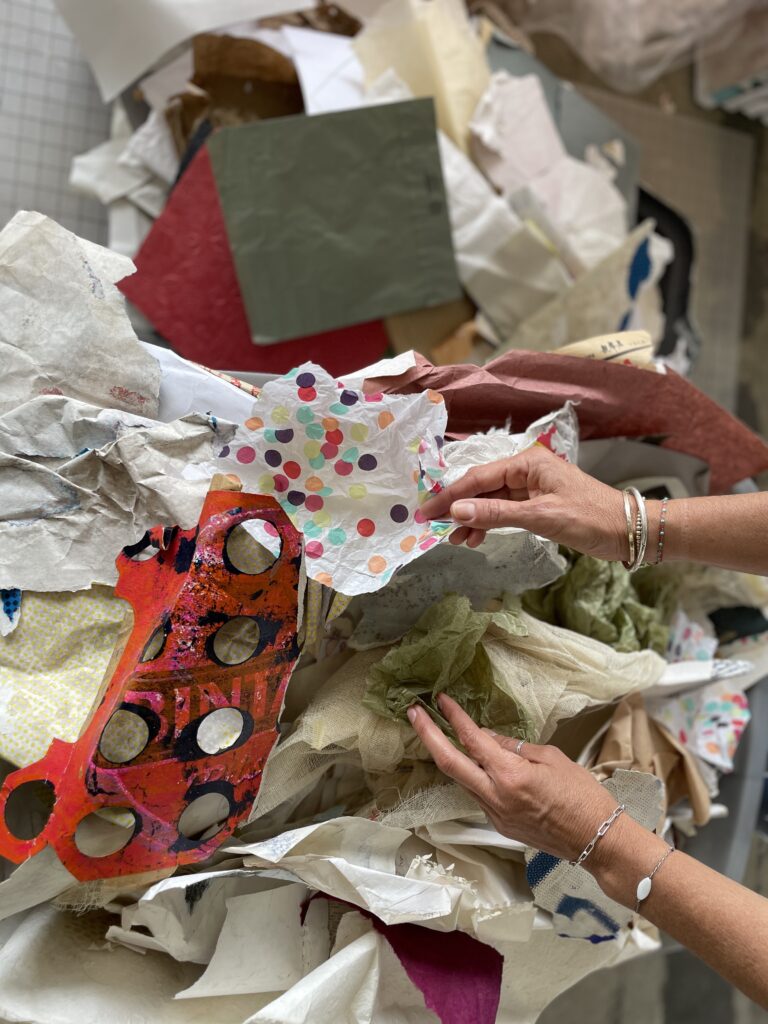 What are your upcoming projects?
I'm creating a new body of paintings on canvas as well as exploring more 3 dimensional, sculptural paintings mounted and cut out on wood panels. The new series will have more elements of line and the figure subtlety coming in and out of each piece.
I'm also exploring silk screens and a funny side project that will be an ode to Argentina, my family's home country. It's a completely different medium and nothing to do with my fine art but something joyful and playful that I want to explore for fun.
And if all goes as I hope and plan…I will be returning to where I went to school in Italy to paint during the summer. My own little personal artist in residency.
What is your dream project, what would you do if you had a magic wand?
I would love to completely take over a space (a house or a hotel) and create this sense of envelopment with my paintings so you really feel like you are in it (floor to ceiling) where not one detail is overlooked and my hand is everywhere. A project where there's a lot of movement within the space that carries the viewer through an interactive experience of my art.
I love collaboration and I love a good challenge that pushes me in every way. I love how my brain feels when it's in creative problem solving overload but where I'm truly going out of my comfort zone and using new materials and expanding size limitations.
https://www.instagram.com/joannacutriart/
Header Photo Credit: Joanna Cutri in studio