Art & Culture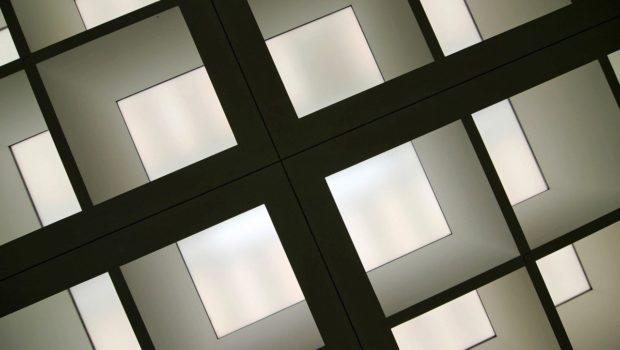 Published on October 4th, 2021 | by L'OR Artiste
0
Fernande Saint-Martin: Quebec's Gertrude Stein
When raising the question of a "Quebec identity" as disclosed in the art produced by our artists, we refer to verbal definitions which result from the cumulative experience derived from the collective experiments of these works of art, in our understanding of them and in our ability to formulate that which is essentially non-verbal. Contemporary Quebec art is certainly the result, like all dynamic cultural expression, of the dialectical forces of contradiction. — Fernande Saint-Martin (1)
Header Photo Credit: Pixabay
Several years ago the Simon Blais Gallery, the most prestigious modern and contemporary art gallery in Montréal sold a Riopelle for several million dollars. The painting was part of the Pierre Matisse collection and was sold to a Montréal collector. The human experience is multi-generational theater and actors from different times and places find common bonds. Pierre Matisse was the son of French master Henri Maltisse, who was very much indebted to Gertrude Stein for introducing him to the Paris art-collecting elite.
Jean-Paul Riopelle (2), born in Montréal in 1923, was a Québec modern art painter. Riopelle like all Québec non-figurative artists of his time preceded the Québec market. Their work was too avant-garde and no venue, gallery or museum would display their work. In 1955, a young writer, scholar and poet, Fernande Saint-Martin, with her would be husband, Guido Molinari, opened l'Actuelle gallery. Riopelle would participate in the inaugural exhibit. The gallery's mission was to afford modernists a venue where their work could be explained to collectors. The gallery in many ways operated like Gertrude Stein's parlor. Gertrude Stein created the market for Matisse, Picasso and other Paris modernists of the late 19th. and early 20th. centuries. L'Actuelle nurtured the modernist, non figurative art market in Montréal. It can be argued that Simon Blais Gallery (3), which celebrated its 30th anniversary in 2019 owes its existence to Fernande Saint-Martin. Madame Saint-Martin did not stop advocating the Québec modernist movement when L'Actuelle closed in 1957. She dedicated her next seven decades to this passion.
A superfiscal definition of an art gallery would be a place where art is displayed to the public for sale. L'Actuelle did this, but more importantly, it had a mission. L'Actuelle was the advocate for an art movement. Its letterhead proclaimed itself to be a gallery of non-objective painting, Galerie D'Art non figuratif. It was a style of art with a non-verbal language of its own. The gallery was Fernande Saint- Martin's residence, but it maintained regular hours of visitation and in two years produced 31 exhibits. Each exhibit was an opportunity for Saint-Fernande to promote the movement with her communications to the press. Each reception gave opportunity for the press critique. Many of the artists would eventually have their work acquired by collectors and museums. Guido Molinari and Fernande Saint-Martin archived the activities of the gallery with the faith that their efforts would be part of Québec art history. Today the Fondation Guido Molinari serves as a repository for Molinari's work and exhibit his and paintings of other artists of the contemporary period. In 2016 the Fondation published L'Actuelle that documented the art and activities of the gallery. (4)
Fernande Saint-Martin married Guido Molinari in 1958. The convention in Québec society at that time dictated that when married, a woman left her professional life to serve her domestic duties. Madame Saint-Martin was writing on women's issues with La Presse, one of two major Montréal daily newspapers. She was too valuable an asset and withstood the pressure to resign. She would leave the La Presse in 1960 to become the editor in chief of a new women's magazine, Châtelaine. (5) The magazine was in the forefront in the fight for women's equality. As a colleague, Marie-José des Rivières, observed:
Fernande Saint-Martin intervened in the public space to defend the autonomy of women. Her importance on the intellectual scene is largely linked to the magazine Châtelaine. Under her direction, the magazine proved to be an exceptional forum for women. A feminist, Fernande Saint-Martin considered it essential for women to come together to become full-fledged at a time when many injustices still exist on a legal level. (6)
In 1972, Madame Saint Martin was extended an offer she could not refuse. She was asked to be the directrice of The galeriste of L'Actuelle, became the curator of the city of Montréal. In 1972 Montréal was preparing to greet the world to the 1976 Olympic Games. The new stadium was under construction and it was time for Montréal to showcase itself as a world class city. The Québec's non-figurative art movement may have lagged behind that of Paris by a generation, but Musée d'Art Contemporain it was now time for it to take center-stage. The Musée d'Art Contemporain assumed the lead in effecting Corridor d'Art, a display of public art along the primary route from downtown to the stadium. (7) Madame Saint-Martin did not stop with Corridor d'Art, the museum produced two exhibits in 1975 in conjunction. Trois Generations d'Art Québecois: 1940, 1950, 1960 (8) included 22 artists who were associated with L'Actuelle.(8) Madame Saint-Martin did not abandon her advocacy for women's equity that she championed at Châtelaine for 12 years. Artfemme 75 (9) was produced to celebrate the International Year of Women as proclaimed by the United Nations. (10)
In her two-page introduction to the program pamphet for Artfemme 75 she stated in no uncertain terms that she remained a leading advocate for women's equity in society as well as in the arts:
Around 1970, American feminists defined the ultimate question of female destiny. The society and culture developed in the West over the past two thousand years has been produced by men and this inheritance carries with it above everything else a relationship to the male world. We are absolutely convinced that this social and cultural set does not merely contradict, but is even antagonistic to women's self-actualization. Therefore, woman must now return to zero, must now reject male culture and begin to develop new structures and a new language, one which will express themselves and serve above all their own needs and nature…
…The woman artist, like every other woman, has no other alternative today than to take up the burden of the totality of human language from which she has been alienated so long. She must attempt to bend it to her will for discovery and self-expression. (11)
Saint-Martin was president of International Association for Visual Semiotics (Association internationale de sémiotique visuelle) from 1992 to 1994. (12) The association is a congress of professionals in the field of visual semiotics. This is the language of the non-figurative artists and Saint-Martin's first exposure to it was in the 1950's. She used her writings to advocate non figurative art for a half-century. Often she would used paintings of Québec artists, Molinari, Ozias Leduc, Jean- Paul Lemieux, Paul-Emile Borduas, Alfred Pellan and Louis Muhlstock and explained them in the language of the semioticist. These are not widely read journals and difficult for non-academics to understand. They are, however targeted to the academic elite and intelligentsia, the people who drive the contemporary art market. Those familiar with Yasmina Reza satire L'Art can understand how the preferred art of the elite becomes the popular status symbol of the upward mobile. (13)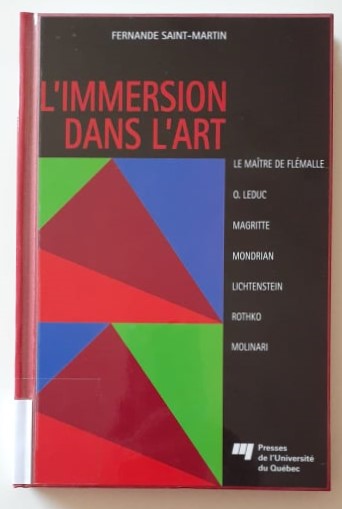 Saint-Martin first book on the non verbal language of art was Les fondements topologiques de la peinture ( 1980 ), follwed by Sémiologie du langage visuel (1987), La théorie de la Gestalt (1990 ), Sens du lagage visuel (2007 ) and L' immersion dans l'art ,2010 . In 1955 Fernande Saint-Martin began the promotion of Québec's non-figurative art by inviting the public into her salon, L' Actuelle. Fifty years later Saint-Martin was bringing her advocacy of the same to the reading rooms of the academic elite.
Two months ago I was unaware of Fernande Saint-Martin and discovered her work as I researched for an article in support of my wife's (L'OR Artiste) new series of paintings. She did a collection of faces that had many characteristics of non-figurative art. The series departed from total non-figurative in that she placed two signifiers, a nose and lips that causes the viewer to interpret the entire painting as a face. L'OR employed many of gestalt principles of design in suggesting the face in her paintings. She also has for forty years practice and research on the principles of color first advanced by Josef Albers in the his book, Interaction of Color. And later echoed by Saint-Martin. In my research I discovered Saint- Martin's writings and a concise quote that is applicable to L'OR's art.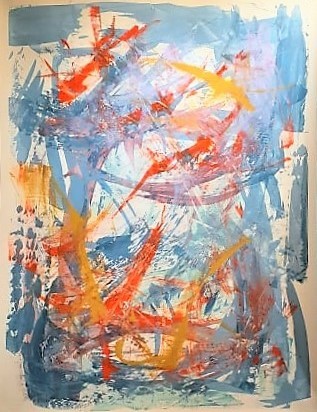 L'apport crucial de la sémiologie psychanalytique en art visuel réside en l'importance qu'elle accorde à la "représentation de chose", ou factuelle, dans ses rapports tumultueux avec la "représentation de mot". Elle a aussi innové en reconnaissant l' existence de signifiants d'affects, définis en termes perceptuels et spatiaux de contenance et d'étroite fusion. (14)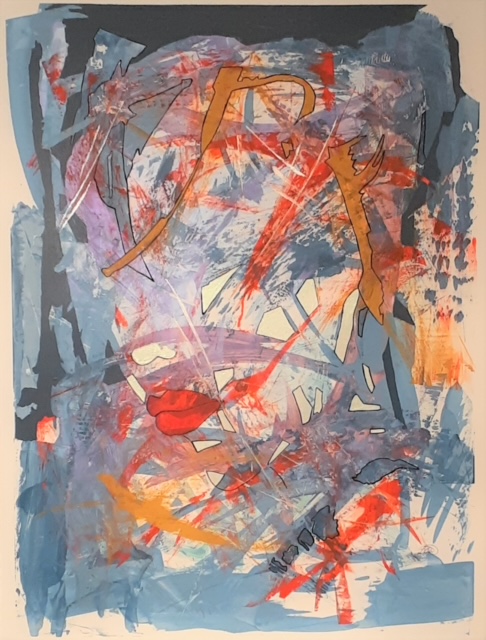 I share with Saint-Martin the frustration she must have felt as Guido Molinari struggled for recognition. L'OR's art fits no mode or classification. It is abstract and figurative at the same time. It is a product of 40 years research in the use of color and art products. Her most recent series would have been rejected by the non-figurative art purists in that she uses the signifiers of nose and lips to suggest the face. Her work could have stood as a total non-objective work as demonstrated by figures ## and ## before and after the placing of the signifiers. I identify with Saint-Martin in that she made no apolgy to the use her influence to advance the work of Guido Molinari. L'OR is my artiste la plus apprécié and I too make no apology for my advocacy of her work.
FOOTNOTES
Saint-Martin, Fernande, Introduction to Trois génerations d'art québecois : 1940,1950,1960 Musée d'art contemporain, Montréal 1976
2. Riopelle did have success in Paris, but he did find recognition in Montréal easily. He was part of the Inaugrial group exhibit at L'Actuelle and would participate in a second group exhibit in 1956. Riopelle was blessed with the freindship of Québec art collector, Champlain Charest. See http://revue-parcours.com/champlain-charest-point-de-rencontre/
3. https://www.lapresse.ca/arts/arts-visuels/2019-05-10/les-30-ans-de-la-galerie-simon-blais-une-grande-famille . Le Galerie Simon Blais https://www.galeriesimonblais.com/fr/lists five paintings of artists of L' Actuelle that were done during the period of operation of L,Actuelle : Guido Molinari, sans-titre (1955 ), Claude Tousignant, sans- titre 1956, Frontale (1956), Jean Paul Riopelle, sans titre (1956) and Marcel Barbeau, sans-titre ( 1952 )
4. The Fondation Guido Molinari published a record of the operations of the gallery L' Actuelle, co-authored by Lise Lamarche, Gilles Daigneault and Lisa Bouraly. The 144 page book offers a perspective of the embryonic stage of Québec's non-figurative movement. The book provides images of the work and photos of its creators. It is an antholgy of the Montréal art world of the 1950's . The book is available at the Fondation Guido Molinari https://fondationguidomolinari.org/ for $29.90 (Canadian ) plus taxes and shipping.
5. See Radio-Canada article on Chatelaine history and taped two interviews with Fernande Saint-Martin https://ici.radio-canada.ca/nouvelle/1737959/chatelaine-medias-feminisme-quebec-archives
Oct. 12, 1970 Femme d'aujourd'hui , Aline Desjardins l'animatrice and Sept. 18, 1990 L'heure G, Gaston L'Heureuz, animateur.
6. des Rivieres, M.-J. (2020 ) In memoriam : Fernande Saint-Martin pionniere du- journalisme féministe des annes 50 et 60 et théoricienne de l'art.https://www.erudit.org/en/journals/rf/1900-v1-n1-rf05472/1071238ar.pdf
7. https://www.huffpost.com/archive/qc/entry/affaire-corridart-destruction-oeuvre-art-public-montreal_b_7845152
8. https://e-artexte.ca/id/eprint/1836
9. https://e-artexte.ca/id/eprint/5391
10. https://www.un.org/en/conferences/women/mexico-city1975
11. Saint-Martin, Fernande introduction to Artfemme '75 une exposition d'oeuvres de femmes artistes, Musée d'art contemporain de Montréal and Saidye Bronfman Centre 1975
12 https://aisviavs.files.wordpress.com/2013/04/histoire3.pdf
13. Daily Motion has a film of a French production of L'Art by Yasima Reza https://www.dailymotion.com/video/x66105 The play is 1 Hr. And 27 minutes and examines the divide between those who understand and appreciate modern art and those who do not.
14. Saint-Martin, Fernande L' Immersion Dans L'Art page 12 Presses d l'Université du Québec 2010