Gastronomy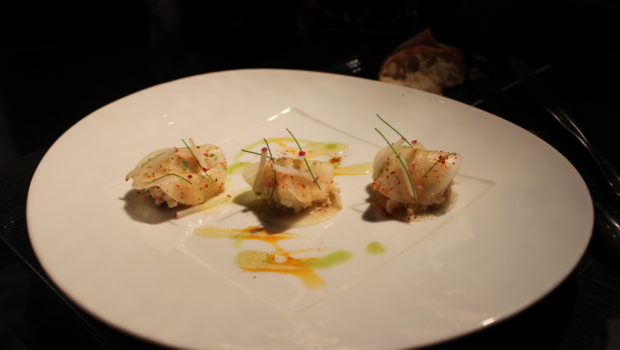 Published on May 17th, 2014 | by Isabelle Karamooz, Founder of FQM
0
"Las Vegas: A Sophisticated New Palate" Reviewed by UC Berkeley Alumni Magazine in France
UC Berkeley, my alma mater! Recently, I was flattered when a fellow graduate, Claire Chabat, asked me to write an article about Las Vegas. The article will be published soon in the July 2014 issue of the Alumni magazine for graduates living in France. To see the magazine as a PDF, please click on the following link 
http://lesgensberkeley.wordpress.com
Can you believe that Las Vegas is not all about gambling? People in Las Vegas are not just having the traditional conversations about gambling and entertainment, they are also talking about food.
Gourmet Food? In Las Vegas? Mais, oui!
Talking about world-renowned restaurants, we think immediately about Michelin three-star Joël Robuchon's Restaurant, which can now be found in the MGM Grand Hotel. When I asked its executive chef, Claude Letohic, about any noticeable big changes since the opening of the restaurant in 2005, he candidly answered: "there are more and more French chefs in Las Vegas."
French cuisine has become more important in Las Vegas and comes in extremely diverse forms. Meals served in French restaurants in Las Vegas range from the very simple, such as the traditional croque monsieur or coq au vin served at a bistro like Mon Ami Gabi, to very elaborate affairs that can be comprised of six to a dozen courses as well as different great vintages. Obviously, it happens, for most people, only on very special occasions.
What has happened in Las Vegas is that really good food is becoming part of the town's appeal for tourists and locals alike. In 2006, Master Chef Guy Savoy opened a branch of his famous epicurean restaurant in Caesars Palace. «People understand French food better», said executive chef Mathieu Chartron of Guy Savoy. «They are more open-minded ».
This simple fact has contributed to the diversity of French food now available in Las Vegas.
Important to know is that much of French cuisine served in restaurants in Las Vegas is fairly simple: high quality fresh ingredients and preparation rather than complex recipes. Restaurants such as Joël Robuchon, Guy Savoy, Mix, Le Cirque and Aureole use as much seasonal and local products as they can, and they are tapping into the rich network of organic farms based in California. Key products like succulent sea bass, wild turbo red mullet, and wild truffles come from France and Italy. Unsurprisingly, France is also a great provider of various cheeses.
However, you need to look beyond ingredients and techniques to truly understand the French dining experience. Think of it as an all-inclusive pleasure consisting of meals being carefully prepared and warmly shared with friends and family sitting around the table together.
A good example of this is Joël Robuchon's restaurant L'Atelier: It is a mix of Japanese-style counter dining and classic French food. This style of dining is made of fine cuisine served by the chef across the counter where customers face each other. The decor is consistent with the Robuchon branches: an open kitchen in the middle of the room and a dimly-lit dining area populated with red upholstered seating.
For celebrating a special occasion, you can decide to go with the degustation menu and start off with an amuse bouche of foie gras parfait with port wine and parmesan, which is essentially foie gras, port wine reduction and parmesan foam. The foie gras is rich while the parmesan add some seasoning and flavor to the dish. It would certainly whet your appetite.
With Fall Las Vegas Restaurant Week spanning one week at the end of August and Vegas Uncork'd food & wine festival in May, 2015 you have plenty of time to try many French restaurants and be sure to revisit some of your old favorites, too.
This year, several French restaurants and high-end restaurants are participating in the annual culinary celebration in the city. A few of my favorite Las Vegas standouts include:
Alizé, Palms Casino & Resort, 4321 West Flamingo Road
Alzé is known for its classic French dishes served up on the 56th floor with an excellent service and a breathtaking view of the Las Vegas Strip. That is why it is high on my list of French restaurants to try in 2014.
Le Cirque, Bellagio Hotel, 3600 Las Vegas Boulevard South
Le Cirque brings a touch of Paris to Las Vegas – in a warm and inviting atmosphere. The service is great, and the amuse bouche and complimentary chocolates and desserts are really nice.
Twist by Pierre Gagnaire, Mandarin Oriental Hotel, 3752 Las Vegas Boulevard South
Twist offers a classic French restaurant in the heart of Las Vegas. It now offers a prix-fixe menu. Petit fours and pear & caramelized almond & hazelnut with black sesame ice cream are among sweet temptations.
  Atelier de Joël Robuchon, MGM Grand Hotel, 3799 Las Vegas Boulevard South
I am impressed! I would recommend menu of small tasting portions. Portions are small but it is enough to fill you up. My favorite dishes were Snapper marinated with lime, tomato and virgin olive oil, foie gras ravioli in a warm chicken broth with herbs and Beef and foie gras burgers with caramelized bell peppers. Foie gras burgers were done to perfection. Ask for Chef STEVE Benjamin, he will heighten your dining experience.
Guy Savoy, Caesar's Palace Hotel, 3570 Las Vegas Boulevard South
One of my favorite restaurants in Las Vegas. The fantastic service and great food are at a level not realized by many other restaurants. As always, this establishment never disappoints. If you are looking for a new dining experience, try monsieur Savoy's signature dish, the artichoke and black truffle soup.
Spago, Forum Shops at Caesars, 3500 Las Vegas Boulevard South

Located not far from the entrance to the Forum Shops at Caesars Palace, Spago, one of the many restaurants of chef Wolfgang Puck, offers varied and very good food (French, Italian and American influences). The ambience is rather class. I really liked the appetizer of crispy shrimps. And for the anecdote, Executive Chef Eric Klein is French from Alsace and sometimes sauerkraut is offered on the menu.
Jaleo, The Cosmopolitan Hotel, 3708 South Las Vegas Boulevard
Eclectic and gastronomic, yet simple at heart. Jaleo is the place I seek out for Spanish tapas. Guests can see chefs preparing the jamon Ibérico in the middle of the room, as well as more culinary masters firing up Spain's «comida tradicional». Truly a destination for those looking for a dining experience that spans beyond just good food.
Origin Indian, 4480 Paradise Road
Origin India is an elegant, modern restaurant with a refined dining experience. It offers a Lunch Buffet option, but if you opt in for the menu – the portions are large, with great Indian flavors, and just the right amount of spices. Try the garlic "nan" that is very good!
Mon Ami Gabi, Paris Hotel, 3655 South Las Vegas Boulevard
Las Vegas's Mon Ami Gabi is a beloved classic French bistro that overlooks Las Vegas Boulevard. I can never resist its Steak Frites served up 10 different ways, including: classic, au poivre, bordelaise and Roquefort.
Raku, 5030 West Spring Mountain Road #2
If you are looking for authentic Japanese food to eat in Las Vegas, Raku is definitely the place to go to! Sorry, no sushi is served here, but you will experience other wonderful foods to eat that make up Japanese cuisine: sashimi, butter sautéed scallop with soy sauce, Kobe beef skirt steak with garlic, apple marinated lamb chop, green tea ice cream with crème brûlée.
You can search the full list of participating Las Vegas Restaurant Week 2014 restaurants online. http://www.helpoutdineoutlv.org
Given the popularity of the annual event, it is always a good idea to make your dining reservations in advance. Be sure to ask for the special Las Vegas Restaurant Week menu upon arrival at your restaurant of choice. Bon appétit!