Gastronomy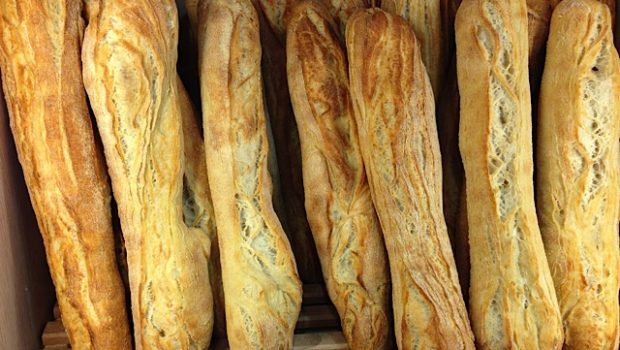 Published on July 12th, 2014 | by Nathalie Monsaint-Baudry
3
Don't mess with our bread
For a French person, "Where are you from?" is not exactly the same as asking: "Where do you come from?" The French native living abroad has several possible answers upon being asked about where he/she is from exactly in France. To keep it simple, he/she will tend to get away from this complex question by providing a vague response: from France. From an American perspective, chances are he/she is from Paris–it almost goes without saying. Although being French does not obviously automatically equates to being Parisian.
Usually, the French are rather ill-at-ease with volunteering more information. Some come up with a glamorous response: I am a citizen of the world, you know… Whatever that really means. Sure. We–French living overseas–know what that means. We all can feel at home whether in New-York, Sidney or Beijing, we just act international. Let's be real though and stop beating around the bush, where are you from–really?
From a French perspective, the plot thickens. The French know who they are in the Basque country, in Brittany, in Corsica, and in Alsace, too. Here is where it is about to become more subtle though: do you reside North or South of the Loire River? Right bank or left bank? For example, if you talk about Nantes, do you feel part of "Pays de la Loire," a fabricated region which intrisincally and historically speaking has no foundation. Do you feel Breton? Vendéen? Again if you are from Nantes, you cannot be from the South (of the Loire). You understand, the South marks the beginning of the Vendée region. Nantes is split into two distinct parts: while north of the Loire River, gray slates are used for sharp-pointed roofs, they are replaced by orange Roman-looking tiles on flat roofs on its southern counterpart. This as to gently introduce us to softer accents, leading us to the latin nonchalance. Let's get a grip on ourselfves and go back to more serious northern considerations. Upon asking a French person this very simple question: "Where are you from originally?," Americans should be explained what they are getting into. The French language you speak says a lot about where you come from originally, meaning geographically and socially. For example, if you are a native from central France, Touraine, where presumably, the "purest" and sharpest French is still spoken (although Paris claims it is the only place where proper French is spoken), it might be somewhat painful to your ears to absorb the Montpellier drawl, sprinkling circumflex accents atop of all vowels making them long and vocal. It sounds as if the syllables were not well contained nor well defined by the mouth. Not to mention the way they say "pang" for bread with a twang, instead of the properly nasalized "pain".
Tell me what type of bread you eat and I will tell you who you are
A Breton can tell the difference between a "genuine Breton" from the granite Finistère most western-bound-soaked-rugged-shores, facing raging storms, and his southernest neighbor soaking up the sun nestled in the mild southern-Brittany sheltered gulf, bathing in a siesta-inducing weather year around, the Saint-Tropez of North-Western France. In Normandy, it makes a difference whether you live in the Upper Normandy or in the Lower Normandy part, then more local subdivisions exist ranging from which département you reside in, whether you belong to the shore or the hinterlands culture, and other natural elements your place of residence will depend on. While still technically in Normandy, there are radical differences not to be underestimated. Subconsciously, we all know there is a fine line that delineates a territory, a feeling of belonging, materialized by an administrative division of the land. Some regions serve as borderline territories as they are smooth transitions between two very distinct regions: le Perche for example, lies between Normandy and the larger Bassin Parisien/Centre. It gets more complex though. Although both Vouvray and Montlouis share the same grape variety, and despite the fact they are litterally facing each other along the Loire River, each nestled on opposite banks, Vouvray wine is not the same as the Montlouis appellation (and vice versa). It is reminiscent of the foundation of Rome, when the original furrow was plowed to designate the city limits, naming at the same time the borderline territories between Rome and the rest of the land. In English, we lack the word for terroir, so we borrow the concept from the French to mean "the taste of the earth". There is salt and and then salts, in France. Between the coarse gray sea-salt from the Guérande salt ponds, with its hand-harvested flower of salt, and the hand-raked fine gourmet salt from the Camargue, still salt. Not even to mention the cheeses.
Tell me what type of bread you eat and I will tell you where you come from–really. There are many expressions in the French language using the symbolism of bread, and the list naming local bread varieties is almost infinite: are you folded bread, pain brié en bâtard, short, scallop-shaped, leaf-shaped, sheaf-of-wheat-shaped, or crown-shaped loaf? Unless you prefer the fougasse, or the split bread from the Berry, daisy-shaped from Ardèche, gun-shaped buns from Ile-de-France, twisted bread from the Midi-Pyrénées, pain Vivarais from the Saône et Loire, lozenge-shaped bâtard, subrot from Alsace, twisted-dough-rope-topped from Burgundy, arch-shaped pain Régence de l'Oise, necklace-beads buns from the Poitou, saw-shaped bread from the Lozère or rather a crown-shaped loaf from Bordeaux? This is still bread, agreed, however, we are miles away from the generic sour dough baguette. Some form of process does exist in today's France, tangible in merging flour mills into large national brands such as: la Ronde des Pains, Banette, Festival des Pains, Baguépi, Campaillette. France still entitles its citizens with the right of access to artisan-quality bread allowing them to find a baguette 1900, a Festive or Grand Siècle baguette just about anywhere, ensuring therefore the perpetuation of traditional, old-fashioned, artisan-style bread, albeit franchized. There lies the evidence of a strong desire to go back to real bread. They still know how to talk about farinaceous structure and texture in France: how crispy the crust should be like and how aerated and honeycombed the inside must be. It is their daily bread.
As for the brioche or sweetbread, the so-called Parisienne comes naturally dignified with a round-shaped head to reflect its triumphal magnitude and grandeur. Each region will have its response, its interpretation around the brioche either breaded, turban or bun shaped. Names vary according to the place: la gâche, le cougnou, la pogne, le kouglof, le gochtial. Each French person knows exactly what his local brioche tastes like. Because brioche plays a part in itself, it is no longer bread, not yet a sweet dessert cake. We enter a different category in between the Danish and Viennese pastries. Try to explain this too…
Paris and the Provinces
A true Parisian is enamoured with his arrondissement. Deep inside, it is all about a comfort zone–walking distance connected to a quartier, a neighborhood. It boils down to being loyal to the local butcher–the only place where he can purchase an authentic-labelled-organic-free-range chicken from the Bresse area, from Loué or Janzé, possibly a certified poultry from Challand, or even the most exclusive black hens from Racan. A true Parisian comes to buy his baguette from his street bakery buying at the same time, a taste of the past. In fact, he does the same as the residents of Bordeaux, Marseille, Lyon or Lille… I dare say that he acts provincial but does not know about it. He must not know about it. Absolutely not. Be careful, he is Parisian. One must not tell him. Paris is still Paris and the rest belongs to the Provinces… The adjective "Provincial" remains derogatory although many Parisians dream about leaving Paris to settle elsewhere in the Provinces, and most Provinciaux live in Paris by obligation.
OK, let's talk about the Provinces. Where do I start? Let's start with a bit of Lyon, a zest of Marseille, some bubbles from Reims, a drop of Bordeaux, crumbs from Montpellier, Grenoble, Nice, Strasbourg, Rennes, Brest, Tours, Caen, a pinch of Rouen, Bourges… I let you complete the list without omitting the middle-sized towns as not to hurt anybody's feelings. You now get an idea of our territory. Associating flavors or songs at times, a city calling another one, just like beads forming one single necklace. Some cities are true destinations, others are more like "passing-through" places. However, we do know they exist as they are entirely part of our inner map of France. Amiens, Chartres, Albi boast their cathedrals, Thiers has the knives, Avignon the Popes, Vierzon, because-of-the-song-that-puts-it-on-the-map, the certified green lentils are connected to the Puy-en-Velay, prunes are from Agen, Montélimar is known for its nougat, Nice for its world-famous salade niçoise, Orléans has Joan of Arc, Pithiviers is known for its eponymous cake, Dijon has its mustard called Dijon in Anglo-Saxon countries, Clermont-Ferrand has its mineral water, Volvic, Toulouse radiates as The Pink City, Nantes oceanic climate is illustrated in lyrics by singer Barbara: It's raining in Nantes. Anyhow, the French know where these cities are located according to a line that splits the country into two: North and South. It is weather-related. And of course, it is fair game, each major regional city will feel superior towards surrounding, smaller towns. This is the way it is and it is not going to change anytime soon despite the current regional modifications and reshuffling led at a national level.
Radio Nostalgie
By and large, we naturally all feel French, do not get me wrong. For example, try to explain to an American what a livret de famille is, or even the mere concept of being "attached" to or "detached" from an administration. We collectively share an ideal of what France is. A country you can easily be fond of and bond with (for lack of a better word, the word "attachment," derives from French, yet we do not use it in English in this original bonding context. It truly means being tied to it). Let us sing along to some French songs if you please. Julien Clerc encapsulates French love for the homeland in a song called: Terre de France. He talks about the French mood, the Gallic character molded by the weather, the passing of time. French singer Michel Polnareff, a long-time resident in California, wrote a nostalgic song: Letter to France. Maintaining the ambiguity between the female first-name: France, and an ideal woman. He paints his homesickness like two forlorn lovers separated by an eternal bond. Michel Berger sings the painful condition of those living far away from home.
This seems to be our French condition. We oscillate between the ambivalence of wanting to change things in France, and our underlying desire not to change anything at all. In France, the complex administrative red tape is called a millefeuille. It does illustrate with a stylish manner the multiple layers as in a puff pastry cake. Isn't this scrumptious? (not the administrative arcanes that is, I am certain you got this).
Ok, let's resume. Where are you from–exactly?