Fashion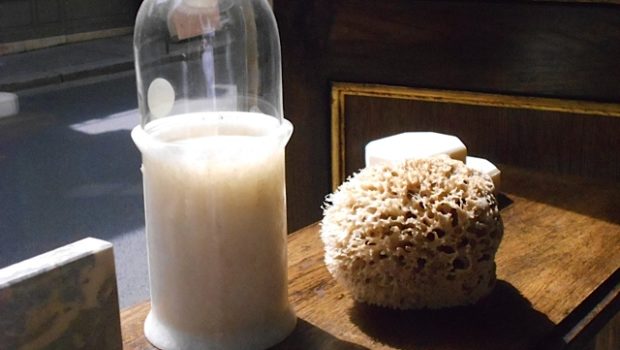 Published on July 12th, 2014 | by Julie Chaizemartin
2
Buly : a French beauty touch
A place that is both chic and old fashioned has just opened its doors in the heart of the parisian capital, in Bonaparte street, just a few steps from the Ecole des Beaux-Arts and the Seine River. Buly's is a shop out of time, recreated on the model of old shops with carved wood furniture, heavy counter covered with marble, and an extraordinary charm.
Charm à la française
The idea comes from a Parisian couple, Victoire de Taillac and Ramdane Touhami, who thought about a place where body care can be exalted as well as correspond to Parisian chic. The bet was won! The Buly perfumery offers a range of innovative products on 18th century-style shelves. We could enter there in vintage dresses ! It would not shock anyone ! Luxury and refinement carry the uniqueness of France here that which a number of tourists seek in the French capital as well as the bourgeois clientele of the left bank. We were told that the most likely to test perfumes and vegetable oils were Americans, who demand quality in the composition of body care.
A famous 19th century Parisian perfumer
But make no mistake, the prices are affordable for everyone and each can delve into the history of perfume in an antique décor transformed into a trendy boutique. Bold and seductive, the concept will delight lovers of culture, heritage, and fashion. Victoire Taillac and Ramdane Touhami revived the illustrious French Wax house, Trudon. At Buly's, it is primarily the atmosphere and charm of the old shops that they wanted to showcase in order to attract customers. There are perfumes with water, vegetable oils, exfoliating powders, ointments and lotions, utensils for hair, natural sponges and incense made by the monks of Mount Athos in Greece as well as famous candles of delicate scents. The inspiration behind it is the famous master perfumer of the 19th century, Jean-Antoine Bully (the current store took the name by removing one "l" – not to offend the Anglo-Saxon !) who had two Parisian stores, in Saint-Honoré and Montorgueil streets, and who had made himself known for his "vinegar de toilette" that all Paris wanted to rub on their bodies in order to feel good. Mr. Bully has even inspired Balzac for his "Cesar Birotteau" which narrates the glory and decadence of the Parisian perfumer. Bully indeed was eventually ruined after the sacking of his pharmacy in the popular uprisings of 1830.
Natural beauty products
While the decor immerses us in a store of the 18th century, the range of products offered is quite innovative, containing neither parabens, phenoxyethanol nor silicone. Some products are quite extraordinary: the nightingale droppings of Japan which are a powder scrub for the skin to make it smooth and radiant, or the emu oil that has antiseptic properties that stimulate cell renewal or the root of Araak, naturally antiseptic, known for thousands of years to maintain healthy teeth and gums.
Luxury, calm and scents
A delicate scent of rose and incense hangs in the air and permeates the wood shelves that are stored with elegant perfume bottles and glass jars. Here everything seems luxurious, calm and scented. The magic of these ancient recipes are witnessed in the packaging and labels that show their time period. The names of perfumes gently say: tuberose, bergamot, Makassar, lichen Scotland, England honey, bitter orange, rose Damascus, al kassir…
Parisian chic that seduces
It took three years of work to transform the space (a former art gallery) into a place steeped in history. Victoire de Taillac tells us that each object has been carefully chosen for its historical and artistic value. The bet is won : when we enter the pharmacy it brings us back more than 150 years. Today, as Jean-Antoine Bully in his time, the masters of the place formulate in their own way their cosmetic inventions. We exit the store with a sense of well-being, and a soft veil of fragrance on our skin that will accompany us throughout the day. The 100% natural linked with the last Parisian chic make it a curiosity to visit ! It is a guaranteed gift idea!
Officine Universal Buly
6 rue Bonaparte, 75006 Paris
www.buly1803.com
info@buly1803.com
Tel: 01 43 29 02 50
Open every day from 10 am to 7 pm except Sundays.