Interviews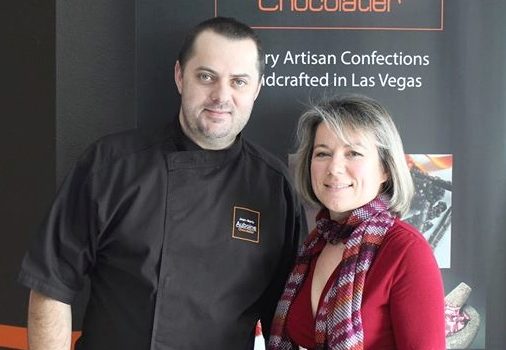 Published on August 15th, 2014 | by Isabelle Karamooz, Founder of FQM
0
Interview with Jean-Marie Auboine, a chocolate maker in Las Vegas
Interview Credits
Interview Subject and editor: Isabelle Karamooz
Interviewer: Isabelle Karamooz
Editors: Isabelle Karamooz, Gene Belin
Interview transcript: Gene Belin
Videographers: Isabelle Karamooz
 INTERVIEW CONTENT :
Isabelle Karamooz : Jean-Marie, how would you describe yourself in three words ?
Jean-Marie Auboine : I think passionate, hard worker because chocolate and pastry is my passion, and hard worker because we have to work hard in this business. It's a lot of hours, especially at the end of the year like that for example, where we have a large amount of confections and product to prepare and we have to be a hard worker and because it is my passion I don't count on that. It is not a problem.
I.K. : And two more words.
J-M. A. : Lucky as well, lucky, why, because I live my passion and I'm lucky because I never think. In the past, when I was a kid, I would be able to prepare the chocolate and the candies, I was eating when I was a young boy and something amazing because when I see all the work done and all the hours and never think to arrive on that and it's not finished, I'm still learning and I'm still in the new processing way… and that is something amazing, I am very happy with that.
Another word: curious, open, open mind. And as well to create we have to be open to create new recipes. Also, where we provide for different ingredients, for different trends, as well. Listen(ing), as well, which is very, very important, altogether that is something wonderful.
I.K. : When did you know that you wanted to become a pastry chef ?
J-M. A. : Actually, it was by accident, because when I was young, I was thinking of becoming a veterinarian, not a pastry chef, and that is totally different, very, very different. And I had a friend, I think it was in college, who told me « Oh, I'm going to go to veterinary ? school » and he was a very, very good friend, my best friend, and I said « You know what, I don't know what I'm going to do, maybe I'm going to go with you. » Because when we were teenagers we would want to stick together, And it's for that. And, I decided to go to the culinary school and I was pretty young. I was sixteen years old. And I went to culinary school just to have a look at it, what it is. I grew up in, especially my mother and grandmother were excellent cooks, cooking a lot. Nothing with business because they were not in this business. I grew up also in a part of France where the food — it's amazing. Because we have foie gras, pretty close amazing products and porcini very, very close and I grew up with that. And I decided to become a pastry chef by accident because we were just following friends in culinary school. I started as a « savory » to learn savory. And after that I decided to go into pastry, why, because it's more precise. In savory, it's a lot of filling, a little bit of salt, a little bit of spice. Pastry and especially chocolate is very, very precise. One gram or two grams can change the recipe; one degree or two degrees, exactly the same thing. Because of that it was very, very interesting and it was very interesting, the artistic part, as well. So the pastry and chocolate, I was very, very interested in that and I started with that.
I.K. : How did you start out in chocolate? Were you a sculptor before becoming a chocolatier? (laughs)
J-M. A. : No, no, no, I was not a sculptor, before I learn, I learn with chocolate what to do, because we have to create, anyway, when we work in these business hotels and hospitality, we have to create show pieces, amenities and we need to have a little bit of artistic skills, so that we develop little by little working on that as well, we don't (aren't) born an artist or a chef or we just learn. It's a learning process so people are more dedicated to learn have more skills than everyone, but I start with chocolate very, very early as well, even when I was in school I discovered chocolate, because like a lot of people, like in America, in America they grow… I grow up with Hershey's. In France, we have a chance to have a very good chocolate that is pretty close, and I taste a lot of very good product early ; and after I have a very interesting passion with that because chocolate has a very specific texture, smell and also everybody loves chocolate. It's for that and I work with a lot of different companies when I was in France before moving outside the country, to learn and as well, to develop recipes for them and to work a little bit in a creative way with them.
I.K. : Is there anyone who has been a big influence on what you do ?
J-M. A. : Yes, I think 2 people, were very, very important in my career and in my life as well, first of all my wife pushed me a lot because she always is trusting me and pushing me and giving me the opportunity to grow up professionally which is very, very important. She always supports me a lot which is very, very important because, as I told you in the beginning, working a lot of hours sometimes is not compatible with a family and she always told me: no you have to you have to, you have to. And just pursue your dream, which is very important. And professionally as well, I have a friend, is not a friend for me it's like a family as well. His name is Jean-François Castagnier, and he is a meilleur ouvrier de France in chocolate and he early gives me a lot of tips, a lot of… he just show me how to work, which way to follow to achieve my goals in chocolate. I'm always in contact with him, we see each other, we call each other every two weeks because and since a lot of years. I wish everybody in this business… in every single business to find somebody like that kind of support. He's like a mentor for me, and to support someone, it's not easy, because sometimes we have the up and down and it's never easy and sometimes it's a little bit challenging, but at the end the result is great.
I.K. : Do you find it a challenge to constantly innovate ?
J-M. A. : No, it is not a challenge, we have to push ourselves. It's for that before I remember when I start in this business, a couple of years ago, twenty years ago, a little bit more, I met old chefs and they were keeping the recipes, keeping everything because it was a secret, oh my God, but now not anymore, why? Because it's great, because now first of all we can show the world what we are doing, and second thing because when we publish our recipes or pictures or whatever ; we have to be innovative after that, because we cannot keep doing the same thing every single day… Because we have to push ourselves, now and that's the way, so far for us and for myself to try to develop new recipes, try to find a new trend as well and I think it's very, very important. It's not changing, it's good, it's good because we learn, we make mistakes, nobody is perfect, we make mistakes every single day, but most importantly we learn from that and we find a way to achieve our goals. But yes, we have to be innovative, we have to push ourself and decide to create something else, something else and don't be just… not staying in what we are doing but yeah…
I.K. : What sets Jean-Marie Auboine Chocolatier in Las Vegas apart from other chocolaterie, what would you tell clients ?
J-M. A. : Well, that's what we are different from everyone and that we prepare everything from the scratch here; and I mean everything is everything. Not the chocolate because we don't process the cocoa here, because it's not possible to get that, but we have our own recipes in chocolate. We have a company in Switzerland or France developing the recipes for us, exclusively for us and I go over there one week or two weeks per year and we start from the bean to the bars and we create that and after we ship the chocolate to myself and we transform them. Also we are preparing all, even the hazelnut paste, even praline paste, even marzipan, even candied orange peel or glazed orange peel or mandarin, I mean its everything is handcrafted here, we don't buy any product already made. And that's very, very important, that makes the difference, because it's quite impossible. We had to buy a lot of machinery in Europe to be able to realize that because we had specific grinders that we can find only in France and Italy, we have a specific machinery to do that. And that we cannot find that in the U.S. so just a few people can do that here because it's impossible to find, and we have to import these machines with all the problems we can find importing the machines like that. And sometimes because we have very, very specific skills for that. Also it's a lot of years and learning process during a lot of years to understand the product how the ingredients react. It's very easy to do chocolate even at the home you mix a little bit of ingredients, but, even the shelf life, we control the shelf life, we have our own lab here, the facility and we analyze the water activity inside the product and we know the shelf life which is very, very important because we sell very, very good product, very high quality product and sometimes save. And that's being the difference with us and some of our chocolatiers.
I.K. : If people could only try one of your products, what should it be and how come?
J-M. A. : One of my favorites, we have a chocolate called double sea salt caramel. It's a chewy sea salt caramel and the very creamy caramel ganache on the top and after that its cut in a rope with a little bit fleur de sel on the top of that, I think it's one of the most well balanced chocolates we have and everybody loves it because it's true that people love caramel and sea salt and its very, very easy to, it's not too sweet, it's not too bitter, its well balanced. I think I will pick this one. We have a bar what also we call lion bar. Lion bar why ? Because it was born in France and Europe and every single gas station that stays preparing the bar they call that lion. And that I love it because even if it is an industrial product I remember when it… when I was driving and stopping at a gas station filling the tank and buying a couple bars like that and eating that when I was driving. And that's a huge memory and I would decide to create a little bit of the same product but of course with different ingredients and it was very interesting. I can eat one or two per day, it's no problem, and so it's one of the best sellers anyway, we have a lot anyway.
I.K. : Where is your chocolate available?
J-M. A. : Our chocolates typically are available… We are working with more in wholesale with hotels and resorts, they are available on-line of course, because we have a website and people can order on-line. They can stop by even for people in Las Vegas; they can stop by in our facility here, and buy all the products that we have because we have more than 120 reference now. That's not a problem. They can find our product as well in Sambalatte café, in Summerlin in Las Vegas, they can find them in Sugar factory as well. They can find as well our product pretty soon in Dean & Deluca around the country and on-line as well. And we are working on different companies now to have more product available around the country. Particularly our business — 95% of our business is wholesale for hotels and resorts, but yes, we have retail store for our product as well.
I.K. : What does winning the « Finalist Meilleur Ouvrier de France Chocolatier 2011 » award mean to you ? To what do you attribute your success ?
J-M. A. : Well. That's funny, it's a lot of years of dedication, a lot of very, very hard work, you really have to push yourself because you have to do something to develop a lot of artistic, it's just, it just gave me the opportunity for me to grow a lot. I learned more in 5 years, 7 years preparing this kind of competition than all my career because you really, really have to push yourself and to create something unique. And that's amazing also you learn a lot about yourself as a person, about friends around you need a lot of support for this kind of competition, and after that success, it's not a success, it's just a part of my career path and I really enjoyed that and just have to say thank you for all the people to support me for this kind of things. After this it's very, very personal the competition it's just… Some people cannot understand because they it's sometimes a little bit too much complicated to prepare that. Nope, I feel lucky, that's it.
I.K. : What is the next project for you, Jean-Marie ?
J-M. A. : The next project for me… Wow, first of all to develop this company, to run this company correctly. We are growing; we are growing, which is interesting, compared to the store we have just one year and an half compared to last year we are growing a lot. My goal and my project will be to develop retail store because I think that we will go next year as a retail store in Las Vegas and we are looking for that. And also, what I would like is to just prepare an amazing product for the people here in Las Vegas, to have the possibility to test that because I think of a very, very good product won't need to be expensive, just the right price point, but just give opportunity as well to everybody to test something a little bit different. And just that possibility to share my passion a bit more with the customers and building a good company where it's interesting to work with and creating jobs as well. Because the goal, as well, when you create that we invest time, money and we want to be successful not just because it's interesting to be successful, but because it's also we have an opportunity to come here to support a community. We are involved in a lot of charity events as well where we donate to charity events for kids for St. Jude's Children's hospital, even for food banks, we gave a lot of chocolates last year in December, and just have the possibility to run a good business to share my passion with more and more people and create jobs, as well, here in the city, because this city, especially Las Vegas, it's a great city where people come here to spend money but there is no industry, there is not a lot of companies producing something in Las Vegas, we bring a lot in Las Vegas, all the hotels are buying, buying, buying, but preparing something and creating a brand in Las Vegas is not that easy apart from a big casino. It's for that we would love to develop that.
I.K. : Thank you Jean-Marie for your time.
J-M. A. : My pleasure.