Art & Culture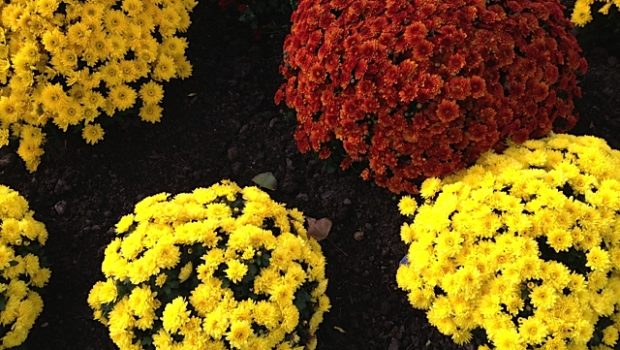 Published on September 15th, 2014 | by Nathalie Monsaint-Baudry
2
Prairie-like flowering cover-crops, weeds and various considerations on flowers
You may have noticed the flourishing of prairies just about everywhere in the French landscape in the last decade. Whether urban, semi-urban, rural, the uncultivated flowers or fallow gain ground on commons, roadsides, on the fringe of a forest, amidst a forlorn vineyard, conquering an uncultivated space with a multitude of yesteryear's flowers.
Like confetti generously sprinkled over otherwise non-descript areas, they delight us with vibrant colors. Between May and November, French roadsides—instead of been overgrown with agressive, prickly bramble and stinging nettles—benefit from a complete beautifying makeover. This marks the come back of the poppy, cosmos, cornflower, the French honeysuckle, daisy, adonis, nigella, corn cockle, wild chrysanthemum, renoncula, delphinium, centaurea, zinnia, red anoda cristata, lavatera and of the California poppy, in short, the official return of the harvest plants we grew up with. We had forgotten about them simply because weed killers and pesticides eradicated a vast majority of these plants, it is now about time to learn their names again.
This initiative is the result of combined efforts from hunters, beekeepers and communities who negotiated a legal agreement with farmers back in 2008, entitling the latter to leave 10% of their land uncultivated. Flowered cover crops mean more than adding color, they re-introduce biodiversity, fauna and flora, pesticide-free framed in pre-determined unsown objectives: wild fauna, pollenation-friendly and apiarian habitat.
Therefore, for our personal enjoyment, we are witnessing the actual rebirth of the actual Impressionistic landscape: Monet's Poppy Field, Renoir's Woman with a Parasol in a Garden and Picking Flowers. The prairie is gaining grounds over urban asphalt.
By all means, this does not mean that weeds are back, these undesirable plants, also known as invasive and noxious herbaceous species: sagebrush, borage, creeping thistle, wild carrot, false cleavers, wild oat, field bindweed, chickweed, field mustard, stinging nettle, purslane, wild radish, field marigold, buttercup, white clover, these weeds are still unwanted however, they are common ingredients in phytotherapy, homeopathy, allopathy or aromatherapy medicine.
Etymologically speaking, a flowering cover crop is an oxymoron. Fallow means to keep the land unseeded, it is the first step to prepare for fall tillage starting with getting rid of weeds. Fallow meant to allow the land to lie idle during the growing season. Idleness was all relative since it meant to plow and harrow to destroy and prevent weeds from growing back. Consequently, this new type of fallow is the opposite to the traditional one. It is very regulated and has little to do with the previous practice. These variegated floral tapestries fill up an open space serving several purposes: beautification and cutting through the hard labors of weeding out the land. These out-of-control rural or semi-rural areas that would have been otherwise conquered by unwanted creeping herbaceous plants, are getting tamed, civilized and dignified thanks to domesticated wild flowers.
Flowers of yesteryear are back
J'ai descendu dans mon jardin… gentil coquelicot Mesdames, gentil coquelicot nouveau….
(old French song)
We had almost forgotten about them, they were missed, and they are back with their bloody spots here and there, from hilltops to gently rolling and hummocky meadows. This is the French landscape signature par excellence, that delights all French countryside lovers. As for the forlorn flower species: dahlia, fuschia, gillyflower, godetia grandiflora, cosmos, windflower, these old-fashioned garden flowers seem to be "in" again. Daisy, lawn daisy, primula, cyclamen, have always beautified our meadows, gardens, and the undergrowths while marking the change of seasons.
The lily-of-the-valley is seen as a good luck charm, bringer of happiness typically given as a gift on the first day of May in France, we may have forgotten about its origins though. Since the Middles-Ages, it was actually known in French as lys des vallées, it always symbolized the return of Spring and was already considered as good luck bringer by the Celts. On May 1st 1561, King Charles IX made the tradition officlal to give lily-of-the-valley bouquets as gifts to court ladies. It has only been associated to Labor Day since 1976.
In France, the white lily symbolizes the Virgin Mary, purity and nobility. As for the heraldic fleur-de-lis, it has been a widespread motif in the Western world since the Byzantine Empire, under the Carolingian dynasty, and unlike what most of us would think, it is directly inspired from the iris or from the gliadiola and not from the actual lily. The fleur-de-lis motif will vary in shapes and colors accordingly. We find it on the flag of Quebec, as well as the one of Saint-Louis in the USA – New-Orleans features it too. It is the emblem for Scoutism worldwide inspired from maps where the fleur-de-lis traditionally stands for North. It is red with stamens with the Medici in Florence, and yellow or gold on a blue shield on the French Royal coat-of-arms emblem and with the Bourbons in Spain, it is even found much earlier on the Gauls' fleur-de-lis spearheads.
Because of its golden hues, chrysanthemums became the traditional cemetary flower in France in the 19th Century. The Fall shades, ranging from yellow, crimson, to gold indeed replaced the real candlelights on graves. Because it is symbolic of death, and due to its robustness to cold weather, it is widely used for funerals or on graves, and therefore is the official flower to express sympathy on All Saints Day. It would definitely be a major cultural blunder to bring mums for any other occasions as it is a negative or mourning flower only.
In some parts of Asia, white chrysanthemums are symbolic of lamentation and grief. In Japan, they are associated with the Imperial dynasty, whereas in the US—except for New Orleans claiming its French cultural heritage— mums symbolize truth and are all-purpose flowers regarded as positive and cheerful, including on Mother's Day.
If the pink carnation is the most popular and traditional flower on Mother's Day in Canada and in the USA, it certainly is not the flower to send in France on any occasion. It has the reputation of being cheap and of being a pale imitation of the rose. In Francophone culture, the carnation symbolizes bad luck and misfortune and back in the 19th Century, B-rated actresses were given carnations instead of rose bouquets to send negative feedback on how poor their performances were. Our British friends commemorate Remembrance Day with blood-red poppies worn on the left lapel, reminiscent of the bloody battles in Flanders fields in World War I.
Inspiration
MIgnonne, allons voir si la rose
Qui ce matin avoit déclose
Sa robe de pourpre au Soleil,
A point perdu ceste vesprée
Les plis de sa robe pourprée,
Et son teint au vostre…
Of course, mentioning that flowers are profusely used as metaphors—and roses in particular—to symbolize beauty, withering youth, feminity, the passing of time in general, is blatant platitude. Balzac in The Lily of the Valley, Baudelaire's Flowers of Evil, Alexandre Dumas' Lady of the Camellias, the very same camellias that were to become Chanel's emblem. From the English Rose to the Flower Children, Georgia O'Keeffe's calas, Van Gogh's Iris, Sunflowers, and Poppies, from the English Liberty fabric to the 17th Century French mordant-dyed toile imported from India by the French East India Company called "Indiennes", flowers are still an inexhaustible source of inspiration. Whether painted, embroidered, inlaid with multi-colored marbles and semi-precious stones as in the Italian pietre dure technique. They get printed on haute-couture creations : lily-of-the-valley beads, orchids, sunflowers, iris, violets, or designed as floral-shaped dresses by Dior. Kenzo's powdered, scentless and suggested poppy perfume is another magnificent oxymoron. Perhaps because it is beautiful, yet fragile, a flower is a quintessential ephemeral object as the French poet Ronsard reminds us in his famous Ode to Cassandra:
Sweetheart, let's see if the rose
That in morning light disclosed
Her crimson dress to the Sun,
This evening has lost once more
The folds of her crimson tussore,
And her, as your, complexion.
Ah! See how in such short space
My sweetheart, she's filled the place
With all the beauty's she's lost!
O, so unnatural Nature,
You whose ephemeral flower
Lasts only from dawn to dusk! […]
This might be the reason why we tend to immortalize flowers to make the pleasure last as long as possible. It is probably in Renaissance Florence that the city-flower is most obvious. The city name itself, Firenze, Florence, means flower. With Botticelli's dense and complex painting known as the Allegory of Spring or La Primavera, Flora, the Goddess of flowers with its multitude of flowered fabric, species, announces the return of the Primavera, being the incarnation of Florence herself. Not seeing great Masters of the Italian Renaissance as botanists first, such as Leonardo da Vinci was, would be an admission of not having paid close attention to their paintings. They are incredibly precious and abundant catalogs of botanical illustrations of their times.
Finally, we would not be French if our elite gastronomy did not include edible flowers into their culinary creations. The nasturtium mustardy-peppery flavor enhances a salad. The star-shaped borage lavender flower is reminiscent of the oyster, when sugar-coated it turns into a delicate, sweet, dessert flower. Oil infused, jelly, or safran perfumed calendula concoctions will add some radish distinctive tanginess. Rose petals can be candied and sugar-frosted, turned into ice-cream, jelly or preserve, while zucchini blossoms can be stuffed or delicatedly fried into crisp-golden sweet treats. Poppy leaves, mallowflower and marshmallow, the violet candy, the pansy minty flavor flourish on our palates that garnish our plates.
Flowers have always been part of our health, beauty, and have inspired our everyday vocabulary. French language flourishes with words with floral ramifications: blossoming beauty, the flower of the age, fine flour meaning the finer portion of ground grain, blooming, florid, branching out on curlicue adornments. Whatever the use we make of the word, it always means the finest part of anything, and we have only brushed this vast subject.