Interviews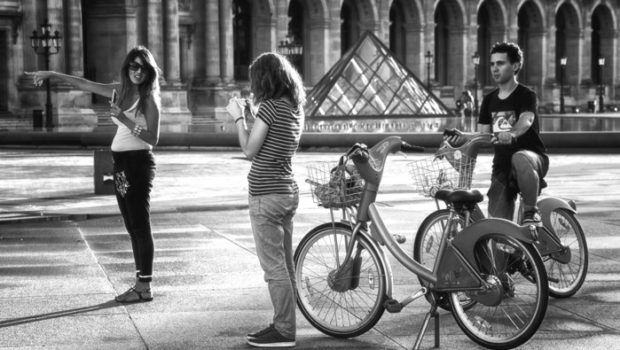 Published on November 13th, 2014 | by Isabelle Karamooz, Founder of FQM
0
Interview with Laure Baraton, amature photographer in Paris
November has arrived ! Even though the temperature has dropped, the Parisians continue to take a walk in their city. However, tourists are slightly less likely to stand in line at the Louvre pyramid. It is at the Café Marly at the Louvre that I met Laure, in the « arrondissement » where she lives for 7 years.
Photography is her passion. Paris, her adopted city, she knows well. She loves to take pictures of this city and it is our great pleasure that she reveals her secrets to us in an interview.
You can discover Paris with Laure and help support French Quarter magazine by purchasing Laure's photos by clicking on the following link: https://frenchquartermag.com/discover-paris/ 
Isabelle Karamooz : Laure, which three words would your friends use to describe you?
Laure Baraton : Nice, generous, creative.
I.K. : How long have you been interested in photography?
L.B. : I started to get interested in photography twenty years ago. It is through one of my cousins who had a friend who was a professional photographer. By visiting his site, I discovered photography in another way, totally different from what I knew before. As for me, I chose a way to photograph that is less classic, more tuned into the unusual, with different compositions and framings.
I.K. : How would you describe your style?
L.B. : I am interested as much in landscape, architecture, lifestyle, portraits, flowers (macro) as in objects or unusual scenes. After I discovered that I had a more of a preference for life scenes, city scapes and framing streets, well it all depends…
I.K. : Are there any artists you particularly like and that would have influenced your approach to photography?
L.B. : I have no preference for a particular artist. Obviously, I love what Doisneau did, even if I only found his photographic universe 5-6 years ago since I have been into photography. Then I discovered Brassai at the exhibition which was dedicated to him at the City Hall in Paris. I liked his way of photographing the capital, the play of light and life scenes. I can not say that I am inspired by him, I was already taking photo before seeing his work. It is true that we may also be influenced by other photographers to improve our skills and adapt it to our own feelings.
I.K. : What has photography taught you?
L.B. : Photography allowed me to develop my artistic sense. In my family, there are artists. Perhaps, I have a predisposition. My mother is an amateur painter, my uncle, Alain Baraton, chief gardener at the Castle of Versailles, a lover of nature and creation of gardens. He also has a passion for photography. As for me, I chose photography as a means of expression and it is by taking a lot of pictures that one improves his technique and we get to share emotions with other photographers or with people who love photography. I am also a member of the Jury of a photo contest on Facebook called Artopho Gallery.
I.K. : Your idea of the perfect composition (does it exist)?
L. B. : For me, the perfect composition, it is a combination of several elements in a single image: a street scene, a bike, a floor lamp and a little light. The perfect composition is a beautiful harmony between several subjects.
I.K. : Can you comment on the photos you've chosen to show us during this interview?
L.B. : I chose three photos with different themes. The first theme is about my city, Paris. In my neighborhood near the Louvre, from which you can see the Eiffel Tower. I prefer this picture because for me, it is part of a, we can say, "a perfect composition!" The harmony of several elements – benches, light, the Eiffel Tower in a patchworked ambiance with a hint of the well-being of Paris. Then I chose a most unusual picture. While lounging on the banks of the Seine, I saw, on the sidewalk an apple core and I wanted to give it a good end. I just upgraded the picture with a set of color backdrops. Third, I chose a Swedish landscape on the west coast with sunset on the sea bottom, two bikes, a clean image, but I particularly like it.
I.K. : Tell us about the last exhibition you visited ?
L.B. : The last was the exhibition "Brassaï, For the love of Paris," a wonder with perfect compositions, amazing use of light, obviously without editing (it did not exist at the time). It had a sublime atmosphere of Paris. I am still very impressed by the emotion he transmits through his photos.
I.K. : Thank you Laure for sharing with us your passion.
L.B. : Thank you. My pleasure!
First picture
Second picture
`
Third picture