Interviews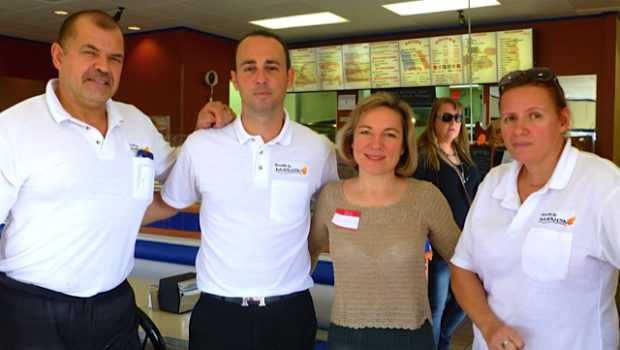 Published on December 22nd, 2014 | by Isabelle Karamooz, Founder of FQM
0
Interview with Rachel and Jean-Paul, owners and bakers at Manon Patisserie in Las Vegas
Interview Credits
Interview Subject and editor: Isabelle Karamooz
Interviewer: Isabelle Karamooz
Editors: Isabelle Karamooz
Videographers: Teresa Gaetos, Pascale Nard
Isabelle Karamooz: When did you open your two bakeries « Manon » and « Camille by Manon » ?
Jean-Paul: We opened Manon at Charleston in October 2010 and this one (Camille by Manon) in Las Vegas in February 2014.
Isabelle Karamooz: What is the necessary visa to open a business here in the United States?
Jean-Paul: The necessary visa is the E2 visa. It is an investor visa. At least for us, that was the visa given.
Isabelle Karamooz: And is it easy to get it?
Jean-Paul: It takes some investment – we must have prior experience, take pastry baker exams, have no problems in the United States nor too many problems in France. They ask us for quite a lot of papers, documents about our families and ourselves. The visa is granted for either 2, 3 or 5 years. We had a visa for 5 years and it is now about to be renewed.
Isabelle Karamooz: What were your previous ventures ?
Jean-Paul: Before Las Vegas, we were in Tahiti, so we had two bakeries, neither as big as this one…
Rachel: Two authentic bakeries like in France with the same principles as in France. Here we have innovated ; we have a bistro and more.
Jean-Paul: There was a bakery, just like a bakery found in France.
Isabelle Karamooz: What distinguishes your pastries from others ? Is it like an improved "tea room" ?
Jean-Paul: It is certainly that, but mostly it is that it is only French. We have adapted our recipes with American flour, all American products. We have adapted because it was not at all the same, not only for the baguette. To get a crusty baguette, we were forced to mix some flour and my wife Rachel, our pastry chef, had to adjust all her recipes from goods that can be found here.
Isabelle Karamooz: What products do you sell, in addition to cakes and pastries?
Jean-Paul: the standard ones, that is to say, pastries such as raisin bread, chocolate croissants, chocolate twists (big and mini). There is a huge range of cakes with éclairs in all flavors, including black forest and strawberry. But, what really differentiates us from others is that we do only French, truly French.
Rachel: We have 17 kinds of macaroons, 17 flavors…
Isabelle Karamooz: What makes, in your opinion, a good baguette, a good pastry flan, a good éclair for example?
Jean-Paul: Natural products, fresh produce, good raw materials and know-how as well.
Isabelle Karamooz: Do you get any ingredients from France ?
Jean-Paul: No, except the croissant butter. It comes from France.
Rachel: There are some French products that come from Los Angeles, but the majority are American products.
Isabelle Karamooz: Actually I had this question – have you adapted these products to American customers?
Jean-Paul: Yes, we do adjust the sizes accordingly – You may have noticed, the piece of flan is a big portion of flan. It is made in the traditional way. It's always a good pastry cream, custard cream, because it's not a mix that we buy. But, for sure, with the current times if people eat at home, a cake for two is enough, because the portion is big. That saves guests some money.
Isabelle Karamooz: You also sell macaroons – what are the most requested flavors?
Rachel: Of the most wanted, there are many, but the most traditional are: the salted butter caramel, pistachio, chocolate, butter sells well, too. Classic with strawberry, raspberry, orange, lemon, acidulated. All macaroons are different depending on the flavor you put inside soft or a little more crisp.
Isabelle Karamooz: The most requested?
Rachel: Salted butter caramel, mango, mango is popular, too.
Jean-Paul: There are 17 kinds !! (Laughs)
Rachel: I'd like to make more of them but I do not have time.
Isabelle Karamooz: November and December are the busiest months of the year. What are the delicacies that you sell more at Thanksgiving and Christmas?
Jean-Paul: At Thanksgiving, it is pies, that part of the traditional French tart apples and apple compote. We have adapted the pies accordingly – it's called « grilled. » We have cherry, apple, cinnamon apples, blueberry, raspberry tarts. We make all of these kinds of pies then and afterward Rachel has her share of tarts.
Isabelle Karamooz: The log sells well too, the Christmas log?
Jean-Paul: A classic butter cream. Last year we had an ice cream log. An ice cream log is enjoyable, too. After a good meal it's nice to have a little ice cream. But otherwise the buttercream log… Americans did not know what it was, and we introduced them to it 4 years ago when we opened. For now it's selling well, and they're happy.
Isabelle Karamooz: What is your customer for the Christmas log?
Rachel: We have some French of course, but the Americans have really enjoyed this typical French original. The small log all decorated with Christmas trees and small Santas is popular.
Jean-Paul: And then the galette.
Isabelle Karamooz: The galette in January?
Jean-Paul: We begin a bit in the last week of December. We made some because we had requests. There is an American who comes from Utah every year to pick up the galette des rois (the cake of kings). He has come to Vegas multiple times before and each time, he calls us and he takes 3 or 4 back to Utah.
Isabelle Karamooz: With the real lucky charm in?
Jean-Paul: Yes, this is something we teach them about, too. Mexicans already know about this because they have something similar called the "King Cake."
For Americans, we had to tell them to be careful because there is a lucky charm in it. Do not chew, be careful of your teeth. Now we make a few because this is not what works well, it's nice to show them.
Isabelle Karamooz: We wish you continued success and thank you for taking the time to speak with us.
Rachel and Jean-Paul: With pleasure, see you soon.