Art & Culture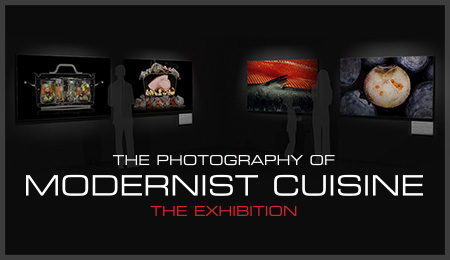 Published on January 13th, 2015 | by Anne-Fleur Andrle Stephan
0
Mouthwatering pictures: "The Modernist Cuisine" Exhibition now at the Museum of Science, Boston
During the Christmas break, I visited the Museum of Science in Boston for the first time. This museum offers several permanent exhibitions, somewhat in the style of the Palais de la Découverte in Paris, from the Apollo capsule to the spectacular T-Rex (who also did bundle up for the season); but also temporary exhibits, and that is actually what I want to talk to you today: "The Modernist Cuisine".
Alright, I hear you from here and I warn you: yes, it is a show about cooking but no, not the same old thing! Not the super cute and appetizing pictures, which you see on food blogs (also wonderful, but that's not the point here).
Since the beginning of October until mid-June 2015, the Boston Museum of Science offers a photo exhibition really original, highlighting science for our taste buds in the kitchen. The visitor will have a chance to appreciate over fifty impressive photos, showing science and techniques allowing the visitor to enjoy very surprising slices of cooking appliances (yes, you read that right) and food items, which populate our kitchens.
Nathan Myhrvold explains the techniques used to make such representations, from the more "classic" ones (microscopy, advanced software, video cameras, etc.) to the most surprising. Indeed, the protagonists of this exhibition have decided to use a machine shop to cut our everyday utensils in order to propose a completely new and original reading of these daily tools. The visitor who wants to know more will be delighted to find the books of Modernist Cuisine, at the museum gift shop.
The tour goes relatively fast (takes about 30 to 45 minutes) and will delight the younger as well as the older. The colors, the genius, the surprises, the grandiose. Not to be missed!
More info: http://www.mos.org/exhibits/photography-of-modernist-cuisine.