Interviews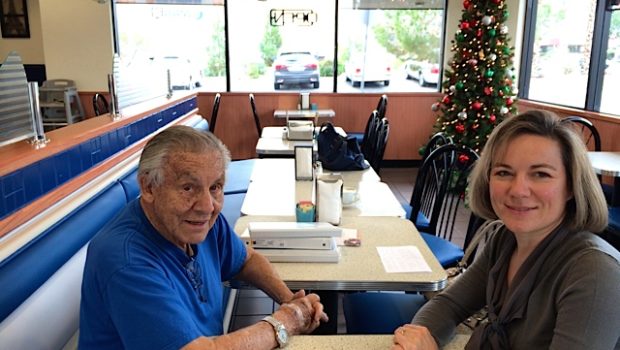 Published on January 24th, 2015 | by Isabelle Karamooz, Founder of FQM
2
Interview with Gaetano Benza, a WWII veteran in Las Vegas
Interview Credits
Interview Subject and editor: Isabelle Karamooz
Interviewer: Isabelle Karamooz
Editors: Isabelle Karamooz
Videographers: Maggie, Pascale Nard
Isabelle Karamooz: Bonjour Gaetano Benza, what were you doing before you joined the military?
Gaetano Benza: I graduated high school. I was in school.
I.K.: What did you study?
G.B.: I studied aviation because I wanted to be in the Army Air Corp. I wanted to be a mechanic. When I graduated, I was 18 years old. But the army did not allow me to be a mechanic. They put me in the Fourth Battalion outfit. I felt that I had lost four years of mechanical education. I was hoping to be a motors mechanic. But unfortunately, they chose people who were not in the business and they trained them. Why? Je ne comprends pas.
I.K.: And, in what year did you join the Army?
G.B.: 1943.
I.K.: What branch of military did you serve in?
G.B.: Army.
I.K.: Did you enlist in the war or were you drafted?
G.B.: I was drafted. I wanted to enlist. I should have enlisted, maybe I would have gotten what I wanted. But, anyhow…
I.K.: On what beach did you land in Normandy?
G.B.: I landed between Utah and Omaha.
I.K.: What was it like?
G.B.: Well, first of all, we left… I was in South Wales in England for nine months before the invasion. This is where we learned that we would be responsible for unloading ships with amphibious boats, that is land and sea. And, we had to do that under fire. So, I followed the instructions. The invasion started and they took us to Plymouth, England. We formed a chain and after the firing began. I came in climbing down those ropes with the landing craft, as you can see on the pictures.
The only thing, Isabelle, the water was very rough and it is something that they did not anticipate. In other words, the barges were experiencing downward movements and the majority of us got so seasick. We were looking for the beach. We had to get ourselves up there regardless of what happens. So when it came time to depart from the landing craft, they pulled up as close as they could and I jumped into the water. I had water up to my chest (gesturing chest high). I had my M-1, my field pack and my helmet. The sergeant was yelling at us, "Get to that shore as best as you can. If you drop your weapon, leave it. There's always more up there."
A large number of GI's were killed, so many… There were a lot of guns. I never gave up, I went to the shore. I do not know how I did it. The good Lord was watching over me because I never got hit. When we got to the shore, naturally, right away, we dug so we could be low into the ground to avoid all shooting and shrapnel. One of the worst things coming in was the 88. The 88 was shot out of the bunkers that they had lined up, up and down the whole beach. They fired in the air and that's what killed a lot of men. Our helmet was very heavy but in many ways… that was what saved our lives… thank the good Lord.
When we got onto shore, we dug for a day or two. We stayed there permanently. I do not know if there are pictures somewhere (he makes a gesture to search through the pile of photos). We did not go out of the trenches that helped us to unload ships as best we could: equipment, medical supplies, food, everything you need.
I.K.: Can you tell me about your most memorable experiences?
G.B.: Landing was the most terrifying, scared… we were all scared. Most of us were between 19 and 25 years old. We were very scared. You never knew when you were going to be lying on that ground dead or wounded.
I.K.: What do you remember about the other people in your unit?
G.B.: Yes, that one friend I was showing you, there, Benjamin. That's Benjamin there on the top. It is Benjamin Donnits. I just remember him because we were very close friends. We were the same age. But when I finally found his family, he had been dead for two years. Five years ago, I came to spend a week in Normandy to attend the ceremony. A colleague called me. "Mr. Benza, I saw you on TV and I recognized you. My picture was there with the outfit name and number. He called me because his father was in the same battalion as me." He said, "Mr. Benza, my dad was with you, but he never spoke of it. Could you possibly tell us what really happened?" I said, "Do you really want to know?" He said, "Yes, yes." He asked me, "Mr. Benza, do you mind if my wife and I come to Las Vegas? We would love to meet someone that knew my dad." I said: "I'd love it." And they came for a couple of days. I showed them pictures. They brought pictures to me. Unfortunately, I didn't bring them or I could have showed you his father. But I told them exactly like I am telling you what it was like to go into that beach. Scared, very scared. We hoped all to remain alive, you never knew the next minute.
I.K.: Were there casualties in your unit?
G.B.: Casualties, yes.
I.K.: What was your everyday life like?
G.B.: Our everyday life was spent hoping. The bombing was every night. I was with another fellow. There were two men and we helped each other to scour the beach for planks that were blown up from American ships. And the reason we did that was to protect ourselves from shrapnel at nighttime. Large boards protected us. If they had not been there, we would have been injured. No time for a doctor, there were too many people. We were bombed every almost night for two weeks.
I.K.: How many pounds did you carry on your backpack? What did your backpack contain?
G.B.: It contained supplies that you need in case you were injured and a few other odds and ends. Not too much at all.
I.K.: Was it not too heavy?
G.B.: Well, yes, heavy enough for trying to get to that beach. It made us very awkward. It was not easy, we had the M1 and… It was quite a struggle.
I.K.: Were there times when you felt homesick or stressed?
G.B.: Yes, Yes, there certainly were. And the only thing that helped us is that once the bombing was all over on the beach, a few weeks later, we managed to receive packages from our family. It would come in pieces because during shipping it just crumpled to nothing. But, it was still American food because all we had to eat on that beach was C-rations, a little can about that size (indicating with a gesture). It was vegetable and a bunch of cans with spaghetti. Being Italian, I would trade any of my vegetables for one can of spaghetti. Spaghetti was very important to me. That's the way I was raised. So I would rather eat spaghetti than anything.
I.K.: What was important for you at this time?
G.B.: Solidarity. Yes, yes, we always helped each other. And we looked out for one another, of course. I mean, if someone was in danger, we'd do something about it right away. Yeah.
I.K.: How did you earn your French Legion of Honor medal?
G.B.: Seventy years later, the French Consulate called me up and said: "Mr. Benza, you are to be awarded the Legion of Honor. At first, we were three. At the time, I was working at a barber shop. My boss was not very friendly. He used to get very annoyed when they'd call me up. And I'd tell him that this is very important for me and that I would never have the chance to receive the Legion of Honor from the French Consulate again, one of the highest medals in France. I am proud of that medal. We had a big ceremony. I don't know if you were there at the Silverton when they put the medal on us?
I.K.: How do you feel now about serving in the war?
G.B.: Good, I am proud I did it. The army was proud of me too. They asked me, "Would you do it again?" Yes, as hard as it was, yes."
I.K.: Have you ever returned to Normandy? Did you stay in contact with any French people?
G.B.: I have met many French. I was a young man, I met a lot of girls, especially one whose name was Michelle. She was very nice. Her father used to work in our camp to help keep dishes clean and everything. I always meant to write her but I never did. I've been back twice. I have been back for the 65th anniversary and I went back this past June.
I.K.: In this photograph, we see two people…
G.B.: This is the 65th anniversary. I wore the uniform. The other person was friend of the man who was killed, the group's leader. The second time, I went with a group from South Carolina.
I.K.: Have you told your story in schools, universities, or elsewhere?
G.B.: Yes, I am glad you asked that question. At the beginning of this year, I went up to a young boy. He was 14 years old. And I said, "Son, what do you know about Normandy?" And that boy, he just looked at me and said, "I don't even know what you are talking about." And, it made me a little mad. No one has taught them. That's terrible. It's our history. So, I had a friend of mine who had a daughter in middle school and I told her about this. And she got ahold of the principal. They had me come there in uniform and speak in front of two hundred kids sitting on the bleachers in the gymnasium. And since then I have spoken to seven schools already. I am proud of it, Isabelle, because these young kids do not know what happened. I cried because at times it was too difficult. You know, Isabelle, it is just like yesterday. I can, sorry… I can close my eyes…
I.K.: Could you tell us about the event in Normandy and the picture you've shown me with president Obama?
G.B.: Yes, it was wonderful to be back one more time. Whether I will be able to go five years from now, I don't know. I am 89 already. I'm going to be 90 years old in March. I don't look 90, do I? No. That's what everybody tells me, "You can't be." And I am sharp. This works very good. (pointing to head).
It's very moving to return to this beach, Isabelle. My memory is intact. The things that happened on that beach you will never forget for the rest of your life. We went as a group to the Utah beach, where many battles also occurred. I meant to bring an address for you but I forgot it. We were served a good lunch (filet mignon) in a castle with the Countess, who was present. It was the first time in my life I met a Countess. Her name is Countess Dorothea. Have you heard of her? There were about fifty of us there. It was amazing what they did for us.
We were taken to all different places until June 6th and then we were taken to Normandy again where the ceremony took place. The French president was the first to speak, then the president of the United States stood up. There were about two hundred World War II veterans. There are less and less and I can tell you that there are very few able-bodied like me. I can still touch the ground. There are very few people my age that can do that.
The French president shook hands with everyone at the front row. He noticed that I had the Croix de Guerre. He told us that we could perhaps get the Legion of Honor. He looked at me and I said a few words in French. He was very proud, thanked me and gave me a hug that I appreciated. It was nice of him. Too bad I do not have a picture of him. Then came John Kerry and he gave me a signature on paper that I still have at home.
Then, the President of the United States came. I stopped him for a moment because I had a question for him that had been running through my head for five years. What had happened was at the first meeting after the landing was completed? And like everybody else there, I think it is a privilege to shake the hand of the President of the United States. It is as if you are shaking the hand of all Americans.
You may not like the man, but personally I had a pleasant conversation. I approached him near enough, and I touched his hand with my index finger. The eight bodyguards told me, "You can shake his hand, but don't touch the President." I said: "I didn't mean to touch him, but I wanted his attention." And they said, "Oh, well, don't touch him." So sure enough, the President turned around and said, "Congratulations, I am proud of you, sir."
I.K.: Thank you for telling your story. France thanks you for your service.
G.B.: Thank you !