History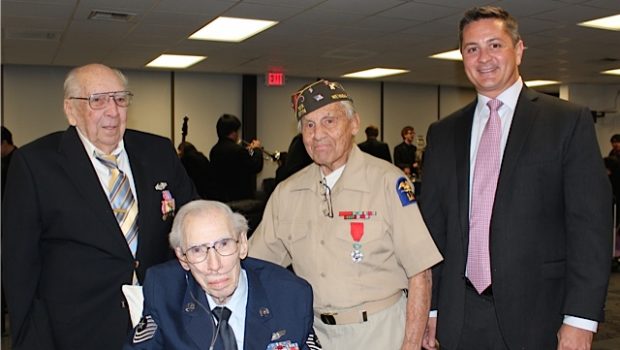 Published on January 24th, 2015 | by Isabelle Karamooz, Founder of FQM
0
Veterans of World War II receive the Legion of Honor of France
On November 20, 2014, a special concert "American Heroes" was organized at Artemus W. Ham Concert Hall. Played by the UNLV wind orchestra and conducted by Thomas Leslie, the concert honored a trio of veterans whose courage, faith and dedication deserve recognition.
The Honorary Consul of France in Las Vegas, Eric Auger, awarded Gaetano Benza, Frederick Giesz and Davis B. Leonard, the medal of the French Legion of Honor for their service in France during World War II. Established by Napoleon Bonaparte in May 1802, the Legion of Honour is the highest decoration that France gives its citizens and foreign nationals.
In addition to other duties and services, Honorary Consuls and representatives of France to the United States regularly honor American veterans of the two world wars. Honoring these men is a way for France to express gratitude to those who risked their lives and, in many cases, who died defending our country and her core values of freedom, tolerance, and democracy.
"The French will never forget that you restored their freedom," said Eric Auger.
One of these three men, Gaetano Benza, now 89 years old and still working part time as a barber, was assigned to the 297th Battalion during the Second World War. He spent four months on Omaha Beach where he transported supplies and munitions during the invasion of Normandy. He later moved with his unit to Le Havre where he continued to support the military combat operations until the end of the war.
Tears come to him when he remembers the men who drowned in rough waters before they reached land. He dug trenches and dodged bullets and shrapnel.
Like many soldiers, Gaetano Benza returned to France to commemoration ceremonies. "We were greeted as heroes!" said Benza.
At the ceremony, he wore his World War II khaki uniform while sitting alongside veteran Frederick Giesz. During World War II, Giesz landed at Omaha Beach as a replacement soldier eight to ten days after the initial D-Day landings.
At 91, the Air Force veteran Davis B. Leonard was awarded the Legion of Honor before passing away on December 12, 2014. A native of Pasco, Washington, Leonard participated in the Battle of the Ardennes. He also fought in battles in Northern France, Rhineland and Central Europe. He completed two additional missions, beginning in April 1945, before returning to the United States.
He bombed the enemy, bridges, troops and other targets in the battles in northern France from September 1944 to April 1945 before being honorably discharged as a sergeant in 1953.
Eric Auger recalled the historic friendship between the United States and France. "Long live American friendship. Vive la France."
Header Photo: Isabelle Karamooz