Gastronomy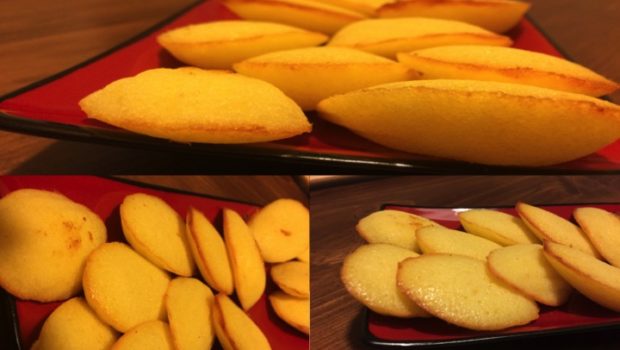 Published on March 16th, 2015 | by Anne-Fleur Andrle Stephan
0
Gourmet break… How about homemade madeleines ?
Madeleines! Greedy childhood memories or a tasty discovery? A madeleine is a small cake from Commercy, in the north-east of France. It seems its name comes from a village girl, Madeleine Paulmier, who served a local marquise. Other sources argue that this little cake comes from the pilgrimages of Saint Jacques de Compostela, during which a young "Madelaine" seems to have offered egg-shaped cakes, with a form similar to a seashell, to the pilgrims…
Starbucks – among others- started offering them a couple of years ago, but did you know that they are very easy to make? So why not get started? Here is a recipe adapted from several well-known ones, tested and approved by my husband, my family and my friends!
Aside from good ingredients, the key to madeleines is their very particular shape. In fact, the boat's-hull shape is an integral part of these treats, so you will need to have good molds to create them. They are very easy to find in France in any supermarket (costing about 10 euros), but can also be found in the U.S.(I posted some examples at the end of the article).
So to create these delicacies, you will need:
• ½ cup of butter
• 3 eggs
• 2/3 cup of sugar
• a pinch of salt
• a few drops of lemon juice
• 1 tablespoon vegetable oil
• 1 cup of flour
• 1 teaspoon of yeast
• ¼ cup of 2% milk
• a few drops of liquid almond extract
And follow these few easy steps:
1. Melt the butter in a saucepan. Once melted, remove from heat and let cool.
2. In a bowl, add in order: eggs, sugar, salt, lemon juice, oil, flour and yeast.
3. Add the butter and mix to form a smooth paste.
4. Add the milk and almond extract.
5. Let sit for 10 minutes.
6. Place in the madeleine pans (Silicone molds work best.) and bake at 350F / 180C for 17 minutes.
That's it! Let cool a little before serving!
For the sweet tooth, you can dip the tip of the madeleines in melted chocolate and let harden in the fridge.
Enjoy!
Some suggestions for finding your madeleine pans in the United States:
• http://www.walmart.com/ip/Frieling-Madeleine-Pan/14679117?action=product_interest&action_type=title&placement_id=irs_top&strategy=PWVUB&visitor_id=Ntn5Pjc7Dml-uYoA4r4F1M&category=&client_guid=07824e15-77d6-4b66-85ca-1f36f5f1d717&customer_id_enc=f075e859-c2b4-0e70-e044-001517f43a86&config_id=105&parent_item_id=17270395&guid=c65114fc-0537-4182-a9e0-9b695be416fb&bucket_id=irsbucketdefault&beacon_version=1.0.0&findingMethod=p13n
• http://www.bedbathandbeyond.com/1/3/madeleine-pan
• http://www.amazon.com/Freshware-CB-107RD-18-Cavity-Silicone-Madeleine/dp/B003V73LG4/ref=sr_1_4?ie=UTF8&qid=1421622386&sr=8-4&keywords=madeleine+pan
• http://www.amazon.com/Bellemain-12-Cup-Nonstick-Madeleine-Pan/dp/B00L5HCVSG/ref=sr_1_1?ie=UTF8&qid=1421622386&sr=8-1&keywords=madeleine+pan