Interviews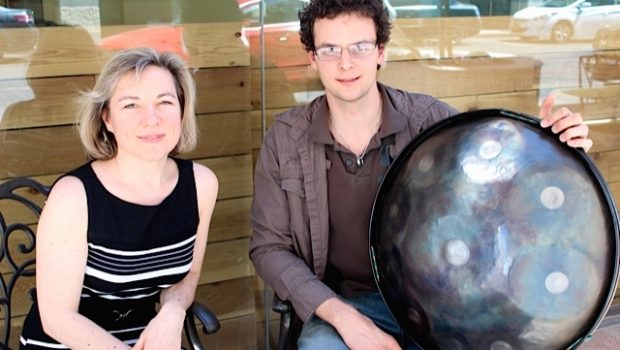 Published on August 14th, 2015 | by Isabelle Karamooz, Founder of FQM
0
Interview with Sami Saula, an acrobat at the Cirque du Soleil and musician in Las Vegas
Credits of  the interview
Editor of the interview: Isabelle Karamooz
Interviewer: Isabelle Karamooz
Editor: Isabelle Karamooz
Transcription & video: Pascale Nard
I.K. : Hello Sami.
S.S. : Hello.
I.K. : What is your job?
S.S. : I am an acrobat, a musician with a Cirque du Soleil for over ten years now. I do acrobatics. I'm also a guitarist. I play other instruments on the show.
I.K. : Are you from a family of artists?
S.S. : My parents play a lot of music. My father is a guitarist, my mother is a pianist. They raised me surrounded by lots of music. My father also painted, he has a very inspiring artistic side. Growing up like that, I began playing music very early; at six or seven years I started drumming at the music school. There, I discovered the world of music from the inside. I grew up in it very young.
I.K. : You studied music in France for ten years, how did you go from percussion to the gypsy guitar while playing the Earth Harp?
S.S. : My father played guitar so he taught me the basics of the guitar, with chords, and I sang and played guitar. In 2008, I went to a jazz festival in California and there I discovered jazz manouche. What's "crazy" as a French person is to discover the gypsy jazz of the United States. I discovered The Hot Club of San Francisco and there it was playing at the time. I was amazed. I saw them playing, and it was like magic for me. I exclaimed, "Wooo!" After I returned, I did some research and I discovered Django Reinhadt and all the people who play today. It was a trigger for me. I fully put myself into it. I loved it, though the gypsy guitar was challenging; the challenge is important to me.
I.K. : And, you also play the earth harp?
S.S. : Yes, the earth harp is a harp in the Ka show at MGM. It was made expressly for the show. I play the pre-show each night just before the show begins.
People buy their drinks, and they listen to us playing.
I.K. : How many instruments do you play? Tell me about the hand drum you have on your knees. Where does this instrument come from?
S.S. : This one, I just bought it in Germany in 2008. It's a Caisa model. The original model is the Hand Drum, here they call it the Hand Pad. It is a steel drum, which is held upside down and played with the hands. For me, having grown up with percussion, right after seeing this instrument I fell in love with it. I managed to get one at the time. I was happy, then played a little on the side. I worked a lot on my guitar. I worked with other instruments, evolving musically and developing myself. Some years ago I began to create the things that I had in my mind. I play a lot of instruments but my main instrument is the guitar. I play a little piano, I do a little clarinet, some instruments like that, mainly percussion and guitar. I feel really comfortable speaking the musical language.
I.K. : Did you perform Hand Drum concerts ?
S.S. : No concerts, though I played a few times. Yes, circus work is time consuming and family life also, we have a life outside. That's why I needed to make something, so my album that came out is called "AWAKEN." I've played a few times in some venues, but it's not something regular yet. We'll see in time.
I.K. : In 2001, you wanted to pay tribute to all the dead people in the wake of the tragedy of September 11 by calling "Birdsong."
S.S. : I'm not the one who composed it. Laurent Pimentesi, who is one of Yamakasis, one of founders of the practice, had written this beautiful text at the time. Following September 11 he lived here for a few weeks. We discovered that text, we put music on, and we made "Birdsong." It's a text that has touched many people and that is still present although it's been fifteen years since it was written. The words can travel through time; it is a message of peace and love.
I.K. : What was your background before joining Cirque du Soleil?
S.S. : Before the Cirque du Soleil as I said, I played percussion at the music school, played club sports, played a little basketball and ice hockey, though this has nothing to do with acrobatics. I discovered the art of movement in Evry. I grew up in Evry. The Yamakasi was based in Evry. Yann Hnautra, who is also a founder of the discipline, took us under his wing. He led us, pushed us to grow as humans. There were many important values he introduced us to, in addition to the practice itself. We (I say we because I was with friends at the time) had a casting for the Cirque du Soleil. They were looking for people for a show. We were taken for a new show. This was in 2003 and the adventure began like that.
I.K. : How were you recruited by Cirque du Soleil?
S.S. : They were searching all over the world for members for the show. At the time, the Yamakasis were on a film shoot. Yann called us and he told us, "Look, there is a casting call for Cirque. Are you interested?" We were very young, but said we would try and see what happened. One of the casting people came to Evry. We had our outfits and all our numbers. We did our jumps and stunts, just as we did in training.
The next day we had another day which was much… How to say it? It was in a gym. We climbed a rope, we sang, it was more advanced exercises. It was a more traditional try-out in terms of a day of casting. A few months after, they contacted us by saying, "Listen we need you for this, etc…" Here we go! That's it! (Smile).
I.K. : Do you think you are more of a singer or acrobat?
S.S. : I am not a singer, but a musician, yes. Listen! A bit of both, because the acrobat side opens the mind, thought (pardon) to think about other ways of thinking about what is happening, especially in the art of movement. It sees things the same, yet you are looking at a place to jump from one place to another, etc… It challenges you to go through the motions differently than others. But also, a musician because I grew up in music.
I.K. : Don't you sing a little bit?
S.S. : No, in my shower like everybody (laughs) a little bit but not enough for me to feel comfortable and write something. Or I will sing it, who knows, maybe it will happen one day. I turn to music because I love listening to music. The lyrics, put in one's own words, the emotions that come through that listening do not necessarily need to be explicitly said, "I met her, I fell in love…" to convey what happened. People will feel, in the end everyone feels different things according to what they hear and what they have experienced in their life. It's that side that I like and search for when writing music.
I.K. : Have you had acrobat training?
S.S. : I got into Cirque with the art of movement, that's what they were looking for was the profile they needed for the show. After I arrived, I learned other things. We had classes or were instilled with lessons. After ten years, it is true that one is impregnated with all that, but originally it was the art of movement that was my engine in my way of expressing myself. There have been a lot of gymnasts who come in there (Cirque), but I had not done gymnastics. I learned on the outside, through the art of movement.
I.K. : On stage, you are asked to be acrobat, musician, actor. This is a very physical job and sometimes there are accidents. Are you sometimes afraid?
S.S. : Yes, but fear is a motivator. It is not new but it is an engine for what we do. We should be afraid to excel and move forward. If we are not afraid, then this is where it gets dangerous. The fear remains there, but to take control of the situation whether we are comfortable or not… To trust is very important and challenging no matter what happens.
I hurt my knee the 1st year when I started at Cirque. That was a big turning point for me in my life to question myself. I asked myself if this is what this is really what I want to do… etc.
It opened my eyes to many things: how to see life, life through my body and view aspects of life. This is something to which we must always pay attention because we are never safe from an accident in this business. We perform every night, twice a night. It is a big physical and mental demand. It is important not to fall into a routine because that's where it gets dangerous, when you no longer pay attention. It's a job! You learn things every day, you have to be on guard.
I.K. : Describe for us a typical work day at Cirque du Soleil. How many hours of training do you have?
S.S. : It depends. There are days where it can be quite early. During the daytime, one must arrive at two or three o'clock in the afternoon. It's not early, but considering that we end at midnight… We must remain in top physical shape to do the show. And then there's makeup. And the show begins. This is a brand. I can start two o'clock in the afternoon, and I go home at midnight. It doesn't necessarily make the days unbearably long because we do so many things and it's a pleasure to be on stage. People are there to see you, applaud you. It is a very very special environment. It is a craft, these days that I have.
I.K. : Can you talk about Ilan, your little four year old boy who suffers from a rare disease? You recently released your CD "AWAKEN" which will finance hospital care…
S.S. : Ilan was born in 2011 and then he became ill at six months. We did not know why, but long story short, he has a diseased immune system. He has celiac gluten intolerance that destroys the stomach. He can no longer have gluten food, and he has several other intolerances as well, like lactose, etc…
On why he's sick, we still do not know. He goes each month to a clinic that helps him seem normal, feel normal, and grow. One day it may be mandatory, but we decided to stop to see if it affected his health. For now he is stable, but they want to see him grow.
How is he connected to the album? I wrote the album when he was sick, it was something I needed to express that time. I am an introvert, so I do not necessarily express myself with words. I needed to express myself through music, and so, the album was released. At each stage of the album, there was something going on with Ilan, who was in the hospital. There were things that were happening at the same time, and family life was hard to manage. Life was hard for a period, and it coincided with the album.
Sales of this album will help us to take care of everything.
I.K. : Where can we buy the CD?
S.S. : The CD is on www.samisaula.com and for residents of Las Vegas, people can buy it directly in the store at Sambalatte at Boca Park or at Tivoli Village.
I.K. : So let's see this little instrument the Hand Drum. Could you play a piece to end the interview?
S.S. : Of course.
I.K. : Sami SAULA thank you for allowing us to listen to this beautiful song, and thank you for answering our questions.
S.S. : Thank you.