Interviews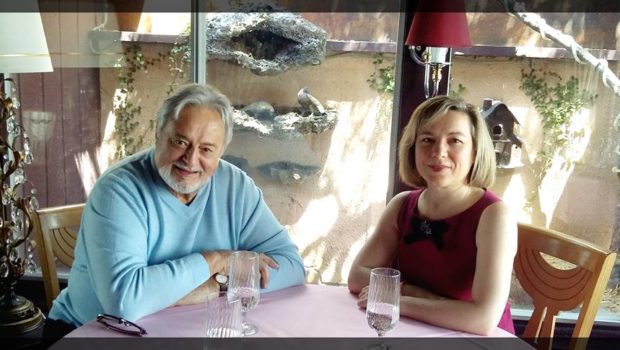 Published on November 2nd, 2015 | by Isabelle Karamooz, Founder of FQM
0
Interview with Georges La Forge, owner of the Pamplemousse restaurant in Las Vegas
Credits of the interview
Editor of the interview: Isabelle Karamooz
Interviewer: Isabelle Karamooz
Editor: Isabelle Karamooz
Transcription & video: Pascale Nard
I.K.: Hello, Georges La Forge. Tell us who you are?
G.L.: Hello, as you say, I am Georges La Forge. I think I lived in Vegas since 1962. It's been fifty-three years soon.
I am Georges La Forge, but when I arrived, I was La Forge Maison Dieu Georges, Georges Louis Maison Dieu La Forge – I had an extension to my name. I never really knew the reason, it seems he was a general who was in the armies of Napoléon III. His wife wanted to keep his name, I ignore the reason. I shortened my name to Georges La Forge. It's still easier not only to remember but also to pronounce because for Americans, Maison Dieu is more Maison "Diou". I also cut it short because it did not enter into computers anymore. I had to use my name to resume marital status, my social security, my medical care, I have to put my full name every time I call for an appointment.
So I have been here since 1962. I love Las Vegas, which is a great city for me. It has opened many doors, I really discovered America. I did not speak a word of English at the time – "hello", "good evening", "good morning", really the minimum.
I lived with a girl who was a dancer at the Lido in Paris. She was English, and unfortunately, we always spoke French together. She was working in Paris at the Lido, and we were together for two and a half years.
I could not stand Paris because I was born in North Africa. We came back to France with my parents (for five generations we were in Algeria). We returned to France a year after the war, and I spent my youth on the French Riviera.
I.K.: So you are from the French Riviera?
G.L.: Yes, I was born in North Africa. I am what is called a "Black Foot", a "Grey Foot", but I arrived in France at nine years old, and I've lived all my youth on the French Riviera, Antibes, Nice. I consider myself from the French Riviera.
Then, I did an apprenticeship to be a cabinetmaker. They found that I had an aptitude for manual work rather than "intellectual" work, so I entered a vocational school, and at the same time, I walked into a restaurant to wash dishes. I was fourteen at the time – one thing led to another, and the chef told me I had very good skills, "I'll teach you to cook." It was what we call a "Bourgeois" restaurant, big enough (five dishes on the menu), a good restaurant.
I.K.: It was a French cuisine restaurant?
G.L.: Yes, it was French cuisine – a Strasbourg restaurant for Nice. He took me to start as a clerk, an apprentice, and little by little, I did my apprenticeship as a saucier.
I.K.: At what age did your passion for cooking begin?
G.L.: I have always loved to cook, even as a kid. I helped my mother when she made cakes. She always gave me a small piece of dough – I always liked to cook.
At the same time, for four years, I practiced woodworking at school. I worked at night in this restaurant, and in the day I was going to school.
After four years, I did my military service. I was drafted into the army like everyone else at the time. They sent me to Dakar in Africa. I loved it. I was in the General Staff, Second Office, in the Air Force. So I lived three years in Dakar without returning to France, and when I got home, I did a season on the Riviera with friends who had a cabaret, but when the winter season comes to Antibes, everything closes in Juan-Les-Pins (this was a seasonal cabaret), so I went up to Paris (I do not know anything about Paris). I said, "Well I'll go to Paris, there are many more opportunities."
When I arrived in Paris it was a disaster because it was raining every day, and I said, "Where is my midday sun?" I watched the sky everyday…
Fortunately, I could find a room at the home of an old lady that was short and all gray. I really had the blues. This is where I met this girl and happily lived together for two and a half years.
I.K.: What were your professional travels from there to the United States?
G.L.: I was finally able to find work, it took me more than a month even as a carpenter, doing apprentice chef stuff. I found an apprentice job as a server in a Danish restaurant – excellent service, impeccable…
It took me a lot of scissors to work as an apprentice.
I switched up a boy, head waiter. I went to night school to learn cooking – I wanted to know a little more, so I took classes.
I.K.: Did you learn with some great chefs?
G.L.: No, not in France, unfortunately not. At the time, it was not like now – at the time, it was difficult to work with these chefs.
I.K.: How did you arrive in the United States?
G.L.: After two and a half years with this girl, I said, "I adore you, but Paris is not my city because I do not have the chance to know Paris," (I.K.: There's no sun), "I'm suffocating, the traffic, the people are 'aggressive', the climate…"
I like the space. I love nature and space. Large cities, they have never been my thing – to visit them, yes!
I told her, "I will leave." I'm going to begin again in Africa, or I will go to Australia or elsewhere.
Then she told me, "If I can get you a contract in Vegas, would you come to Vegas?" It never entered my mind because I did not know you could come to the U.S. that "easily" – it was not in "my program."
I applied for a visa, which I obtained, and I found myself here in 1962 in the month of February. It was freezing cold, Siberia, I was told that Vegas was dying of heat! I quickly found work as a commis chef. I hardly spoke English, and I would tell clients when they asked me questions: "I am sorry I do not understand." It was necessary that I learn, as I did not want to remain a commis chef. Eventually, I switched to bus boy, server, and maître d'hôtel.
I.K.: When did you open your first restaurant?
G.L.: The first was this one in July 1976. At the time, there were no French restaurants at all. People did not know what French cuisine was.
I.K.: It is the first French restaurant in Las Vegas!
G.L.: Yes. That's why they have now ranked this the Historic District neighborhood in Las Vegas.
We are the only restaurant that has been open for forty years with the same owner and the same concept.
I.K.: Congratulations.
G.L.: Thank you. It "plays" on the fact of being a vintage restaurant in Las Vegas.
I.K.: Is your kitchen purely French, have you adapted to the taste of American habits?
G.L.: No. No, as I have lived in Provence, I love the Provençal cuisine. I love, herbs, garlic, I love all that is Provence, which is the sun – it is rather a Provencal kitchen cuisine from the north, and we have a few dishes with cream as in Normandy, but it is more or less classic cuisine. We have a few recipes that are a little different such as salmon with honey and orange – people love it – but it is the duck breast served completely boneless in knots on top of the dinner plate with candied cherries. We also have duck with raspberries, duck with bananas from Martinique, one makes the classic duck with bitter orange. We often do classic dishes because people expect classic cuisine.
I.K.: Do you serve rabbit?
G.L.: Actually, I do not yet have it on the menu because people here are quite sensitive with respect to rabbits. I often wanted to try, and I think about it from time to time.
I.K.: Your restaurant is only open in the evening, why this decision?
G.L.: Because, first, I am seventy-eight years old now. For forty years I did not open at lunch without being sure that there is really a world for me. A restaurant open for lunch sacrifices his client in the evening. People who go for lunch in a restaurant, as in Paris, a small bistro for lunch, do not go there at night for dinner, they go into a little more upscale restaurants. I hesitated to open for lunch because I have friends who have restaurants around. Even André, which opened after me, was really in the middle of downtown businesses with lawyers. It opened for lunch two or three times, and two or three times it closed because of people in Vegas. This is not New York or Los Angeles, or a city where people treat their businesses to lunch, that is to say, they have a meal, a glass of wine, and they discuss business. Here, you go to lunch to grab a bite, eat a sandwich etc… There, I thought again about opening for brunch, and then eventually opened for lunch, but I bought the two houses next-door. I wish to make a patio, a large European-style terrace with trees, fountains etc… A very nice thing, where you can eat outside, I love eating outdoors.
I.K.: Did you do seminars, weddings?
G.L.: Yes, many, many weddings. We did all kinds of receptions, we did bar mitzvahs and sometimes even celebrated divorce; we proposed that people make their own menus according to their need, and we asked them to give us their budget so we could work on this.
We have good results and excellent feedback for our receptions. Because it is so "not Las Vegas", people tell us "You are very Vegas."
I.K.: You have more tourist or "local" clientele?
G.L.: Fifty-fifty – for the conventions we have many external clients, a lot of repeat business. Every year, the conventions that come reserve for the year after – they come for three four days. I ask them, "How can you eat four days in a row in the same restaurant?" People say it's because they know what they will eat, there are many choices, they like the service, it's nice, you do not hear (slot) machines. "We can discuss, it is calm. People are not obligated to eat the same thing every night, and the guests are different. At the start of the computer convention, we had Bill Gates who came every evening at the beginning, but now it is too busy. He is very nice – we had very good customers. There are quite a few celebrities, and if they do not want to be bothered, the curtains are drawn.
I.K.: And who was the first celebrity who reserved a table at your restaurant? Did many locals, francophones come?
G.L.: One day I had Sacha Distel and Johnny Hallyday, who came two to three times.
I.K.: When Johnny played his concert in Vegas – Line Renaud probably?
G.L.: Line is a good friend. I have a photo with her and a close friend and one of her other friends who has hair salons here. When she came (she comes less often now), she still had an apartment, and she came with Loulou Gaste.
I.K.: In the same years as you! Within seventy-two years?
G.L.: Yes, she was at the Paris casino at the time – she stayed there two or three years.
I.K.: Why did you choose the name Pamplemousse for your restaurant?
G.L.: Everyone asks. First, what does the word mean if Americans do not know what a grapefruit is? I tell them if you go to the market, browsing the fruit, you will see a grapefruit. "Pink the fruits" are inscribed below it, and they are imported from Canada or Mexico, or you will see the Florida Grapefruit, Pink Grapefruit. Grapefruit is "pamplemousse" in French with an English mistake, and I say so because of Bobby Darrin – you are too young to have heard he was a jazz singer, an actor from the same period as that of Elvis Presley, that he was almost better known Elvis Presley, he wrote and composed many songs. We became friends because he had to do his show at the Desert Inn two three times a year. When he came, he was fluent in French. I asked him, "Where did you learn to speak French?" His mother was of French descent and lived in Canada, so she was fluent in French. That's why he spoke French too.
One evening we dined together, and he said, "You know, I always wanted to open a small French restaurant, but something intimately French. If you're interested, I will put all the necessary finances into it, but the first condition is that you open it in Beverley Hills, and the second is that you call it Grapefruit." I asked why Grapefruit? He said, "For me, 'grapefruit' is the most beautiful word in the French language. I love the sound of the word grapefruit, the sound of grapefruit." It stuck with me, and Bobby died of a heart operation.
In his memory, I have kept the name Grapefruit. At first it was difficult, at first it's pretty long Pam-ple-mousse there are a lot of letters…
At first, people were always telling me, "What does that mean?" When they took a taxi to the restaurant, they said, "The taxi driver will bring us to the Purple Mouse." The driver immediately understood where to go. When I arrived in Vegas, there were no outdoor restaurants at the time. There were only 120,000 inhabitants. But it took the people of New York to call me, "Hey! We saw something in the Tribune, in the New York Times on the Grapefruit…" There is a company, Open Table, which "deals" with American Express, people can book online. It was excellent, one of the best ratings in Vegas, not that one is better than Robuchon, we must not exaggerate, it's different, can be cheaper…
People love the concept, friendly service – in short, the boys are not smoking. It's a casual service, a bit too casual, but it is much appreciated.
I.K.: What do you want for the future?
G.L.: What do I want? To live long enough to enjoy life, if I can still enjoy it because I have taken enough time. I do not come every night to the restaurant now. As I told you, I'm seventy-eight years old, my back is beginning to go… I must do something because sometimes I have difficulty walking.
I would always have a foothold here, but I would find something to do in France to be closer to my family, especially my sister who lives always Antibes. She is four years older than me. I would be closer to her to see her more often. I call several times a week but still…
And then travel, first in France. My friend Diana, she is from Cincinnati – she learned some French in school but very little. She gets going here it goes.
At home, Channel 5 (TV5 Monde) – we're at a point where even she speaks a little French watching it, the news, since here we do not know what is happening in Europe and around the world. Then there is Thalassa, roots and wings, the history of France's most beautiful villages in France etc… One is "drooling" watching television, I love the old villages and nature.
I.K.: We wish you good luck and nice travels. Thank you for this interview.
G.L.: There's really nothing to it – it was with pleasure.
To make a reservation, call 702 733 20 66 or visit Pamplemousse restaurant Website at http://www.pamplemousserestaurant.com.