Interviews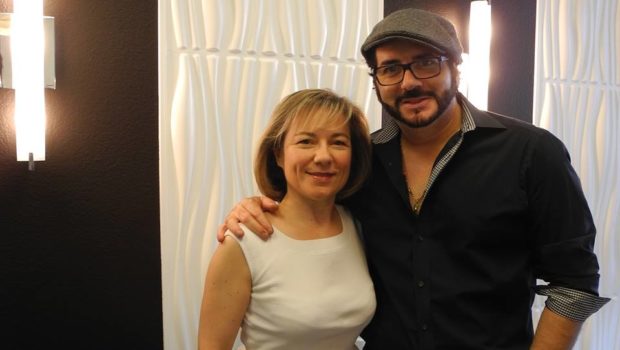 Published on November 2nd, 2015 | by Isabelle Karamooz, Founder of FQM
0
Interview with Jean-Marc Levy, hair stylist (Haute Coiffure) in Las Vegas
Credits of the interview
Editor of the interview: Isabelle Karamooz
Interviewer: Isabelle Karamooz
Editor: Isabelle Karamooz
Transcription & video: Pascale Nard
I.K.: Hello Jean-Marc Levy. You are a native of Nice in France. Is it there that you learned your profession?
J.M.L.: Hello Isabelle, so I started in 1985 at the age of fourteen. I started in a salon in Nice. I did my apprenticeship for three years and that is where I started to get to know this wonderful profession.
I.K.: What was your career path after that?
J.M.L.: My career, I started at the age of fourteen or fifteen years old in Nice. I worked in a beauty salon where I learned the trade for about ten years. After that when I had all my licenses, I began to want to change beauty salons and see something else so I worked in two or three beauty salons on the French Riviera. The big change for me was in 2002 when I worked for an ambassador for L'Oreal for Eric Zemmour in Nice where I worked as an instructor and trainer for L'Oreal, and also worked for the French haute coiffure. I started to work abroad with pretty "fancy" clients.
I.K.: Was Monte Carlo where you first started meeting with VIPs?
J.M.L.: Yes, there were a great many VIP clients, many Russian clients, Italian clients, a lot of very, very private clients. That is where I really got to try my hand at it and began to see different people, to work in private. Working in a VIP room, that was something very special for me.
I.K.: Then why did you move to Las Vegas?
J.M.L.: Las Vegas was really not the destination I wanted. My dream since childhood was to work in the United States. When I worked for Eric Zemmour and I started to work abroad I had this great urge to become a hairdresser in the United States. I was contacted by a French hairdresser José Hebert who was in Los Angeles. In 2006, I had the chance to come here. I arrived in Los Angeles, then from Los Angeles I went to Vegas. Here in Vegas, I worked for a year for José and that was the beginning of a beautiful story and adventure.
I.K.: How is working in the United States different from in France?
J.M.L.: It's completely different. The hair… You know when working with hair it is always the same, I found a lot more loyalty with American clients; I was nervous when I arrived from France to the United States that I would just have to do "big big hair." I thought of everything you see in TV films or series like Dallas, crimped "big hair" but in fact it was not like that at all. Vegas is a very modern "girl." Everything happens at night, very trendy, it is a city much like Paris, much like New York. Hairstyling, for me, having learned the skills, the right know-how in France, it was very easy to fit in here in the American market.
I.K.: Color and highlighting are your specialties? Over the last 20 years have the "Tastes and Colors" evolved in this area?
J.M.L.: Everything evolves but also everything comes back. We often say that what everyone is doing this year is kind of what everyone was doing twenty years ago. The bob came back last year, but it's been thirty years that we have been doing the bob. Long layers are coming back, but then again, long layers have been around for a long time. There are "icons" like Brigitte Bardot and Audrey Hepburn. I am a very classic hairdresser. I like beautiful hair, so what I do today is what we have seen for twenty or thirty years in magazines. If we took a 25-year-old Brigitte Bardot and brought her to the year 2015, she would be like a very modern, very current, Audrey Hepburn with beautifully styled chignons for the evening. No, I think there is not really anything new, we work with what has already been done, already seen, and we upgrade it. A bit like fashion, there are many young designers today but we still love the big brands such as Dior, Saint-Laurent, Gerlain etc… I like the classics so it's easier for me to integrate myself anywhere.
I.K.: Do the American clients have different tastes from French clients?
J.M.L. : We're in Vegas! Vegas is a bit special. Vegas is eccentric, it is classical, is a bit of everything. I work in beauty salons with very local clients, in fact what I am doing here is a bit like when I was in France. I have clients who come every week, loyal clients who live in Vegas. When you work on the Strip in the big hotels you do more "in and out" work for ladies who come for two three days, which is completely different. Here the work I do is work like I did in France. It doesn't change much. The clientele is not different from the clientele in France.
Maybe American clients like beautiful hair, like to dress well, like going out. If you go out, to restaurants or clubs in Vegas, people are heavily made-up, well dressed, always with their hair styled, they wear nice clothes. Vegas is different, Vegas is a city of fashion, beauty.
I.K.: A city that lives at night also…
J.M.L.: Of course! This is a twenty-four hour city, people can call you at two in the morning for a hair styling for a party. There are a lot of weddings, we never get bored here. It's a great destination as a hairdresser, because there's always something to do.
I.K.: Do hairdressers here collect "secrets" from their clients, like in France?
J.M.L.: Of course! Maybe here it's a little bit because they like the French know-how, they love the French culture, they like to confide in me. I remember we always said that the hairdresser is like a psychologist, much like a doctor, it's the same here, but there is still a little language barrier. But it's ok, we manage. Women always like to tell their secrets, so we know a lot and we try to keep the secrets.
I.K.: It's like a doctor, you must keep the secret.
J.M.L.: Yes, it is a bit like that, everything happens around the chair and stays around the chair.
I.K.: Do American women go more often to the hairdresser than French women?
J.M.L.: Yes, because again, we're here in Vegas, people go out a lot. When I worked in France, when a woman had a very good haircut, she could wait two or three months to restyle. People here come every week. I have clients who come here every weekend, just to have their hair done. (It is still the city of beauty.) This is a city where people like to spend money, and they like to spend money on beauty, on aesthetics, (not just hair) on hands, on pedicures. People like to spend money on beauty.
I.K.: What do you think of the hair salon chains such as Jean-Louis David, Jacques Dessange or St. Algue? Does this kind of chain exist here?
J.M.L.: Jean-Louis David, Jean Claude Biguine also exist in the United States. Dessange too, I think. I am a very big fan of Jacques Dessange. He has done beautiful work with hair for years and years. Jean Louis David is the same. I think everyone brings something. Twenty years ago people were criticizing Tony and Guy. Tony and Guy brought something incredible in the world of hairdressing in terms of the franchise. Jacques Dessange made the most beautiful blonds that could be found in France and now in the United States with the Californian highlights, Jean Louis David has made hairstyles creations… I am in favor of that too. I like working in a beauty salon. I am very local. I never worked for franchises, but I am for it. It is good to work for a brand, for a collection.
I.K.: Sometimes, hairdressers or barbers are forced to stop business because of allergies. What would you do if that were the case?
J.M.L.: Oh my! If tomorrow I had to stop doing hair, I would be the unhappiest man in the world.
I.K.: We do not wish that on you!
J.M.L.: Fingers crossed, it is always a problem in the arts, be it hair, clothing… I always told myself, if tomorrow I had to stop being a hairdresser, what would I do? I think life would stop for me because I have always loved styling and touching hair.
I.K.: You would take an early retirement perhaps?
J.M.L.: Yes, but I would still work around it. I would put on gloves, I would work with white gloves.
I.K.: I know that your 18 year old son, Ylan has an important place in your life, but what are your hobbies outside being a hairdresser? Do you still play baseball?
J.M.L.: It happens a little less because I am getting older. I feel a little bit tired for sure. I still sometimes go to the Batting Cages, places where you can hit the ball. Training myself, I always try to stay fit, I miss Baseball very much.
It's a bit like hairdressing, what if I stopped baseball tomorrow? When I stopped… one never truly stops, I still see the matches. Not long ago I went to a match. I participated a little and then I hope that my son, I cross my fingers, will succeed on this path. So yes, those are my two great passions. Baseball and hairdressing.
I.K.: So, your son also has a passion for baseball?
J.M.L.: Yes, Ylan plays for the national team, the French national team.
He is now on a baseball team in Canada in Trois-Rivières, where he is doing very well, I think he's a future star of French Baseball, I hope.
Perhaps American Baseball, because if he wants to be a professional tomorrow, we will see him on TV, why not? Or he could be the first French player to set foot on an NBA court. That would be the dream! For me it was a dream too. My dream was to be a professional baseball player. It didn't work, but I also had the dream to come work in hairdressing in the US, and I went. I always told Ylan "Your dream, if you still think you can do it, you will get there, maybe not the way you want, but you will get there."
I.K.: You have a lot of humor Jean Marc, and a beautiful salon. We wish you good luck. Thank you for answering our interview.
J.M.L.: Thank you very much.
Contact Jean-Marc at 702.403.3920 or visit his website at http://www.jeanmarclevy.net