Interviews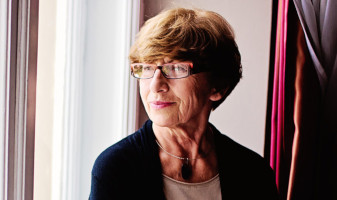 Published on March 17th, 2016 | by Lucie Pierron
0
Interview with Elzbieta Sikora, a famous Polish composer known for her contemporary and electronic music
On Monday, January 25, I went to the home of Ms. Sikora, a famous Polish composer known for her contemporary and electronic music. Ms. Sikora received me with open arms, in her living room with coffee and "Polish chocolate from Warsaw."
"I just returned from Warsaw," she explained. "The orchestra Sinfonia Varsovia just played my composition for Symphony Orchestra, under the direction of an Italian conductor whom I did not know, but in the end it worked out well."
Based in France since 1981, I wanted to interview Ms. Sikora to get to know this woman of undeniable talent and at the same time to understand her relationship with her country of origin, and the reasons that prompted her to immigrate to France.
Lucie Pierron: Can you clarify the functions you occupy?
Elzbieta Sikora : I am the artistic director of a festival called Musica Electronikanova held in Wroclaw. I have run the festival since 2011. Normally this is a biennial event, every odd year. This year is an exception because Wroclaw earned the title of European Capital of Culture for the year 2016, so we managed to make an exception, a weekend dedicated to this Festival (May 19 to May 22). So I went recently to make corrections.
L.P.: Since you have been based in Paris, have you always made round trips between the two countries?
E.S.: Not always. At first I was a little cut out of Polish life, because it was the time of the coup in Poland.1 I recently have returned to Poland a lot because I taught in the Multimedia Department of the University of Music in Warsaw, and then I now have this festival in Wrolcaw. I also did a lot of orders for Polish orchestras. All these activities allow me to be a little here and a little there.
When I arrived in Paris, I worked with IRCAM.2 I got a scholarship from the French Government, after finishing my studies in composition (classical and electronic). My scholarship lasted only nine months, but since there was the coup in Poland, I stayed in France.
I had already come to France in 1968 because I was a sound engineer. I came across the internship that Pierre Schaeffer3 organized at Radio France and that's what made me want to do composition.
I started out as a sound engineer, yet I have never worked as such. I only use my skills in my compositions. I arrived with my son and my husband at the time, then I divorced and got remarried to a French man, so I considered myself to be half French. I have dual citizenship in any case.
L.P.: Like Chopin?
E.S.:(Laughs). It is rewarding but also disturbing, this dual citizenship, you never know if you are really here or there. In France, they always consider me to be Polish. In Poland I am told that I am French. For me I am a citizen of Europe.
L.P.: I also read that you have studied in the United States?
E.S.: I twice spent three months at Stanford because they have a Center for Computer Music and Research. Then, I went to teach composition at the University of Chicago for a few months in 2004 and 2007. I also spent five years in Germany. I have traveled a lot.
In the USA I loved New York ; of course that's not very original. California was amazing. I also traveled from San Francisco to San Diego, by car. I went to Alaska…
L.P.: Can you tell me about your compositions in more detail?
E.S.: I have done a lot of orders in France and Poland, but it is calming down a bit now. I worked with Radio France, especially early in my career. My next order is a new composition scheduled for 2017. It is in 2017 that I will conclude my artistic direction of the Festival. So, on this occasion, I will compose a piece for my departure as artistic director. It is a Franco-Polish piece, which will be played in May 2017. After that, I will not have any more obligations and I will be able to do other things, and I think it's time.
L.P.: Do you think you have done all you can with the festival?
E.S.: I have done five editions, and I think that's really enough.
L.P.: How do you work when you compose?
E.S.: I do not work at all on the computer. I work traditionally, on paper. I compose on that table there, with white paper. I always have some white paper, a pencil in hand and another at the ready. Sometimes I use the piano, sometimes not, to be sure I haven't made too many mistakes.
Afterward, it is sent to the editor, and I only correct after that.
The computer helps me sometimes when I am in the studio working on electronic music, but I do not use any of the musical score writing software. It is too complicated and I do not want to learn now at my age. I have an opinion, I may be wrong, but I think it is getting too easy sometimes. We can tell the computer « write me the same sequence in reverse, at a slower tempo » and we accept more readily what the computer offers us. So this music is a little too smooth, too well done.
L.P.: Have you ever had creative breakdowns ?
E.S.: Yes everyone lacks inspirations sometimes. We must let the feeling pass, and then it comes back. With time one acquires a certain technique that helps a lot, we are more sure of what we imagine, what we will do… With time and experience, we get better.
L.P.: Do you have favorite forms in your compositions?
E.S.: It depends on the moment, right now I like the orchestra. I have gone through phases: flute, violin, whatever…
Regarding the opera, I have done a lot lately. According to Boris Vian: Heartsnatcher. I like opera, I'd like to make one more, but I do not know if I have time. I do not like the organ, which is quite original. I especially like orchestra because I think that this form allows you to « play with colors » in a very personal way.
L.P.: Can you tell me more details of your opera Marie Curie?
E.S.: Normally there are three acts, but in Gdansk, it was given in one act by the director. He was afraid that the public would leave. Instead, the performance sold out. His approach was very interesting, but anyway we should not be too involved in what the directors do. My job is to write the opera, not to direct it.
L.P.: Is Marie Curie you, a bit ?
E.S.: A bit, somewhere between France and Poland. I do not pretend to be as great, but it's true that she was close to me as a character, I might have felt the same as she did.
LP: What do you think of what is happening in Poland, to the extent that you have a certain distance?
E.S.: I have been observing this country since I left and it's another country now. It is booming and it is clear that people are much happier, they live better, structures work better… There is still much to do, but in the end it is a country that works and I hope it does not stop working. Hopefully, otherwise there will be a revolution as always, there are no other solutions.
L.P.: Do you think there will be bad consequences with the new PIS government that just passed?
E.S.: It's possible, but we also need to let time do the rest because we are all worried, we are all against it but we also need to observe what is going to happen and how they will handle the situation. They have this vision of "Polish Poland", saying it should not be sold to the European Union. There was a meeting in Brussels, and neither one wants to give in. But it's good that Brussels reacted. Poland should not be similar to Hungary where they are quite detestable things happening. The current president of Europe is Polish, it is a good thing.
I observe all this from a distance, because I am not very involved in Polish life, for good reason, but I do not like what is happening. I detect a certain desire to regress, especially in art… And I think that's not a good thing. We will see in six months for a checkup. There are many protests in Warsaw, so it's good that people are mobilized.
L.P.: What do you think of the relationship between Classical Music and Polish people?
E.S.: The Polish are very attached to classical music, it is part of their history. The Polish are crazy about the Chopin Competition; they are big fans. My father used to take me to the Chopin Competition when I was a child. It was an obligation, we loved the stars, we had autographs and we were all crazy about this one or that one… Now I do not care much anymore but I feel this frenzy. The last one I was passionate about was Zimmerman and then after that I gave up because I was not interested.
L.P.: Last question. Do you listen to all types of music?
ES: Absolutely.
L.P.: Thank you for your time and for answering my questions so honestly!
E.S.: My pleasure!
1) In 1981/1982 Martial law was applied in Poland. The country was run by the Army, the population was subject to a curfew, life was controlled and freedoms were extremely limited.
2) Institute for Acoustic / Musical Research and Coordination.
3) Pierre Schaeffer is considered the father of concrete music and electroaccoustic music.