Events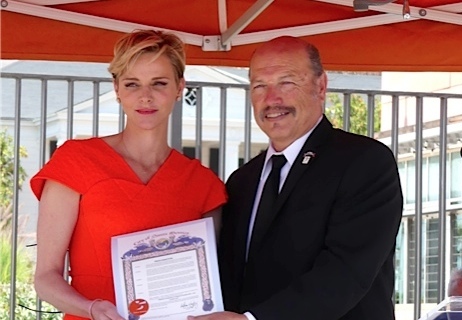 Published on May 16th, 2016 | by Isabelle Karamooz, Founder of FQM
0
Princess Charlene of Monaco's Foundation Launch in the United States
If everyone has been following the wonderful work that the Duchess of Cambridge does with children, you are in for a treat at the launch of the U.S. Chapter of the Princess Charlene of Monaco Foundation at the Annenberg Community Beach House in Los Angeles on Wednesday May 11th. Her Serene Highness Charlene of Monaco has also been focusing her energy on young children and got into the pool with over 40 boys and girls from Saint Anne School to teach them how to swim and practice water safety.
The children seemed so taken with the Princess! I assume that Charlene has built up a lot of patience from these sorts of events where some of the youngsters seemed particularly anxious about being in the water.
Princess Charlene was joined that day by two former American swimming champions, Greg Louganis, gold medalist in Los Angeles and Seoul, and Dara Torres, Olympic champion in L.A., Sydney and Barcelona, to celebrate the launch of her foundation, which works to prevent drowning through water safety education and training. In her address, HSH stated that « Around the globe, thousands of innocent lives are tragically lost to drowning every year, » and said that « I am here to share with you how many lives we are saving – and how many more we can save, simply by training the trainers and by focusing on one person, one family, and one community at a time. Having spent years teaching underprivileged children to acquire basic water safety techniques around aquatic environments, I can only say that simple ideas are often the most effective. » It is a superb mission, and Charlene has gone to great lengths to spread proper swimming survival techniques, doing everything from speaking at the Vatican to teaching workshops herself when she can, and hopefully her concerns will be appreciated worldwide.
A former Olympic swimming champion herself, Princess Charlene retired from competitive swimming in 2007 and set up her foundation in 2012. She qualified for the 2000 Olympic Games and represented South Africa on the 3 x 100m medley relay team, which placed fifth. The same year she met Prince Albert at a swimming competition in Monaco. In 2002, she won three gold medals at the swimming World Cup in the 50m freestyle, 100m freestyle, and 4x100m medley relay.
Charlene looked very stylish in her bright-orange dress, and high-heeled strappy sandals. I love the daring spirit of Charlene when it comes to her fashion. Makeup and hair: perfect, as usual. Not too many women can carry off this cut with such aplomb, but Charlene is one of the few.
The launch of her foundation had many guests in attendance like H.E. Maguy Maccario Doyle, the Monaco's Ambassador to the United States and Canada and the President of the Princess Charlene of Monaco Foundation USA, as well as the Santa Monica's Mayor Tony Vazquez who presented the Princess with a commemorative award in appreciation of her commitment.
The other guests of the inaugural festivities included the Honorary Consul of Monaco in San Francisco and Publisher of the Bay Area Reporter, Thomas Horn; the Honorary Consul of Monaco in Miami, Tomas Abreu; and the Honorary Consul of Monaco in Las Vegas and Liberace Foundation Chairman and CEO, Jonathan Warren, who attended with several friends. Among them were the Honorary Consul of El Salvador in Las Vegas, businessman and philanthropist Aner Iglesias; Liberace Foundation Advisory Board member Garth Gilpin and Betsy Gilpin who are also owners of Piazza de Liberace in Palm Springs; the Honorary Consul of Chile in Las Vegas, Paulina Biggs Sparkuhl and myself, attending as press.
Last year, Consul Warren was joined by 14 guests on a fundraiser trip benefiting the Liberace Foundation and the Princess Grace Foundation, at the Prince's Palace in Monaco. This year, we are expecting to repeat that event in New York in December an invitation is expected from Jonathan, to a mystery location we have never gone before in Las Vegas, to celebrate the 7th year anniversary of his trademark event, Cocktails with the Consuls.