History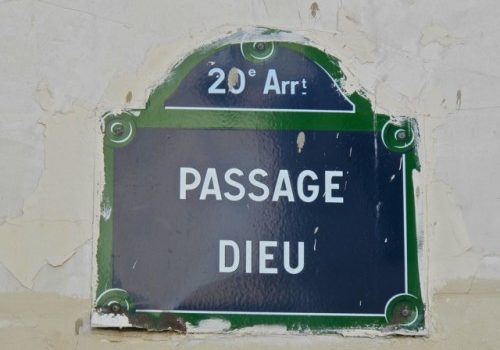 Published on June 20th, 2016 | by Pascal Ordonneau
0
God Passage and Satan Cul-de-sac. Both located in District 20 of Paris
It is decided! I am jumping into an acrobatic exercise: the splits! You may wonder… Why "the splits" in this series of monographs of streets? I am about to write comments on the Parisian streets of vice and sin. I shall pass without qualms from the best, virtues, to the worst, vices!
Rest assured! It is not a question of throwing confusion in the middle of our business, the objective of which was clearly defined: to report on streets of Paris which illustrate virtue and morality. These splits which I announce hold only a little bit to the unrefined thread of a joke or provocation. This one makes us jump backward toward the 19th century. Paris was undergoing its urbanistic revolution. The Paris which you know undoubtedly, which you have visited or whose images and photos you know, dates back to this time which turned a still very medieval town into a modern city.
On the administrative side, the City of Paris took its current dimensions following a reorganization which ended in the annexation by Paris of the surrounding municipalities in 1859. At that time, the annexed municipalities were still small villages. Streets, alleys, passages very frequently bore the name of the owners of the surrounding grounds. The urban development led to the creation of new roads, which also often took the names of the owners of the grounds on which they passed.
You know the context of this monograph. You will soon see why I mentioned " the joke " and the "provocation" at the beginning.
I shall begin with the "God (Dieu) Passage". Obviously, one might think, a street named in such a grandiloquent way cannot be a small street! It must be an immense avenue lined with magnificent monuments.
In the administrative reality of the Parisian public road network, a passage is nothing grand. A passage might not even be an "official" street. It may be a private road, which means that the owners of the houses that line it or use it as an access road are responsible for all the expenses of cleaning and maintenance.
God (Dieu) Passage is no exception: it is a street of very modest size. 90 meters long, its width varies but can be no more than two meters.
The houses which surrounded it were until the 60s, sort of shanties, without water, without electricity and without sewers. In short, a precarious housing environment for a very poor population. Nothing divine about it.
Nothing surprising in that the passage is neither divine, nor heavenly: the Passage in question had taken the name of an owner, a certain Mr. Dieu (Dieu meaning "God" in French, no relation to the one who lives in heavens). This passage which did not exist before 1873 was entitled for a while with the name of Passage of Hurdles. It was said that it received this name from its surrounding woods. Eventually, it received God's (Dieu's) beautiful name, in 1898.
It is really quite lovely in the God (Dieu) Passage! Of course, the old shanties of the good old days have disappeared. We shall not find, by walking there, the charm of the antique houses, with thatched roofs, built of wood and plaster. If, in the middle of the paved road, as with the old streets of Paris, there is still a channel to collect rain water, this has nothing to do with the open air sewers from the good old days!
District 20 of Paris and its neighbour District 19, were for a long time partly industrialized artisan districts. Modern Paris remodelled everything. Shanties and artisan districts were replaced by modern buildings and subsidized housing. When we are going to visit the "God (Dieu) Passage" or surrounding streets, you should no longer expect to see something other than contemporary constructions of a good architectural quality.
But it is time now to return to the sense of humour with which the Parisians are strongly endowed.
Thus, in 1898, the former "Passage of Hurdles", took the name of "God (Dieu) Passage". A nearby owner, who was probably atheist (or perhaps simply a lively individual, as were numerous Parisians at that time) and had a strong hostility towards religious beliefs, decided to play a trick: he too created a street on his grounds and named it after Satan!
Satan Cul-de-sac is much smaller than God (Dieu) Passage: 50 meters long and a little wider, 3.8 meters. It is not better off. It is not uglier. It has absolutely nothing satanic as, by the way, God (Dieu) Passage has absolutely nothing divine!
Satan Cul-de-sac was unfortunately completely renovated. Its primitive aspect has faded in front of too-smooth facades. We can however have an idea of its primitive aspect by walking in the Cul-de-sacs which surround it: Poule (Hen) and Bergamo Cul-de-sacs. Very narrow alleys, lined with very small cottages, whose shutters are coloured in blue or green. They have nothing more in common with the miserable alleys of only 50 years ago! They are almost elegant with flowers and plants which grow along walls or climb up to roofs. Anyway this is a remnant of what was formerly known as the villages of Paris.
Did I end up doing the "splits", between divine and demonic? Not completely: if only to show that there is a lot of humour in the list of the streets of Paris, we shall note that, just a step away from the God (Dieu) Passage, are the passages and the Cul-de-sacs of Saint-Paul and Saint Peter … which resemble God (Dieu) Passage … like apostles! They are small, narrow, not at all majestic! They would illustrate marvellously, the Church of the poor: modest, humble and far removed from any gold decorations, monumental constructions and brightly coloured processions.
You believe we've finished with Dieu/God? Beware: Paris has options. A little later we shall go along Dieu/God Street, which has nothing to do with the Passage!