History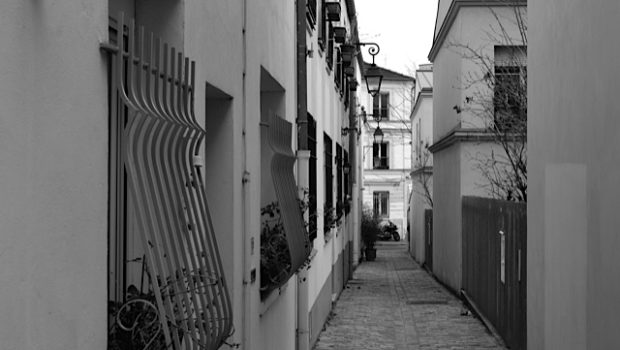 Published on June 20th, 2016 | by Pascal Ordonneau
0
Providence Cul-de-sac, Hope Passage, Wishes Cul-de-sac, Trust Passage
The naming of the streets of Paris leaves plenty of room for imagination, or the absence of imagination. Consider the large number of streets which owe their name either to the patronym of a property owner, to the first name of his wife, or to his vision of society and you will already have a small idea of these originalities.
We indicated in a monograph that Confidence (Confiance) Street crossed Providence Street. We recalled that Desire Cul-de-sac was just a step from Loyalty (Fidélité) Street. We were amused to discover that Satan Cul-de-sac was in immediate proximity of God (Dieu) Passage. In the lines which follow we are going to discover that Providence Cul-de-sac (not to be confused with Providence Street) is very close itself to Confidence (Confiance) Passage. So, we can see that the Parisians are, in spite of appearances, people of heart and conviction!
All these streets are part of District 20, which, till the end of the 60s, was a juxtaposition of villages which a not very well controlled urbanization had made grow and overlap onto each other. We saw the remains of rural group settlements, old farmyards, open-air wells there whose edges were worn as smooth as marble. All this still smelled of the "province" with its hidden misfortunes and some smells of old hay and worn out leather. Over the wells, cranks that had become scraps would have had a great deal of difficulty raising or lowering buckets of water.
This scene is full of character, but also very poor.
For fifty years, all these sectors which recalled Paris of ancient times, Paris of the XIXth century, were restructured. New buildings were constructed. Schools, health centers, libraries.
We shall begin here with providence Cul-de-sac. It is not very big: a length of 63 meters, and not very wide, 3 m. Nowadays, it is lined by schools and by a religious institution of assistance for the poor.
A little farther, we discover an alley, "wishes" Cul-de-sac (Cul-de-sac des Souhaits), with a length of 67 m and a width of 2.5 m. I am sure that you are very impressed by the inescapable logic which governs all these street names. You will be even more impressed to know that Wishes Cul-de-sac was not always called that: until 1877, it was known as "Hope Cul-de-sac ". We shall not ramble on about the ontological difference between Providence, Wishes and Hope. I will let you meditate on their respective close connections and on the imperious necessity of concentrating so many noble names in such modest districts.
Wishes Cul-de-sac does not begin very cheerfully. It is even, strictly speaking, "creepy". I would not like to be alone there at two o'clock in the morning in winter! It is well lit, make no mistake! Local administration installed magnificent traditional streetlights there. Their design brings back ancient times when they ran on gas. Today, they are fed with electric current. The ignition is automatic and the "lamplighter" with such a poetic job (remember: this is an essential character in "Le Petit Prince", this short philosophical novel by Saint-Exupéry) who worked so that the light was on, left this place a long time ago. Everything is not gloomy in this Cul-de-sac: toward the end, we find some small independent, charming houses in the coloured doors and in the windows decorated with flowers.
It is now necessary to come there to Wishes Cul-de-sac, previously called Hope Cul-de-sac, what was not contradictory: hope is not a necessary condition for the formulation of a wish. Conversely: what wish is not the product of hope?
Wishes have a connection with hope, it is certain! But do they have one with confidence (Confiance)? This is a vast question which I pose now because Wishes Cul-de-sac faced Confidence (Confiance) Passage! With a length of 89 m and a width of 2 m, this passage was not so different from Hope Cul-de-sac!
They say that the name of this private road was awarded to it only in 1877 by its owners. It followed a previous name: "Cul-de-sac Meunier" which probably corresponded to the name of a property owner rather than to an owner of a mill. (Meunier in French is Miller in English).
We see that if the Parisians can be fanciful in the attribution of street names, they are capable of distributing names of virtues and moral qualities, even in the most improbable places, in any case in the poorest parts of Paris.
And there's the rub! I was able to describe these small unimportant streets to you because I went there. I took the subway to Alexandre Dumas Station. Once there I found them and I was able to measure and to photograph them.
Not all of them, though! I looked for one of the streets for half an hour. I could not believe it. It was impossible: I had found it on my map of Paris. I must confess that my edition was not the most recent. Nevertheless, I also know that the streets of Paris change names only very rarely and especially in the "chic" parts of town. In Paris, like in other places I suppose, we do not worry much about giving new names to the streets located in "disadvantaged" districts.
Thus, I looked for Confidence (Confiance) Passage which had disappeared and I did not find it. Then, I had to surrender to the obvious: Confidence (Confiance) Passage had been eliminated. I did not find it because my old map did not know that Confidence (Confiance) was about to disappear.
Was it a sign? Did it announce anything grievous about to strike French society? This question will find a good part of its answer in other wanderings within "the moral and virtuous streets" of Paris.