Fashion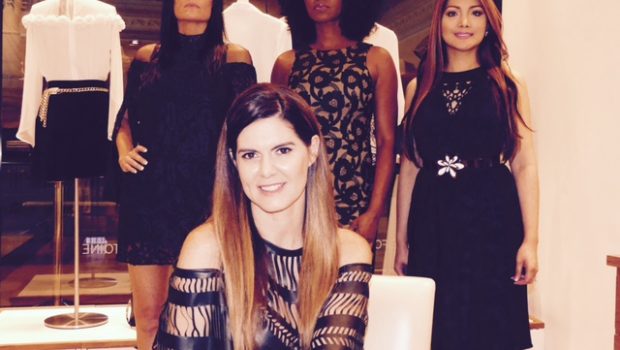 Published on August 19th, 2016 | by Isabelle Karamooz, Founder of FQM
0
Interview with French fashion designer Anne Fontaine
Isabelle Karamooz : How did you get started in fashion? What was your training?
Anne Fontaine : I've always had two passions. The first was sewing – I loved to sew, make my own clothes. The second was nature – forest, trees. I am completely self-taught. I created my first dress when barely 10 years old. My mom always says that was innate in me.
I.K. : You are half French half Brazilian. How did these two countries influence your work?
A.F. : My mother was Brazilian, my dad French. These two cultures have greatly helped and inspired me. For a designer, what could be more wonderful than architecture, sculpture and culture. French couture is an infinite source of inspiration. I am someone who draws my laces, my embroidery. I do everything by hand. I love floral patterns.
I.K. : You are doing a job that requires constant renewal. What are your main sources of inspiration outside Paris and Brazil? What books, music or artists inspire you?
A.F. : For me music is something fundamental because of my Brazilian roots. I still need to create with music. I can not do without bossa nova. It gives me a lot of peace and inspiration. Another thing I really love is the chic, elegant women of the fifties. I love books about women like Marlene Dietrich. This period is magnificent.
I.K. : Where do you produce your creations? Do you have a large network of artisans?
A.F. : Today I produce in France, in Europe. Artisans for me are a passion. I created a collection called « Precious,» done by artisans, both French and Italian. Unfortunately today a lot of people are manufacturing abroad. Artisans are disappearing… after generations of existance. Instead, people are turning to new technology businesses. I fight this a lot. That is why I created the « Precious » collection, to continue to make work for artisans.
I.K. : Why was white so important in your early designs? Why do you do use more colors now?
A.F. : Characteristically I love opposites. White and black for me are the most perfect colors, ying and yang really… I love elegance. I find one is always very well dressed wearing a white shirt. It is also a question of culture. White has always been important on the religious level. In Brazil it brings happiness to wear white. We celebrate the new year all in white on the beaches. In France and several other countries women marry in white. Many cultures are linked to white. White is fundamental. When you see a white shirt, it gives the feeling of cleaniness and fresh air. Note, I took the idea from men's wardrobe, the white shirt and made it essential to becowomen's wardrobes.
Why more color now ? I am pretty demanding when I work with material. It must be white or black. I need this basic energy. Lately I discovered I like color, too. At first it was just small colored accessories to embellish my collections, but now I make entire clothing lines in color. There are little touches that I change each season according to my moods. A color must vibrate for me, I must feel it to choose it. It is personal taste. Every season I try to bring to my clients new colors that « mean » something to me.
I.K. : What is the image of the woman you want to emphasize?
A.F. : Timeless elegance. Since I have a strong character, for me what is most important with my creations is to help women find happiness by allowing their personality to be valued.
I.K. : In your boutiques there is something for all tastes and for all ages…
A.F. : You just saw a girl of thirteen, fourteen dressed in Anne Fontaine. I have offerings for all types of women. Sizing is also very important. I can't just dress up thin models, I want to dress « real life. » We are all different. I spend a lot of time in the cutting women. Women should fee comfortable in their bodies. I want to bring out personality first. Clients often tell methat when wearing one of my creations, they feel natural with lots of personality.
I.K. : I am wearing one of your designs that emphasizes the waist.
I.K. : If you were one of your outfits, which would it be and why?
A.F. : Obviously, I would be the white shirt! I make shirts with ruffles and fantasy-based double collars, but I love simple things. With a simple shirt, you can wear a red tapestry skirt, but also jeans, classical or modern. There is so much potential… I love the notion of diversity, of biodiversity. The white shirt goes with colors, prints, black, white. For me, it is perfect.
I.K. : Accessories embellish…
A.F. : Accessories are important in my lines. I make shoes and bags, I love neckware. Changing the collar can completely change a shirt.
I.K. : How is 2016 shaping up? Can you tell us about your next collection?
A.F. : I am already working on the 2017 collection, nearing the end. About the winter 2016 line – I played around a lot with a dark and romantic idea – lace and velvet details, embroidery on shirts. I cannot reveal more. As for 2016, we are already there, offbeat as it is. I never wanted to be on the internet, but today I am with clients all over the world. New techology allows access to a brand, to clothing.
I.K. : So one can buy your clothes online?
A.F. : Currently in the United States, and we will open a site for Europe soon.
I.K. : You design women's clothing. Is there a demand for men's as well?
A.F. : Menswear is a very buoyant market at the moment, but I made the choice for women's. I get a lot of pleasure creating clothes for women. The feminine universe pleases me very much. Unfortunaely for my husband and some male friends I have other projects to take care of before creating a men's line.
I.K. : When did you set up the Anne Fontaine Foundation and why?
A.F. : I created the Anne Fontaine Foundation five years ago. It was the result of my philosophy of life. I had the chance to live among Amazon Indians. Among many thigs, they showed me the overall role of the environment in human life. In nature you find poison and medication side by side. It is pretty amazing that you have everything in nature. Creating my foundation is my way of giving back.
I focus on two areas: First, planting trees with local organizations in the rain forest, 40,000 of them. We know a lot about the Amazon but very little about the Atlantic Malta forest on Brazil's Atlantic coast. It is rich in biodiversity both flora and faun. Undergoing deforestation, it should not be allowed to disappear completely. So we help local organizations. The second area is education. I think if we really want to protect our planet, we must begin by educating the youngest. This is fundamental. With a different approach we go to disadvantaged schools. In a playful way we offer art classes on a forest theme making them conscious of the importance of protecting species and the planet.
I.K. : What gives you confidence in the future?
A.F. : Fundamentally "you need to continue to believe". When you believe, you make it happen.» Before we did not talk about the environment. Today, we are beginning to. People want the opportunity to eat organic. They want less harmful products that pollute our bodies. It is important to have this consciousness. I had this awareness when I opened my first store in the United States almost 20 years ago. I did not want to over onsume, I wanted to have a "green" store with less waste. Gin ermany and Europe this was already the case. Here it was far away. Now people are starting to want it. Desire is hope. It makes me feel positive I could never let myself be beaten ¬ you have to believe in it, do it and we will get there.
I.K. : Anne Fontaine, thank you for answering our questions.
A.F. : Thank you !
Online store: http://www.annefontaine.fr/
Her foundation : http://www.annefontainefoundation.org/
Transcription: Pascale Nard. This article was proofread in English by Linda Quinet.