Interviews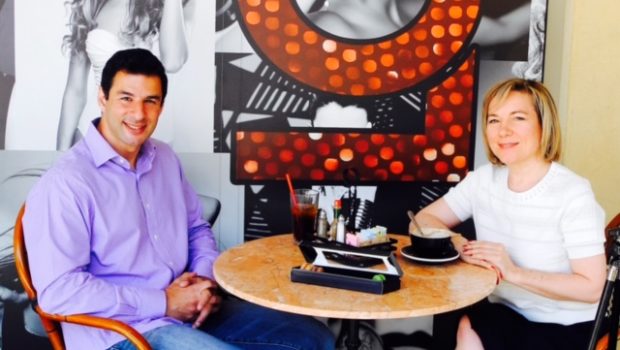 Published on August 19th, 2016 | by Isabelle Karamooz, Founder of FQM
0
Interview with Sacha Kechichian, a Pastry Chef of "La Maison du Macaron Las Vegas"
Isabelle Karamooz: Hello Sacha Kechichian, what is your profession?
Sasha Kechichian: My job? I had several. First, I was a journalist almost for 20 years. I also had fun visiting restaurants, hotels and enjoyed the food of many chefs from around the world. Then, I started to be a businessman. I created companies. I sold them to earn money, reinvested that money in other companies. The race for money is good, but at some point, you want to do something else. I preferred to do something for a passion, a passion that is baking. I grew up in a family where my mother and grandmother were all day long doing pastry. I was lucky, being small I ate a lot of good things. As an adult, I always kept this taste for sweet things. I decided to get into the kind of pastry I did as an amateur and staff member for years. I perfected some things. My passion for macarons precisely did that after a while. I decided to start this adventure, change hats and become a pastry chef of my own brand "La Maison Macaron Las Vegas."
I.K.: When do you expect to open your boutique? And where?
S.K.: Today, I have opened the online store. I'm looking for partners to open a "physical" point of sale. I hesitate between the center of the Strip where there are all the hotels, Yellow Submarine, Town Square, and Downtown Las Vegas. These are the four places today where I would have the necessary traffic by having a fixed point of sale for the maximum chance to sell my products.
I.K.: What is the visa required to open this kind of store?
S.K.: We must do what I've done – that is to say have a tourist visa for six months, renewable for another six months, in the first year, which allows one to come here, start to canvass, look for and find partners, and start building things.
Then we start on an investor visa. I had to return to Paris to request an investor visa – a commitment to invest money here to create economic activity in the case of French pastry, but with a French know-how that needs specific skills.
I.K: What is the customer you hope to attract?
S.K.: All people who love baking, who like the taste of sugar, who love the taste of flavors. Children, parents, regardless of origin, nationality, everyone is welcome, all gourmets of the whole earth.
I.K.: What is the origin of the macaron. Is it not an East Asian specialty?
S.K.: For nearly 800 years, yes, it was an East Asian specialty. This is a product that arose in 16th century Europe, including Italy. In the early 20th century, Paris had made one of its most popular delicacies of the Parisian elite by adding hulls meringue with ganache. At first it was honey, almonds. Over the years, it has become chocolate ganache. It became the product we know today.
I.K.: Is the macaroon a cake or a candy?
S.K.: It is very difficult to determine because, in fact, it is a cake with meringue on one side and confectionery on the other side within the interior, the heart, so it's a bit of a mix of both. Sometimes, with certain smells, we have more the impression of eating candy than cake. It was a bit of this dual role. It must be understood that this is a really classy product. It is chemical reactions with sugar, baking, moisture. It really is a product based on pure chemical reactions. It is both confectionery and cake because when we make a morsel large enough to have several bites, it is a cake. So it is both.
I.K.: Has it always been crafted in the same way two biscuits and a trim?
S.K.: No, it's a cake that has evolved over centuries. First, it was a product that was garnished without the cover. At the time, especially in Paris, it became a product made with filling between two shells. This may have been a frost, a ganache, caramel, but that's recent. At first, it was just a biscuit, meringue on which they put honey, dried fruit, prized things at the time.
I.K.: Why did you choose to only make macarons? Is it not a bit frustrating for a pastry?
S.K.: Not at all. The macaron can be divided into different versions. What is very interesting about the macaron is it has limits only with the macaron in his imagination.
We can do so many varieties of tastes, textures, scents – double, triple flavors, shapes… We can do all imaginable. I began to launch a line of macarons without the shell. This is a basic macaron, like a cupcake with ganache over it that one decorates. From here, there are other ways to decorate the macaron. There are chocolate-covered macarons with a full coating of chocolate. You can make macarons with caramel, fruit, whipped cream. You can really dive into all its aspects. There is no frustration because there are no limits.
I.K.: How many fragrances are there? Are there any improbable scents?
S.K.: We have about 20 different flavors today. Improbable scents? Yes and no. Is cotton candy unlikely in a macaron? In a way, yes. Cotton candy in a macaron – one does not expect it, it is surprising. At the same time, it is very simple to achieve. For us, it is not surreal. We are quite elaborate with our flavors – chocolate with candied orange and Grand Marnier. There is a nod to the French Orangette with flavors like "The Black Forest" with a chocolate cherry heart and whipped cream. There is a nod to European pastry, to Austria. We wink at cocktails such as the piña colada. It is a coconut ganache, with a heart pineapple jelly, rum, so here we are in the world of alcoholic cocktails. We try to do things quite different and surprising. Surrealist no, surprising yes.
I.K.: What flavors sell best?
S.K.: We have three fragrances which are selling very well – lychee rose, caramel salted butter, Nutella chocolate milk.
I.K.: The materials you use – are they French or American?
S.K.: To keep prices as low as possible, they are American products for the butter, cream. On the other hand, the chocolate is French. It is imported. We work with this chocolate except when it comes to gluten-free products.
When it comes to gluten-free products, we use other types of chocolate. This meets specific requirements. Otherwise, ganaches are made only with French chocolates, with a chocolate that most major chocolate confectioners use – the Valrohna brand.
I.K.: Can you talk about your Nutella macaron?
S.K.: So Nutella macarons, I saw many people make Nutella macarons with two shells and put Nutella in the middle. I do not think it's subtle. The texture of Nutella being very fat, it's not necessarily pleasant. I began to mix it with white chocolate Nutella, Nutella with dark chocolate, Nutella with chocolate milk. I preferred to keep the chocolate mixture to milk and Nutella to really give the impression of chocolate ganache with quite a pronounced Nutella aftertaste, which makes this double taste very nice. It's a chocolate attack with an aftertaste of Nutella that develops in the palate. In the end, we have a product that is truly addictive.
I.K.: We can say this is a nod to France?
S.K.: It's a nod to France – we are the first consumers of Nutella in the world. Therefore, necessarily, wherever you are in the world, it still has its cultural references. Me, my cultural references, they are Nutella and Haribo sweets. Working with these materials here, working with the Tagada strawberries, it is this kind of product that the Americans discover.
I.K. Thank you for the interview. I wish you luck, Sasha.
S.K.: Thanks, Isabelle.
Transcription and Video: Pascale Nard. This article was proofreading in English by Genevieve Hayman.