Gastronomy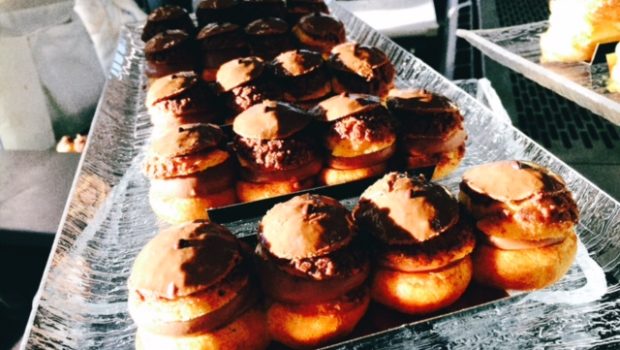 Published on August 19th, 2016 | by Isabelle Karamooz, Founder of FQM
0
My first cooking workshop with Chef Ollivier Christien at the Le Cordon Bleu Institute
This summer, I attended my first cooking class at the institute Le Cordon Bleu Paris. Recruitment and development manager of the Institute, Philippe Rocheron, told me about this workshop and right away he registered me for the workshop entitled « The Secrets of Eclairs. » Regarding the tasting, I have the necessary skills, but the production is another matter. However, I will surely become a "pro" and meet friendly people of all nationalities.
The workshop is provided by chef Ollivier Christien! I must say I love cooking and baking, but I do not know those who produce (aside Michalak, thank you Téva and France 2). Yet with his exciting path, having worked in famous Michelin starred restaurants like Le Grand Véfour and the Hotel du Crillon, we obviously have a very talented chef on our hands!
The workshop began at 2 pm! I dislike being late; I was so looking forward to it that I was an hour early. Once I arrived on site, I discovered a brand new building with a high-tech lab holding a large modern kitchen with confectioner robots that take center stage in the work area. A smell of cocoa lingers in the air. Apron, check! Recipe book, check! Here we go!
There are ten of us, of all ages, mostly ladies! With visibly different skill levels, but that is fine: even if I cook often, I am not necessarily aware of pastry techniques. The chef is really friendly; we feel immediately at ease. And when I open the recipe book, I see "Crispy Praline," "Chocolate Cream" … Wonderful!
It was in a relaxed atmosphere that everyone observed, tasted, asked questions while in the lobby, you could see some students who were preparing themselves to work on manufacturing some true wonders. I would have loved to discuss with them and observe them closer, but another recipe awaited us, and I thought it best not to bother them. And time was not a constraint, we took our time (while working efficiently anyway), we gossiped, we laughed, suddenly we missed some details of the recipe… but there was always someone to advise us: the chef or a colleague of the workshop.
Those recipes of the day are particularly entertaining. We beat eggs, we mixed a lot, we got out a spatula, a whisk, the mixer, the electronic scale and a medium saucepan for choux pastry and… the Kitchen Aid which was our best friend that day!
Each preparation gives off a delicious smell and, frankly, how can one not drool over praline, chocolate or pistachio flavors? However, some recipes like whipped cream pistachio and praline crisp, which demand precision, are made mainly by the chef, while others are made in pairs. Meanwhile, 5 preparations in 6 hours… The program is thus: choux pastry (I have never made it), chocolate cracker, chocolate cream, mousseline cream (well, I was on the praline team so I took care of chocolate cream only), chouquettes with sugar and hazelnuts. Finally, time flies and it was time to put everything away and leave with our creations, taking our apron as a souvenir. A certificate of participation was issued by the chef, and on the way home we could organize a real tasty snack.
Before leaving, an obligatory passage through the shop, and it was so hard not to fall for everything: chocolate, jams, sweets, etc. Everything was beautiful. It makes you want to taste all these goodies. One can also buy the equipment necessary to make all of recipes.
For this first workshop, I was delighted and I had a good time, although I have no means of comparison for now. I met some nice people that I hope to see in other workshops. And the Chef is very approachable and a rather good instructor; you quickly forget his lengthy list of awards and focus on the pleasure of cooking with others.
I will try to redo some recipes that I liked very much. The display of choux dough on the baking canvas was a particularly fun time: more tests were needed and I have several ideas of variants to try… I will just have to find the time now! I am thinking of registering again soon and I suggest you do the same! ☺