Interviews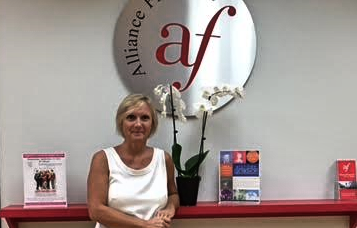 Published on October 17th, 2016 | by Isabelle Karamooz, Founder of FQM
0
Interview of Isabelle Leroux, President of the French Alliance of Los Angeles
Interview of Isabelle Leroux, President of the French Alliance of Los Angeles: "While we are not the only ones to teach the French language in Los Angeles, we are the only ones to focus on French only accompanied by a rich cultural program. Our Alliance, which just celebrated its 30th anniversary, represents excellence."
French Quarter Magazine : Can you tell us about your journey and your relationship with the United States ?
Isabelle Leroux : I am from the Paris area where I passed the Baccalaureat, majoring in Philosophy in Versailles, at the Lycee La Bruyere. Afterward, I passed a Master in Communications and Public Relations and I quickly started to work with press agencies until I left for the States. This move came from a professional opportunity my husband got. We agreed to go for it. We thought that would be a beautiful adventure to try. It was supposed to be for 3 years, it has been 16 years already! Los Angeles kept being an attractive city. I was able to enjoy it pretty fast even though the city was big and daily life was a bit complicated, you had to drive a lot. Honestly, it appealed to me anyway.
The hardest part was my professional life. During the first 3 years, I had no work visa, only an accompanying person visa. Then I got what they called a "working authorization" which allowed me to work only for a few hours per week.
After those 3 years, we decided to continue on the adventure. Which meant a change of visa then the Green Card so the authorization to work. What I know for sure is that when you go to another country as a couple, one of you does it for their work, but it is more complex for the other one because they have to reinvent their life. They don't necessarily have degrees equivalences with the United States nor do they master the language.
This meant that I had to adjust in many areas, and acquire a decent level of English in the first place.
As I could not work in the field that was mine in France as it involved speaking and writing a lot, I did very diverse things when I got to the States, with help from the school and the parents of our children's friends. Don't take it the wrong way and remember that it is a new experience, maybe also the opportunity to discover new things. It took me a while to admit it. In retrospect, my advice is that you should quickly accept that you are enriched in a different way and not focalize on what you would have done would you have stayed in France.
French Quarter Magazine : How did you become President of the Alliance Française of Los Angeles ?
Isabelle Leroux : Almost five years ago, the previous President and current President of the Comite d'Honneur, Mrs. Nicole Montgomery, came to find me. She knew me indirectly. She had heard that I was done with the work I had been involved with and wished to meet me. By then, I felt more confident to take on something else, something closer to what I did in France.
She suggested I became a member of the Board of Directors of the Alliance. At first, as a simple member then as Vice-President. Being Vice President also meant being in charge of the cultural program.
Nicole who had just accomplished 4 years of Presidency, soon asked if I would like to replace her. I was elected by the Board and so I have been President for 3 years. I just got reelected in June for another year.
French Quarter Magazine : Would you introduce us to the Alliance Française of Los Angeles, its history, context and purpose?
Isabelle Leroux : The Los Angeles Alliance Française was created 30 years ago. It went through highs and lows notably due to management issues. It is an unusual business model and therefore managing it was difficult. When Nicole Montgomery arrived 10 years ago, the organization was not exactly thriving.
From then on, her team did extraordinary work. A structural endeavor took place allowing the Alliance to be back on track with a good staff, good management and good communication. When I arrived, we were already in the good years and I could just jump in and provide impetus.
Right now, we can boast 4 years of growth regarding the number of students, the cultural programs and therefore the income. Otherwise, the Alliance faces several challenges. Los Angeles is a very large city, the traffic here is, as in other big cities, very dense.
Then, like for all the Alliances, we need to develop loyalty to keep the students. Of course, we are not the only ones teaching French in Los Angeles but we are the only ones to focus on teaching French only, accompanied by a rich cultural program. Our Alliance, which just celebrated its 30th anniversary, represents excellence. We offer a unique, high-quality program which is validated by the Foundation Alliance Française in Paris. We belong to a network of 800 Alliances including 110 in the United States. We are a language center as well as a cultural center. Our students get to practice the French language while participating in our numerous cultural activities. This is exceptional.
French Quarter Magazine : What motivates your students and pupils to learn French?
Isabelle Leroux : The History of France, its influence in numerous fields definitely influences their choice of the French language. We are a country of history and culture. We remain the language of diplomacy and the language of the Olympic Games. Speaking French means being well educated. It is the opening toward literature, history, art, gastronomy etc. This is a major motivation for them.
On a demographic perspective, we have now more than 1000 students joining the Alliance Française every year, not counting summer camps. Adults and children alike come to learn or improve their French. We have developed many cultural programs for more advanced students, and created thematic workshops. We offer workshops about travel, philosophy, history with the main themes of French History, which have been very successful.
In doing so, we discovered that students wanted to speak and learn vocabulary related to specific topics. The literature classes have been thriving as well as movie clubs and book clubs.
The members read a book every two months and the club gathers to discuss it. The teacher develops the main themes of the book and helps with understanding it. It is a great success. We just brought added value to this book club. I got the idea, a few months ago, to invite the authors. Not only do the students read the book but they can discuss it with the author. It is an enriching experience for them.
French Quarter Magazine : In addition to the classes, what types of events do you organize? Can you tell us about your cultural program for the upcoming months and the end of year 2016?
Isabelle Leroux : The cultural program has flourished in the past 4 years. We have 50 to 60 events every year. Most of the cultural programs take place between September and June. We have every year, book signings where we welcome celebrated authors, like previously Marc Levy and Douglas Kennedy.
In October, we will host Nelly Alard (Oct.11), who wrote "Moment d'un couple", and received the Interallié prize. We also have a science café where we invited a scientist from San Diego who practices Sophrology (Nov.2) and we partner with the American Institute for Levinassian Studies, which organizes a set of conferences around the theme of Ethics.
Our great Gala will be on October 25th. It is our most important fundraising event of the year. We did not talk about it but we our sources of revenue are the school, subscriptions, donations and fundraising. It is important to mention that we are a non-for-profit organization that is financially totally independent. We have a Board of Directors with 8 members: an executive director, an Education director, two interns, and 20 to 23 teachers (depending on the intensity of the classes and all the cultural programming which is done in partnership with the Board). This is how we work.
Let's return to the Gala, which has always existed at the Alliance Française. It has grown in the past 5 years. We started in a private residence, then at the Residence de France, then for the last 3 years at the Bel-Air Bay Club. It is an amazing place. Champagne is the theme of our October 25th Gala, which is sponsored by Taittinger. More than 150 guests can be accommodated for the dinner.
French Quarter Magazine : How and who can register for the Gala of October 25th, 2016?
Isabelle Leroux : The Gala is not reserved for our members only, anyone interested in the Alliance is welcome. All the information about the Gala is on our site www.afdela.org. A beautiful evening with a silent auction and fundraising. These funds are used to enrich our programs in education as well as culture. We want the best for our students notably in terms of technology and you can imagine how costly it is to bring in artists and musicians from France (airfare, stay etc…). Our donors know that the funds will be used wisely.
This will also be the opportunity to celebrate our partnership with French Quarter Magazine. We are delighted to be new partners and therefore will be working together all year long. It is wonderful to have magazines like yours and people like you who relay what is going on in the French culture, are a link to France and above all are offering articles of substance. We needed that and we are delighted to partner with you.
It is important to note that we also are very close with our partners such as the Consulate's cultural services as well as the Raymond Kabbaz Theater or the Chamber of Commerce with whom we maintain an excellent relationship.
I do not forget our francophone friends. We relay all the information from the Consulate of Belgium, Switzerland, Quebec, and we do not hesitate to work with them whenever they have an event directly linked to Francophonie.
French Quarter Magazine : Can French expatriates also come to the Alliance?
Isabelle Leroux : Yes, absolutely. The Alliance is a meeting space between French people and Americans who are interested in our culture and our language. It is 50/50.
French Quarter Magazine : Where is the Alliance Française in Los Angeles?
Isabelle Leroux : We are in Century City, in the same building as the French Consulate. Century City is an up-an-coming neighborhood which is easily accessible. We are located on the ground floor where we have a conference room that can accommodate 50 to 60 people. There is a large screen in the room and the cine-club takes place here. We have also about ten classes of different sizes, a reception, administration space, a small cafeteria and a large library for adults and another one for children. We broadcast TV5 all day long, as well as our new partner, France 24.
French Quarter Magazine : How many other Alliances are there in the States? What is your connection with them?
Isabelle Leroux : As I previously stated there are around 100 Alliances in the United States. The Alliances on the East coast are the largest with New York of course but also Boston or Washington, Chicago, Denver and San Francisco for the West coast. We definitely are one of the 10 largest in the United States.
French Quarter Magazine : When do you meet up with the other Alliances?
Isabelle Leroux : For the US, there are two yearly meetings which take place in the fall and spring. Last year, it was in San Francisco and New Orleans. This year, we will be in Minneapolis. We also have a meeting every 18 months in Paris with the Alliances from all over the world which is organized by the Fondation Alliance Française.
French Quarter Magazine : Is this why you are in Paris today?
Isabelle Leroux : No, I am here to visit with my family and friends but there isn't a trip without working for the Alliance: discovery of new artists, new books, buying books and such.
This article was translated in English by Anne-Cécile Baer Porter.