Art & Culture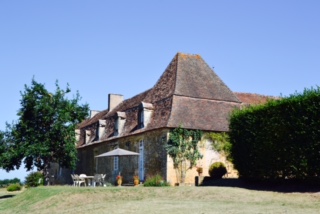 Published on October 31st, 2016 | by Pascal Ordonneau
0
Castles in Périgord
Without a doubt, this is one of the most beautiful regions of France. To give a proper indication of its quality, we cannot describe it in English, Dutch, or German alone, but must use a combination of these languages.
For me, Périgord is a soft moment and an invaluable memory – that of my family. I am of Périgourd descent (3/4), and as a proof of the total and unconditional attachment of my parents to this beautiful region, I spent almost all of my childhood holidays there. One half took place in the North of Périgord and the other half in the South, near Bergerac.
It is said that when the world was created, Saint Peter left with a shoulder bag filled with cities, villages, castles, manor houses, churches and cathedrals. As the sower, he threw the contents of his shoulder bag here and there. He did not realize that his bag had spilled over France, leaving behind a quantity of buildings. The tear had widened still as he passed over Périgord, justifying the surprising quantity of magnificent buildings which we find there.
More seriously, it is necessary address history: Périgord belonged to the English people as part of the Duke of Aquitaine's territory, and for a long time French kings, who had foolishly lost the land to the British kings, tried to get it back. The result? Ceaseless wars and an unstable border dotted with castles, some English, the others French, opposite to the Brits. There were also fortified towns – named "bastides" – designed like the ancient Roman cities and locked into robust ramparts with massive, fortified churches dominating the tiny villages or on the top of strategic hills.
Crossing this incredible universe would be two rivers, Dordogne and Vézère, flowing through enchanting sites, inhabited since the days of antiquity: the region of Lascaux in les Eyzies . The Cro-Magnon people settled there largely before the quarrels that divided the French and English kings!
This year, to return to my roots and dive into our memories, I took my whole family there: 12 people, the cat not included. I had rented a magnificent house. I also wanted to see again those who I had loved.
Thus, this summer, we stayed in the very beautiful manor house of La Bourgonie – cheerful and welcome on behalf of its owners, the Count and the Countess of Commarque. To accommodate 12 people, without piling them up is not an obvious task, and to keep occupied five children from three to eight years old is not easy at all! But there are beautiful moments: when the ping-pong alternates with the descent of canoes in the Dordogne River, when the visits to the most beautiful medieval cities Sarlat and Domme harmonize with that of the ancient "Bastides", Montpazier and Beaumont of Périgord.
But Périgord provides a little rest as well with its swimming pool, pétanque and gastronomy: Périgord is one of the notable places for French cuisine. Fine and relaxing days in "our castle" full of charm and nostalgia, La Bourgonie is a typical example of these houses intended for the exploitation of big areas, but also equipped to defend themselves. A crenelated porch and tower defend it with tight staircases, some turrets, battlements, loopholes and other openings to push away the hostile people. All of them remind us that the campaigns were beaten by bands of beggars and that the English or French troops were on the lookout for some good "coups".
The Bourgonie's owners had recovered their family home after many adventures. Having restored it, they have been renting a part of it for a very long time, improving the housing ceaselessly and putting it in the standard of modern comfort.
Their taste (or an addiction) for the restoration of old stones drove them to take back the old family castle, the Castle of Commarque, not far from La Bourgonie. Uninhabited for years, it had badly endured its abandonment and had been slowly transformed into an austere ruin, lost in a valley covered with a very dense forest. In front of it stood another castle, in better shape and magnificent too, as arrogant as to be a castle, while dismissing Disney castles to the rank of cabaret "décors." It is this grand natural setting that urged the Hubert de Commarque to dash into an adventure, which had more common points with reaching a summit of Nepal than with a local country squire's life, such as the one we enjoyed seeing in the Downton Abbey series! The work of restoration began years ago and is going to carry on through years. The site is magnificent, the emerging castle is luxurious, and stones splash it with light at sunset and late in the beautiful summer days. We were able to see the shadow of the castle cast on the hill opposite, as if it were to challenge this neighbor, which we were told was the property of British!
English people, French people! It was absolutely mandatory of me to see how the castle of Montastruc had spent the years after my last stay. It had been my grandmother's estate after families of several Périgord "grands lignages". My grandparents lived all year alone in this gigantic house. In winter, sometimes it snowed so much that they could not simply join the village some hundred meters below! This is an extraordinary building, built on a rocky spur with moats filled with water and ditches dug in the rock, plus an old drawbridge (no longer working), which is still overhanging them fifteen meters up.
The castle of Périgord abounds in it, an actor of the wars between Frenchmen and Englishmen, between Protestants and Catholics, between partisans of the King of France and great lords fighting for their privileges. It had twice been destroyed, reconstructed three times on the foundation of the 12th century. They had set up the main buildings in the 13th century, then the defenses in the 16th, and finally after centuries of construction and demolition, the magnificent wings of the 18th century were added.
Imagine, a child, often alone, with two old grandparents, in a dream castle. Imagine him inventing fights, bringing fantastic armies into conflict among barbicans in ruin, covered with ivy and growing wild herbs, 10 meters above ground level. Imagine his bedroom looking out onto moats where thousands of frogs partied throughout the night. Imagine bats fluttering in the big dining room, touching his hair, black at night in the dark of a gigantic room lit only by a window letting the pale beams of a sensational full moon penetrate.
Souvenirs are valuable only if we do not try to resuscitate them. My castle, that of my grandparents, has become a magnificent house quite different from the old one that I had known. This is to be permitted. Today, we could reach it even in the winter! Today, a magnificent swimming pool is settled under the old dovecote. It has all the features of modern comfort. It is maybe a little less my castle… But it remains as luxurious and magnificently proud as I used to love it.
This article was translated in English by Sandrine Sweeney.