Interviews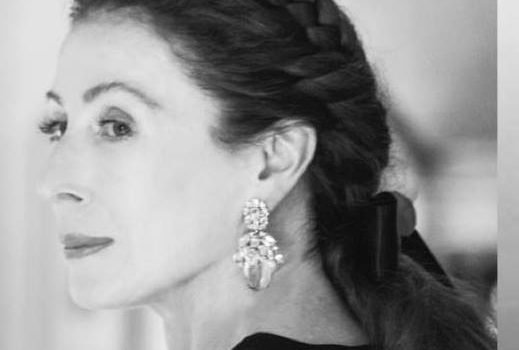 Published on October 31st, 2016 | by Tyson Thompson
0
The Element of Art: An Interview with acclaimed Fine Artist Chantal Westby
Internationally renowned painter Chantal Westby has made her mark on the Art scene with her abstract expressionist works that provoke a wide range of emotions. Her meticulous use of lines and taste for the avant garde is showcased most vividly in her series "After the Storm", which makes a bold artistic statement on spirituality. Westby was born and raised in France and it was in Paris where she received her certificate in Clothing design.With a unique body of work already tied to her name,Westby prepares to express herself in a collaboration project with photographer Lénaïc Mercier titled Flat # Lux early in 2017 at NYC's Agora Gallery. Much greater than her achievements in the progressive world of Fine Art, are her humanitarian contributions to those countries ravished by poverty.
Tyson Thompson: Who were your earliest influences as an artist?
Chantal Westby: My earliest artistic influence was actually Valenciennes, the city of my birth. Located in the far North of France, it does not get the artistic credit it deserves. It is the home of Watteau, produces the best fine lace in the world, has visible traces of the Roman occupation, and a fine museum. But I was most struck by the architecture, since I have a visual approach to life and always have noted the details of my surroundings. Fashion has also always played a large part in my life. We did not have much money, so I was forced from an early age to make many of my own clothes-which I always tried to make as beautiful as possible-style and beauty have been very important to me from my earliest days.
TT: How has French culture influenced your art?
CW: I spent the first 30 years of my life entirely in France, and totally immersed in its culture. While I had the usual young person's infatuation with the contemporary, I also had (and still have) a love for the age of Napoleon-the Empire and the Directoire. Since I am primarily an autodidact, I forced myself to learn as much as I could about the style and design of this period, focusing on the clothing and furniture as I was growing up, turning also to its art as I matured. The British painter Turner, for example, continues to fascinate me.
TT: How is your work received in France?
SW: Very warmly. I have approximately 30 works which I began bringing to France about 5 years ago, and to which I continue to make annual additions. I have shown these works in Valenciennes, Paris, Nantes, Nice, Cannes and Monaco (where they are presently stored with my agent). I am also happy to report that I have been able to sell them at a slow but regular rate. I have many good friends in France, including artists, gallery owners and agents, as well as journalists and publicists, including the producers of "L'Officiel", an influential magazine that actively sponsors me.
TT: Your work seems to have an ethereal aesthetic. Is that something that comes natural?
SW: First, thank you very much for the compliment of saying I have an "ethereal aesthetic". I fully agree and also feel that it does come naturally. I seek out beauty in my surroundings and in every artistic work I produce. A less positive side of such an esthetic exists: my eyes turn always first to the "tâche" or fault which seems to be ubiquitous, whether overt or hidden.
TT: How does spirituality transfer over into your art work?
SW: I have a strong spiritual life that, inevitably, finds its way into all my work. A journalist in Nantes suggested that my paintings reminded him of William Blake, and a respected critic here in New York made a similar observation. While I am flattered by such praise, I really want everyone to appreciate my work. I try to provide an emotion with which all can identify; to surmount my personal vision, in a sense, so I can establish a spiritual connection with the viewer.
TT: Are more people buying art today or has there been a decline in the past decade?
SW: I'm selling more today, but I like to think that is because my skill and choice of subject matter is improving. The art world seems to follow an internal logic: several very lucky and talented painters are selling for enormous fees, while the great mass, many of whom may be just as talented, go unnoticed. It is hard work, and a hard way to make a living, but it is my calling so I have no choice.
TT: Your work seems abstract but also based in reality. How do you bridge the gap between the two?
SW: I certainly prefer to express myself in an abstract fashion rather than through pure realism. That said, I find I have a need for both, and recognizable elements, figures, objects or architectural constructs, usually find their way into my paintings. They all come from my imagination however, and I never paint from a model.
TT: How has your humanitarian work in countries like Haiti impacted your art?
SW: You cannot visit and work in Haiti without being influenced by the experience. I have seen poverty and suffering, as well as the power of true humanity in the face of such deprivation. I certainly found inspiration there, as well as a highly worthwhile cause to support-as I have done with physical work helping to repair damaged churches and schools, as well as with significant donations from specific exhibits.
Chantal Westby runs her own gallery and is currently based in Bryn Mawr, Pennsylvania.
www.chantalwestby.com
This article was translated in French by Anne-Cécile Baer Porter.