Interviews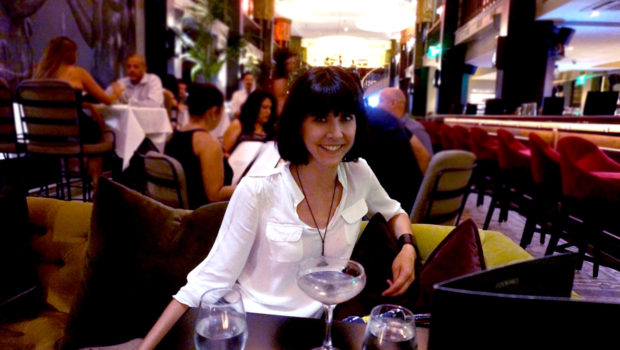 Published on December 6th, 2016 | by Isabelle Karamooz, Founder of FQM
0
Interview of Lola Ohlala, French Cabaret Versatile dancer
I.K. : Hello
Lola : Hello
IK : How old were you when you discovered you had a passion for dance?
Lola : I have been growing up with danse for as long as I can remember. I discovered dance as I was discovering myself. I started classical dance at 6, then when I was 8, I asked my mom to switch dance style because in my ballet class, I could not dance Michael Jackson style. I then started modern jazz. When I turned 14, classes were too expensive and far away from my home so I had to stop – and started theatre.
IK: Did you go to dance Academy?
Lola : I went to Theatre Academy, not dance. That's why I trained more as an actress and director than as a technical dancer. Which is perfect for what I am doing.
IK : In what cabaret did you start ?
Lola: The first troupe I played in was an itinerary company in the provinces. Its name was Paradisiaque (Heavenly). Then I worked in several cabarets and I always stayed in province. I received offers to dance in Paris. I could have tried to get into the Lido but I was not interested because the state of mind is very different from what I am doing and what I am looking for.
I like it when there is a state of mind for the troupe. That's why the itinerant companies are wonderful and the little cabarets in province have a state of mind that is more "family like" than big companies like the Lido and the Moulin Rouge where there are 70 dancers who are at each other throat, where there is a competitive spirit which, according to me, should not exist in a cohesive show company.
IK : What are the required qualities for a good cabaret dancer ?
Lola : In order to be a good cabaret dancer, I research characters above all things. The dance level is not what matters most. She must be flexible and dynamic enough to dance French Cancan. I think that, on a technical point of view, this is what is most challenging in the show and that's fine with me. What matters is really the personality on and out of stage. I work with authentic and real people, girls who will bring something unique on stage.
That's why girls should not only be dancers but also actresses and bring the best of themselves on stage. This is essential. They should be able to move, be sensual without being too sexy, it is quite a chemistry.
IK: Today, you manage the Versatile Cabaret. That's lot of work and responsibilities, I imagine. What is your daily rhythm?
Lola: Oh it is ! In addition to Versatile cabaret, I also have a day work job, like most artists in Los Angeles, I think. Sadly, I cannot earn a living only with Versatile Cabaret. I started two years ago being a teacher in kindergarten. I teach, I follow up with parents, this takes a lot of time and energy. I also have a new passion with tango, which started a year and a half ago, it also takes a lot of my time.
With all this, I need to find time for the Cabaret as soon as I have some available time. It is not too hard because it is a passion. It takes rigorous organizing. I have few weekends and often no vacations but I don't mind much.
IK: What is the lifestyle of a cabaret dancer?
Lola: Honestly ? I wish I could bring up my Joker card here because I don't think I am a modele to follow. Passion is what keeps me going. I sure should sleep and eat more. I don't have weight issue because genetically, in my family, we are tall and slender. I have the opposite problem : trying to gain weight. Diets are not my type or they would need to be fattening diets, because this remains unsuccessful.
I push myself into practicing some sport, do stretching every time I get the opportunity because I need it to keep a rather high level of dancing but I am not a model when it comes to lifestyle. Honestly, apart from the "heavyweights" who have technical constraints of a very high level, cabaret or hip hop dancers are not exemplary. We eat when we have time, idem for sleeping. There is so much work for artists in Los Angeles that we don't have time anymore to take care of ourselves. It is too bad, we should, but everything goes so fast.
IK : You need lots of rigorous, regular physical practice to be able to dance for a long time.
Lola: This is true, what you say is interesting. I actually think as someone who is not from that circle. I have been dancing for more than 15 years now. I feel I am not a sport woman compared to those high levels dancers who are pure technic and must be devoted to their training with soul and body. I do more sport in my daily life than someone who is not a dancer but I don't realize it.
IK: The Versatile cabaret is a burslesque cabaret. What is it about ?
Lola: Cabaret Versatile is what they call « French Cabaret ». I mean I am apprehensive when it comes to the Moulin rouge, this type of variety show, the type of tacky-ish cabaret in France.
I started with that then I worked with artists from the theatre, singers of Concert Café (notably one of them called Monsieur Jack) who works on the Center area in France and in Paris at Madame Arthur's. He often asks me to go.
This style is much darker, inspired by the Berliner cabaret of the 20s and 30s with atmospheres inspired by Kurt Weill when it comes to the lyrics and songs for instance. It is dark, very satirical and very humorous. It is very funny but it is also a disturbing style. I have always thought this style could be scary, and I don't feel like scaring people.
The versatile Cabaret really represents what I am, what I do, what I look for. It is a mix of humor, stylishness, and also the sensual side, sexy and seductive. I try to represent the woman in all her aspects: funny, nostalgic or sad and in the same time, represent France because we have a very beautiful artistic heritage in France, particularly when it comes to cabaret.
We still have a few magnificent artists and texts; for me, this is a very French thing. We represent the joie de vivre, the elegance, the French chic in a good-natured ambiance, not in an inaccessible show like, for instance, at the Lido where the show is superb but the dancers are like out of reach goddesses with no contact with the audience. The contact with the audience has an enormous importance to me.
IK: What types of clients do come to your cabaret ?
Lola: We don't have a fixed location. The troupe is itinerant. We produce ourselves when we have a show in a place like Sofitel. I stay at a place and I produce the show myself – except that I am not doing it those days because my assistant producer had to go back to France. It is already hard to take care of the private contracts so for now, I don't do those Sofitel contracts.
The types of clients we have are very diverse since we do shows in all kind of places, even the most unexpected like a race circuit or in Hawaii for three days for a Cancan lasting thirty seconds. That can also be a company, a little restaurant in Los Angeles, a luxury wedding in Malibu, Chinese dentists – very classy guys who did not laugh at all. That can be for a graduation party, in that case I meet the person to know what she wants exactly, and I create an "a la carte" show by picking from the three spectacles that we have done before.
We play in drastically different ambiances for very diverse audiences. Cabaret is really for everyone. I find that wonderful because this style of show can truly bring people together. No one ever came to me at the end of the show and told me "I did not like it". That what is the most beautiful for me.
IK : Who draw and make your customs?
Lola: I do. That's why I am so busy. I am wardrobe master, choregrapher, director, dancer and manager. I also take care of the web design. Berangere helps me but I have been doing everything since the beginning.
IK : You are also letting people know about French Cancan by teaching classes ?
Lola: Yes, that's something I love doing. I wished I had more time to develop it more because the history of French Cancan is really fascinating. For me, it is one of the main arteries of cabaret. I have been organizing classes in which I explain the history of Cancan.
I put together a small exhibition with documents that I made at the very beginning with pictures, etc… Then, once we have talked a little bit, I start with some warm-up, then we learn the movements of French Cancan. Each time, I explain where it comes from. It is a lovable story. For me, the "cancaneuses" are the first French feminists.
It goes back to 1830. This is a very funny story: a French teacher in high school asks me every year to come and teach one, two or three classes. The children are between eleven and fourteen. The kids have a blast. It is great to be able to explain this to children too. When we mention French cabaret, we immediately think that it is too sexy, inappropriate, etc.There is more than the sexy and provocative side, there is all this history and this initiation. Children learn in a playful way.
IK : In conclusion, tell us about your plans ?
Lola: There are so many plans! For the end of 2016, this is about finding the events, the best contracts. I try to find the contracts that will motivate and bring joy to the audience. We have this spirit in the troupe at the Versatile cabaret which is always present thanks to everyone, not just me. There is a beautiful cohesion among all the artists with whom I work. I love working with them, technicians as much as singers and dancers, etc.
There is this Cancan Fundation that Berangere would like me to create. I would love to do that in order to promote feminity. That would be great. Defending feminity is something very important today.
– Our 2016 projects (within the end of this year):
1. RUMI Awards (coherent with our commitment for Women rights – and thank you Isabelle for this great connection with Abe),
2. Make American public discover even more authentic French Cancan in California, out of the state and also farther (like we did with Guatemala, Hawai, …)
3. Maybe a new monthly show in a new venue – discussions in progress
– For 2017:
1. Reality Show – we have been contacted – so we are pitching for the creation of a TV reality show about Cabaret Versatile – still in progress
2. CanCan Foundation – our objective is to build the legal status, raise funds and finance free worshops for Women who need to rebuild their self-confidence
3. Finally, we aim to go performing to Asian countries (china etc.) because we know that we will be welcomed there too, they are really fan of French culture, so we want to develop our business and go to perform there sometimes.
IK : What do you mean by « defending feminity » ?
Lola: I think that women tend to harden toward men in order to obtain equality of rights and salaries, to be taken seriously and be better considered, etc… Women are becoming masculinized because indeed, we need to be more courageous and stronger. But it comes with a loss of elegance even in the way we dress. It can be too provocative or almost macho. I think that women tend to forget to be natural women.
IK : This plan would be to coach women ?
Lola: The idea came the day a group of surgeons contacted me for a Charity event. They represent a non-profit who helps women victims of abuses and violences. They rebuild faces to help them rebuild their lives.
I thought that Cabaret could also help those women through dancing, learning to move, standing up straight, holding their head up, knowing how to walk and regain control of their bodies. This could help women who went through trauma as well as women who don't have self-confidence, single moms who don't have time to take care of them as women, helping them to work on their self-confidence, regaining or acquiring their feminity. For women, the French Cabaret is a good way to find themselves as women, not only as individuals in a still very chauvinist society.
I.K. : Thank you Lola.
Lola : Thank you.
Transcription: Pascale Nard. This article was translated in English by Anne-Cécile Baer Porter.