Interviews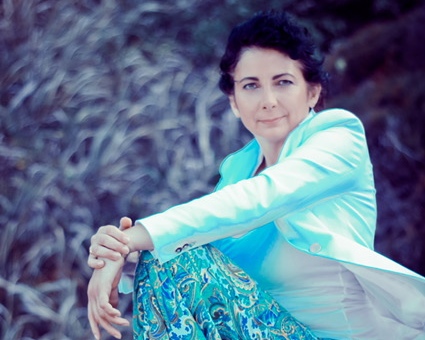 Published on April 30th, 2017 | by Isabelle Karamooz, Founder of FQM
0
Interview with Sylvie Boisel, International French Singer in Las Vegas
Good morning French Quarter Magazine readers, today we are interviewing a French singer who is here in Las Vegas; her name is Sylvie Boisel.
FQM: Bonjour Sylvie
SB: Bonjour
FQM: When was your first desire to become involved in music and what made you fell in love with American and French Jazz Music?
SB: In fact I was born in a family who loves music: my mother was playing violin when she was a teenager, my uncle sings with a beautiful tenor voice, my sister plays piano, my brother plays guitar. I guess when I saw him starting to play I wanted to do the same. But even before this I always loved music and listend to a lot of music. I was a big fan of Elvis Presley when I was a child. I couldn't have imagined that later on,right now that I live in Vegas, I'm starting to sing Elvis Presley. I love any style of music as long as I can put interpretation on it and reach people, connect with people.And send love to people. And generally with a positve energy. Ilove any kind of music. I even would like to sing a few opera songs one day.
FQM: What was the first gig you ever performed at? What was the first song you learned?
SB The first gig, not as a singer was when I was 6 years old I was doing a puppet show and all the children from my neighborhood were paying ten or five centimes, I don't remember and I was entertaining them.My first gig as a singer was in Paris At le Theatre de la Mainate, small beautiful theatre.
FQM: So you started very young!
SB: To sing? at 18 years old, Yesterday I mean… (laugh). The first song I remember singing was a song from Starmania ( she sings ) . I also remember winning a price at Alice Dona school with a song of Leo Ferre : Avec le temps ( she sings).
FQM: A classic!
SB: Yes! And before this, all the songs of course you usually play when you start guitar: Beatles, The House of the Rising Sun.
FQM: Do you thing that your music comes from the heart,the brain or the soul?
SB: WhenI sing on stage, the music comes really from my heart, I want to give my heart to the audience! I like to connect with the audience. But when I write songs, quite new for me, lets say one year ago, it comes from my soul.I just take my guitar and the music, the lyrics are arriving to me. I just have to finalize the songs, I never had time until now, but now that I work with a team, I will have time to finish all these songs and even record a CD.
FQM and SB: Yiha (laughs).
FQM : What does the French Jazz mean to you and what does music offers you?
SB : The only difference for me between French Jazz and American Jazz are the lyrics. In French Jazz you have more lyrics generally; A good exemple would be the songs of the great Michel Legrand.I don't sing only French Jazz, but also American Jazz.
FQM: What Jazz generally means to you?
SB: Firstly it was challenging when I started to sing Jazz, because I come from French chansons where all has a frame, is well written, the musician has something to play,special chords. When I started to sing Jazz it was challenging because Jazz is free, its a freedom, You don't know what the musicians are going to play, what solo they are going to do, when you will finally sing again but well its freedom. I can scat if I want, change the lyrics, I can play with a musician, question, answer.
FQM: Yes, it's freedom.
SB : Yes, it's freedom also in the way that I can go everywhere in the world, enter in a Jazz club, and ask musicians. if I could sing with them for example All of me in Ab (Key), and connect with the audience. Yes it's fantastic for me.
FQM : Do you sing sometimes duet?
SB: On my show Edith Piaf Maurice Chevalier I have two duets. I would love in fact to sing more duets, one of my numerous projects : with a male singer, in Italian French and English.
FQM : What caracterizes the sound of Sylvie Boisel?
SB: have been told, even not a long time ago, that i have a special timbre of voice. For me it's mostly a voice with a straight singing, without effect, for me you know I just want to sing the notes straight from my heart to reach your heart I hope.
FQM: How do you describe your philosophy of that music?
SB: Firstly, I love music, its important to me, even I love dancing. I love also playing my instruments: guitar, accordion. But music is also a tool to reach people, to connect with people on stage. It's not the only tool. i used to be an actress and I restarted to act a few years ago , with a company in Brisbane; Australia. Playing at the Cabaret Festival of Brisbane. A spectacle mixing Texts of Jacques Prevert and Music. I want to go back to theatre also to connect with people.
FQM : Yes, that's it. Overall we understand your philosophy of that music: you are passionate, you want to convey your love of music, and share it with your fans.
SB: Yes, the most important for me is to perform on stage before all. Being a recording artist is quite new for me. One recorded album until now. But the stage is, how can I explain/ I am like the Albatross of Baudelaire, when I am on stage, I am really at home, I can be who I am, connect with you all, i can send love to people, In everyday life its a little more difficult for me, like the Albatross who is kind of limping when he is on the ground, floor of the boat. You know now that I am a little older, I seem normal, but as a child, I was called Frankestein at school, charming, isn't it and E.T in music school. So yes I like to be on stage. (laughs)).
FQM : Do you remember anything funny or interesting from the recording time?
SB : Interesting: my musicians recorded on a big professional studio in Sydney, I couldn't record there, I was sick; you know for me its really important to sing for people, it's like Charles Trenet recordings: his best takes were his first ones. because he was creating the songs every time and it's the same for me. I finally recorded my voice at home.
FQM:  How do you describe your contact with people when you are on stage? What compliments do you appreciate the most after a gig? Your fans are coming to see ou after your performance? What do they say to you?
SB: Lots of nice things, some says I reminded them their holidays in Paris or France, some cries, and it worried me the first time I heard this, because I want to send positive energy, not cries….they told me it was because of great emotions…. I appreciate every compliments but I really do appreciate as a singer to get compliments about my singing in English, because it means they really appreciate the singer…When I sing in French, it's more exotic you see, I share the success with the songs themselves.
FQM : Which personalities of music would you like to meet?
SB : Of course I would have loved to meet Edith Piaf and Maurice Chevalier, to be as closest as possible of the truth when I talk about their life, their stories, the emotions they could felt, on my shows…. I also would like to meet Lady Gaga, she is a great creative woman, she dares to do things, I like also that she is doing lots of things for your people, bullied children,.. La Callas for her interpretation, Oum Kalshoum the great oriental singer, and for the truth in their singing: Ella Fitzgerald and Nat King Coles, For the lyrics George Brassens and Barbara (the French singer), but Barbara I have already met her.
FQM : Wow, Barbara. You have to tell us that in our next interview. A last word for our French Quarter magazine readers perhaps?
SB: One of the compliments people told me was: When Sylvie sang , It's like she was talking to each person in the venue. So I want to say: I hope if we meet somewhere,if you are going to one of my concerts, please talk to me, I will be very happy and all the best to French Quarter Magazine.
FQM : And we will have the honor to have you in our launch magazine party the 29th of April so please come and enjoy the singing of Sylvie and other performers. Thank you Sylvie so much.
SB : Thank you very much! Lots of love to everybody!!!
Sylvie Boisel
http://www.frenchsinger.biz