Art & Culture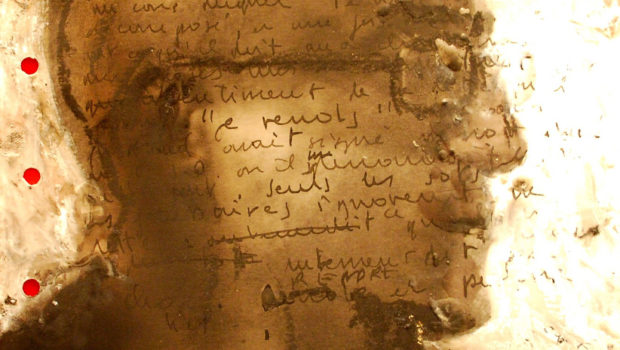 Published on May 28th, 2017 | by Mathieu Francois du Bertrand
0
Jean-Paul Marcheschi is a French painter from Corsica
Born in 1951, Jean-Paul Marcheschi is a French painter from Corsica, who specializes in the art of fire.
His first work, entitled Les Livres rouges, is a photo diary, collected in 250 related volumes, which comes to manifestation in this pulsating book and opens the way to the perforated format for which he is recognized. Through this work on time, Marcheschi represents the exploration of loss which is the narrative of our origins.
In 1984, during a trip to the volcanic island of Stromboli he had the revelation of using flame as a paint brush. By doing drawings with fire, he decides to dedicate most of this technique, as evidenced by several realistic tributes, to the Volcano of Stromboli. In his paintings there's vast cartography, different continents and different periods of time melding together.
Marcheschi starts to put the first phase of his work onto paper, a writing (of his personal life), which is continually being devoured by burning flame. There are also notes that seem to be unrelated to the work whatsoever and which makes these paintings a sort of chasm where everything is thrown into, (phone numbers, sketches, book beginnings).
Then fragments of texts – often incomprehensible- burst forth around a meaning which is reconstituted without paying any attention to what it says, as if it were sick and possessed by the discourses that occupy it. Through this scriptural rite, Marcheschi engages painting in an absolute adventure of being, in which his gestures rejuvenate all the invisible parts of presence, as in Lilith ("woman of the night" in Hebrew), according to a tale drawn out of the Bible that describes her as Adam's first companion, an evil breath, an unfaithful demon, or the spirit of the wind.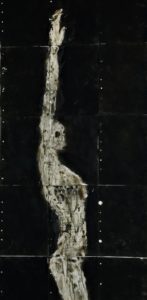 The sheets are then placed on the floor. The artist executes his "dripping of fire" in the manner of Pollock. Throwing the burning and malleable wax from his torch, he blackens sheet after sheet to total obliteration. Carbon dioxide from the flames and the assaults from the proliferation of smoke make it possible to obtain a clear or completely dark piece of work: A world of caves and caverns begins to emerge. His work can be interpreted as a rhetoric of sleep. He instills the idea of death into these foliated sheets by means of mathematically applied fragmentations, edges like blades, or as closed durations.
It is in art that the ancient layers of man lie, and especially in his fear of ridding himself of language in order to plunge into a reservoir of subconscious signs that the memory doesn't reach. This reservoir is anterior to our thought: To Marcheschi, this idea is a nebulous descent into the depths of our skulls. He brings us to unknown territories, to mythical unions, where he comes to defy our imagination and to force himself to look at what is lost in us. Beyond the references, it pushes us towards an enigma that tries to dismantle our origins.
One would have to probe the paradox, so to speak, when using the term "painting" because at the end of the day, he's not really "painting" with this technique. It is more precisely a metamorphosis by heat, by a forced kiss to paper with flame: This is the principle of combustion. The artist explores the possibilities of matter by giving it breadth, fixed in its state of loss, and forces us to question the symbolism of fire, an archaic tool halfway between prehistoric times and modern civilisation. Marcheschi assigns a tragic role to his paintings in which the fire teaches us about a delicate time: It guides us towards horrible truths that submerge us into a raw material, devoid of known signs: The background of the ages that preceded us. With Marcheschi, as before with Bachelard, the flame of a candle allows us a return to a dream vision, to a "beyond, that which is always seen," which in turn, renews hope.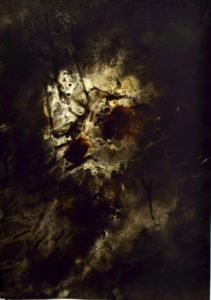 His art is placed under an umbrella of the ephemeral, as evidenced in one of his series of work, which contains over 11,000 portraits of humanity. A collection of portraits of clients and people close to him, where the drawn faces end up resembling one another and begin to sink into the distance and into a sort of evenness, making his creations a passage to the long, fixed stares of those who are no longer with us.
Art is the conquest of a mourning that precedes us: it is the approach of this modern Hephaestus in the kingdom of fire, using formats modulated according to a place, like the stage curtain of the Bird of Fire by Igor Stravinsky, which he created for a theater in the capitol of Toulouse: Celestial figures, comets, pale shades of loved ones who recognize each other. What the artist designated there is an entire nocturnal mass, sexual and subterranean and which wanders in all of us.
In Toulouse again, Marcheschi was asked by the City to do a mural for the Carmes metro station. He painted a backlit fresco, The Milky Way (14 meters wide and 35 meters long), a work on the mystique of the image, designed on a wall that curves into the ceiling. It's designed so that a visitor positioned at one end can't see the other end. There's a light which adds variation to the piece, where everything gradually descends into darkness before being re-illuminated. The painter creates a sensation of prayer and plays with this paradox which makes us discover the Milky Way. In other words, the joy of the unlimited, right beneath our feet, in the depths of the earth.
In Paris, in the spring of 2017, several exhibitions will come to celebrate this unclassifiable work: First of all, at the Grand Palais there will be several sculptures on display by the artist to commemorate Auguste Rodin at L'exposition du centenaire; These events will reveal the influences of Rodin on all the generations that followed him. Marcheschi is represented alongside Matisse, Giacometti, Beuys, Baselitz Lüpertz… At L'exposition Grand trouble, located in Halle Saint-Pierre, in the Montmartre district, Marcheschi will display drawings as part of the  exhibition. Finally, at the Galerie Univer there will be a new set of abnormal pieces that will make this personal exhibition a parallel to the others and will be a highly anticipated event for art collectors.
Current Exhibitions:
– Rodin, L'exposition du centenaire, March 22nd – July 31st, 2017, Grand Palais, 3, avenue du Général Eisenhower 75008 Paris.
– Grand trouble, May 9th – July 30th 2017, Halle Saint-Pierre, 2, rue Ronsard 75018 Paris.
– Exposition, (dates to be confirmed), Galerie Univer/Colette Colla, 6, cité de l'Ameublement 75011 Paris
This article was translated in English by John Wilmot.