Gastronomy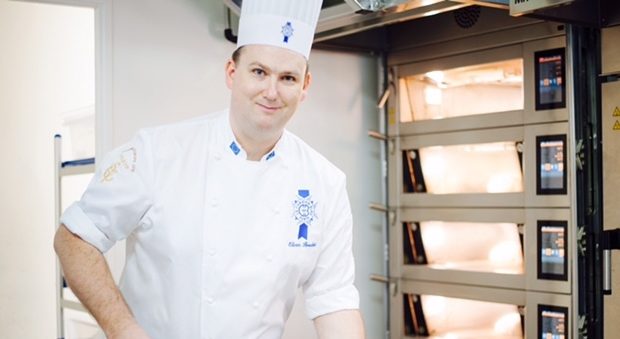 Published on June 14th, 2017 | by Isabelle Karamooz, Founder of FQM
0
Interview with chef Boudot at the Institute Le Cordon Bleu Paris
French Quarter Magazine: How did your tastte for cooking ome about?
Chef Boudot: The taste for cooking came to me naturally. First, because I'm gourmet. I was first attracted by the pastry because I had an uncle who was pastry-baker and had several bakeries. Since my childhood, I went to visit him and each time he gave me a croissant or pastry, and little by little, that's how I came to love the products. The right product and more because he was a great professional. So that's why I was attracted to baking and therefore I wanted to do this job and I started my apprenticeship at 15 years old.
French Quarter Magazine : How does one get accepted at Le Cordon Bleu?
Chef Boudot: It's not easy to access the institute Le Cordon Bleu as a chef because it requires a lot of professionalism, rigor, a certain self-control and pedagogy. The recruitment circle at the institute Le Cordon Bleu is very selective. Once we get back there, get there do a great job and like any business, there is an adjustment period where you have to get their bearings quickly enough. The slightest mistake is discovered by the other chefs and they do not fail you know. To be clear, if you do not have the level you quickly get out of this family of chefs Le Cordon Bleu as simply.
French Quarter Magazine : How would you describe Le Cordon Bleu cuisine?
Chef Boudot: The cuisine of Le Cordon Bleu is a high-level cuisine. It is quite in gastronomy. This is the top of what is currently done in the field of cooking.
French Quarter Magazine : Do you have products you are partial to?
Chef Boudot: In the bakery, yes indeed! My specialty is the Auvergne rye bread. I am from Auvergne. I had the chance to work with the best worker in France, Amandio Pimenta, who forwarded me this know-how Auvergne rye. Rye bread, you must know, is the most difficult to achieve as bakery product. That's why it is very difficult to find a quality rye bread. Most chefs do not know the making and I am lucky enough to perfectly control product, which earned me many honors as the Coupe de France or the championship of France. Today, I am recognized also for rye bread.
French Quarter Magazine : What French chef do you particularly look to?
Chef Boudot: In the cuisine, I can quote Joël Robuchon and Alain Ducasse. I had the chance to work with Alain Ducasse. There are many more of course! Bakery, the chef close to my heart the most to today is Chef Eric Kezer. It was he who trained me when I arrived in Paris. In reality, there is not a morning without me thinking of him when I come to work. It was he who made me climb the steps. It was he who made me realize that knowledge is one thing but that grow as a man is another. When I arrived, I was a young man of 22 years old and I had to question everything. And on that, he was uncompromising. It's a way for me to thank him and honor him by doing good work.
French Quarter Magazine : Cooking is an art but it is also techniques. Give us examples or secrets of a chef!
Chef Boudot: So, a secret of a chef, there are many. In fact, mine… To be a good chef, so I must convey to you there is no secret. I bring everything I know. My secret to me, for example, is the gilding pastries. I used to shine an egg yolk and a whole egg and I just mix the two. I daubed my croissants with this gilding there. This brings more shine. There are adding syrup but I, in fact, I put this gilding developed to not having to add more syrup because it is sticky and is less pleasant. It's a little secret among others.
French Quarter Magazine : The best cuisine is meticulous, planned, thoughtful. Is there room for improvisation?
Chef Boudot: Yes, of course! This is what makes the charm of our business. Especially in bakery, this is not an exact science. Certainly, pastry, recipes are more or less accurate. The weights are always the same. Bakery, we do not have the same meals throughout the year. It depends on the harvest. The baker is just to adapt. At some point, improvisation, she is present. And improvisation we can talk when such students make mistakes in quotes and then bring those to a very good result.
French Quarter Magazine : At the end of the schooling, what do Le Cordon Bleu students? Where will we find the future chefs?
Chef Boudot: At the end of the cycle, of course, they have their two-month internship. Some decide to continue and stay in France. Some are even employed in companies. Just recently, there is a student who was hired by Eric Kezer. Others, cons, have plans to open their own bakery and return home to fulfill their dream and put into action what they have learned at the institute Le Cordon Bleu.
French Quarter Magazine : Some tips for those who would like to follow in the paths of great chefs ?
Chef Boudot: What I say to them all, humility is very important. You should know how to put your pride aside. It is not always obvious. I was lucky to start at the age of 15 years old so obviously at 15, we are more docile. But sometimes when you get into the business at 30 or 40 years old, to be run by a chef of 20 or 25 years old, it's more complicated. So we know we must remain humble. We are here to learn therefore must store all that the chef will bring you anyway because we know. Working with a great chef is a great opportunity. We must take advantage and leave the negative side as the hard work and fatigue.
French Quarter Magazine: What distinguishes the Paris bakery program from other programs?
  Chef Boudot: When I built the program in fact, I analyzed a bit over the place that had been in work rooms. You should know that we have 16 students per class. So it's true that at the place is just right actually. We can not afford to make too large quantities. That's why I focused on product quality than on quantity. Bakery students have very lucky because I invested a lot. I have 25 years of business and when they finish their training, they have the range of the very best on the market in all modesty. They work with high-quality products that are not necessarily found in all bakeries. There are all kinds of sourdough bread. In pastry, there is a very wide range. We are closer to the Viennese pastry-great flavors. The decorative and artistic aspect is very important. We make bread in pieces like the Eiffel Tower and baskets for example. At the end of the program, students are proud of their achievements. This is fantastic! It's really very high level.
French Quarter Magazine: Four months on a program that is relatively short, progress is rapid, it is going well ?
Chef Boudot: Even I am surprised! Seeing what happens at this level in only four months is impressive. I have really seen great things done already within two months of classes. Then, at the exit of the school, they have the keys in hand, the right moves and the right techniques.
This article was proofread in English by Linda Quinet.