Gastronomy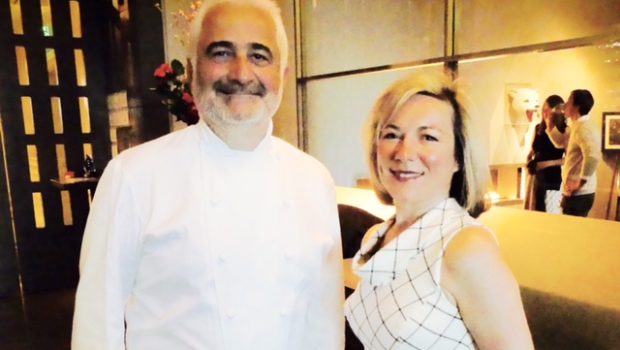 Published on July 1st, 2017 | by Isabelle Karamooz, Founder of FQM
0
Encounter and Interview with 3-Star Chef Guy Savoy
Isabelle Karamooz : Good morning Guy Savoy! At 15, you started your apprenticeship first with chocolate maker Louis Marchand, then with the brothers Troisgros and eventually at Lasserre's in Paris, at the Lyon d'Or in Geneva and at l'Oasis in the French Riviera. Why did you choose cooking over chocolate making?
Guy Savoy : I chose cooking for its diversity. We need to invent a meal 3 times a day, breakfast, lunch and dinner. Like chocolate, but the cooking kingdom is so vast. There are so many possibilities of diversity. I use chocolate in some sauces, with game for instance, a pure 100% cocoa paste which will be treated like pepper would be. Sometimes, cocoa is used as a spice. So you see, I am still interested in chocolate.
I.K. : In your journey, you crossed paths with Bernard Loiseau. What does he represent for you?
G.S. : Bernard was an accomplice, a brother and an alter ego, a parallel life with the same social origins, the same cooking school, the brothers Troisgros. Me, after I graduated from Troisgros, I work in others restaurants and I saw others things. I stayed very rooted in the Troisgros spirit as Bernard did. After this professional growth, I was his successor at the restaurant La Barrière de Clichy. He is two years older than me but he had his stars ten or eleven years before me. He encouraged me for years, telling me "you will get yours one day." We would call each other almost every day. All that allowed us to have a real complicity of life, of profession, of work evolution. We could tell each other things that even our spouses would not have understood because we experienced the same things. You are too young, but there was a time when I was going through the military service, people would talk about their pal from their army days – it lasted one year. Bernard and I had thirty years of parallel lives. Imagine a complicity of thirty years! That forges a friendship.
I.K. : When you were 24, you started as Chef of the Restaurant Claude Verger, and 3 years later, at 27 years old, you opened your own restaurant. How many seats did you serve then?
G.S. : I think that for the first version of the restaurant I opened, there were 35 seats, then between 40 to 45. I stayed there for 7 years.
I.K. How many seats do you do now?
G.S. 65 is the maximum to master for dinner, it is possible. The first guests arrive at 7 PM and the last ones arrive around 9:45. But, lunch is between 12:00 to 2:00 PM. We decide to limit the number of guests to 50.
I.K. When you opened your restaurant at « Caesar's Palace » in Las Vegas with your son, did you think you were at the height of your culinary art, or that you still had some room to improve?
G.S . The idea of height does not really mean anything; mountain climbers will confirm that! When they climb a 3000 metre mountain, they want to summit a 4000, etc. When they reach highest peak such as the Kilimanjaro, then they focus on the Himalayas. So, fortunately, we never reach the height.
For me, that does not mean anything because cooking is a perpetual evolution and everyone also evolves. Do I want to prepare the same entrees as when I was 25? No.
I.K. : Your restaurants are in Paris and also in Las Vegas. Tell us about your restaurant in Las Vegas.
G.S. : Guy Savoy's restaurant that has been built at Caesar's Palace is a unique place to work, that's what I liked.
I.K. : It is splendid!
G.S. : Splendid, I don't know, but we are completely independent in the setting, in the organization, this is a custom-tailored place. The architect who lives in Paris had the same purpose. We are only open five evenings of the week, which was also my decision. The staff who is working today has been there since the first day. They are very reliable.
I have a lot of proposals abroad like many chefs, but I am very cautious. I love Paris, however. I signed up in Las Vegas for five years because the team is outstanding. The manager, the pastry chef, the sommelier, they make up a real team who is passionate, does a remarkable job. I totally trust them.
I.K. : Why is French cuisine so successful according to you? What makes it specific?
G.S. : French cuisine is a leader; at least it shows the way. I do not pretend to say that it is the best, but it is the most diverse, the most varied. We are, undoubtedly, the country of goods. Here in the United States today, many farmers, many market-gardeners, adopt French methods. That's why you find the same goods here and in France because there is an evolution of the American habits. The first time I went to New York, only a few places offered specific goods. Today, the number of places where you can find quality goods is incredible. Fresh goods, olive oil, a variety of vinegars, not to mention wines. This morning, I went to Total Wine. I was impressed to see the world of wine represented there; and you can go on Sunday, it is extraordinary!
I.K. : What is your favorite dish? Do you prefer savory or sweet?
G.S. : Both, actually. Both because, once again, I cannot promote diversity and limit myself to just one ingredient or one entree. I love everything. Today, at lunch, with the team we had a Mexican meal. I enjoyed it! If you present me with a "saucisson" (sausage), I enjoy it. If you present me with a strawberry sorbet, I enjoy it. As long as both of them are good, that's all. What matters in our choices, in what we eat, is the authenticity and the sensations. A good strawberry sorbet when it is very hot outside provides pleasure, starting with the physical pleasure of the cold. Then if the strawberries are good, and the sorbet is not too sweet, if there is the juice of half a lemon to set the strawberry taste, there is nothing better in the world.
I.K. : What are the ingredients that inspire you the most?
G.S. : When I have good quality ingredients, I have no limitations and I am always delighted when I discover something new. I mean, most of the time, we know it is out there but we never had the idea to use it, or felt like using it. Then at this moment for instance, I am discovering different shellfish, razor clams which I considered uninteresting before. One day, I took the time to cook them, eat them and it was great. They are not dull! I thought for years that they were dull and uninteresting. Now, when I eat razor clams, it reminds me of vacations. There is interest in everything. I am able to bring enjoyment with a plate of razor clams as well as one with lobster. I did not think that the day I will serve them, it will become an emblematic plate in my restaurants like the artichoke soup with black truffle.
I.K. : What particular restaurants that you would like to taste in Las Vegas?
G.S. : All of them! There are so many I have not tried. Vegas is such a concentration of all cultures. You see this diversity in the restaurants. People who live in Vegas and the tourists are very lucky. There are 48 million visitors every year who have the opportunity to taste so many different things.
I.K. : We are lucky to have you too in Las Vegas.
I.K. : If you had not gone into the restaurant business, what do you think you would have liked to do? Rugby?
G.S. : No, I used to be fascinated by the world of wine making. Cooking is very spontaneous and instantaneous. I mean you know when you put a chicken in an oven, it will be ready 50 minutes later. For the wine, until the day before the harvest, there may be a hailstorm. The cooking world is like that too: the art of instantly transforming (the word 'instantly' is very important) goods that have a history into joy. Those goods did not arrive all by themselves. People worked and transformed them. All the varieties of vegetables and meats evolved over time. As for the winemaker, once he did his harvest, he made his wine, he will wait for years to know… For us, 45 minutes after cooking a chicken, we know if it is good or not.
I.K. : Maybe a Guy Savoy Wine Cellar soon?
G.S. : No, today is too late because I will not have the time to see my vineyard grow old. That would be too big a frustration.
I.K. : Maybe that will be your son's future.
G.S. : Maybe.
I.K. : You published in 2015 « Tout l'œuf » and « Savourer la Vie ». What are your future plans?
G.S. : No, no books. We wrote those books with the cooking team in Paris because since the project with La Monnaie was delayed, we could remain active, and say, "Come on, La Monnaie is running late, but we are doing something else. We are not sitting here, waiting and twiddling our thumbs."
I.K. : Any other plans?
G.S. : No. Keep evolving my cuisine and be at ease with myself.
I.K. : Thank you Guy Savoy for devoting some of your time to this interview.
G.S. : Thank you !
 Guy Savoy restaurants' website:
https://www.guysavoy.com
http://www.lesbouquinistes.com
https://www.caesars.com/caesars-palace/restaurants/guy-savoy#.V7gkwBQmBlI
Transcription: Pascale Nard. This article was translated in English by Anne-Cécile Baer Porter and proofread in English by Aubrey Wadman Goetsch.