Art & Photography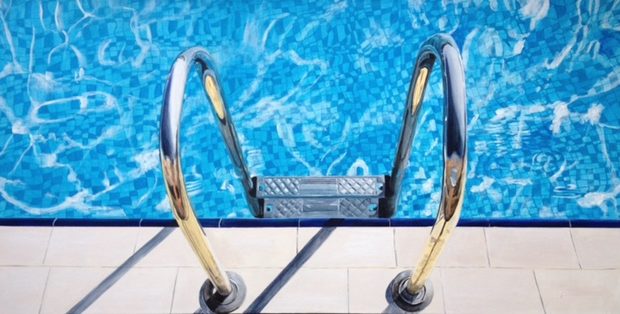 Published on July 11th, 2017 | by Isabelle Karamooz, Founder of FQM
0
Interview of Laurence de Valmy, a French contemporary artist in New York
I am happy to welcome Laurence de Valmy, an artist whose paintings seduced me at first glance! I discovered an artist not only of great talent but also very generous. In early April 2017, Laurence joined the ESKFF, the foundation of the art collector Eileen Kaminsky, and one of Mana Contemporary's two artist residencies in Jersey City, New Jersey. She was awarded a three-month studio space at this renowned art institution. In the United States, private foundations often finance these residencies and they allow local and international artists to devote themselves entirely to their artistic project. Laurence gave us some time between two brush strokes and the preparation of her next exhibition, opening in July in New York, to answer our questions. 
French Quarter Magazine: Hello Laurence de Valmy, can you introduce the artist painter that you are in a few words?
Laurence de Valmy: I am a French figurative painter. My main objective is to be able to create and share colorful snapshots in order to provoke a positive feeling in the viewer. Having a fairly positive vision of life, I want to be able to convey this feeling through my paintings.
French Quarter Magazine: What, in your opinion, has led you towards painting rather than another mode of expression?
Laurence de Valmy: I've tried other modes of expression … I did some music but I never had this impression of alignment that I have with painting. So I was never really tempted by anything else. Other artists will prefer dance, music, etc. For me, it's painting. Besides, my mother is also a painter so I guess it was a very natural choice!
French Quarter Magazine: Does your life and its stages influence the direction of your work and how?
Laurence de Valmy: I came to be a full time artist after different steps. I started painting when I was a teenager. After high school, I did an MBA, which led me to a career in the corporate world, and I continued to paint in parallel. In 2003, I took a sabbatical and went to the United States where I devoted myself entirely to painting. This American stay allowed me to discover American contemporary realism that was born a little after Pop Art. Both of these movements have influenced my work and what I do today. Back in France, between my career and founding a family, I had less time for my artistic work. In 2013, my husband and I decided to come back to live in the United States and with this change of life, I had the opportunity to get back to it. So yes, my life has necessarily influenced my journey.
French Quarter Magazine: How would you define your artistic work? What do you say about your work to a person who has never seen them?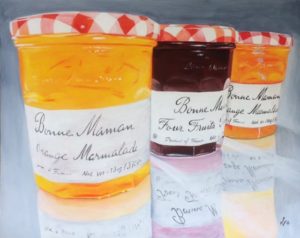 Laurence de Valmy: I make positive paintings because my conviction is that our mood is influenced by what we see. If we can admire beautiful things, we have a greater sense of peace. More recently, I developed the POST series on which I worked for the ESKFF residency, which revisits art history through imagined Instagram of famous painters, combining a painting and dialogues between an artist and his friends. Through this work of appropriation, my objective is both to share my passion for art and to invite my viewers to rediscover those artworks so famous and part of our cultural heritage that we almost end up not seeing them anymore.
French Quarter Magazine: With which artist would you like to have a discussion? And why?
Laurence de Valmy: If I choose among living artists, it would be David Hockney! He is someone I admire a lot, for his artistic work, his vision of life and his wide knowledge of art history. He is a very literate man who has written extensively on art and its evolution. For example, he wrote a great book on the study of the techniques used by the great masters of the Italian or Dutch Renaissance (ed: Secret Knowledge: Rediscovering the Lost Techniques of the Old Masters). He demonstrates how these painters used the darkroom, which explains the level of precision they obtained. It is someone who really has an impressive wide knowledge and I love his very colorful and very positive paintings.
French Quarter Magazine: In your opinion, when does an artist, a photographer, a musician, a painter become an artist?
Laurence de Valmy: I believe we can all be artists at any time of our lives and for example nowadays, with a smartphone, we can all transform a banal everyday shot into something very beautiful. From the moment when what you create allows you to express something, I think you're an artist. Obviously, one must not confuse being an artist, do artistic things and make a living from it. That is indeed something else. My belief is that the need to create is innate: the cavemen painted on the walls when they had barely satisfied their basic vital needs of eating, having warmth and being safe. In my opinion, this desire to create has always existed, and throughout all civilizations, simply more or less according to individuals.
French Quarter Magazine: What exhibition of another artist has left you the biggest impression?
Laurence de Valmy: It's not really an exhibition of one specific artist but I have a very striking memory of my first visit to the Musée d'Orsay when it opened to the public in the late 80s in Paris. For me it was a strong moment. I remember exactly how I discovered Manet's Olympia. This painting touched me more particularly and led me to take an interest in Manet and his work even more than in the Impressionists. He is associated with the Impressionists, of whom he was very close, but he always maintained his independence and in a way made the transition between Courbet and the Impressionists.
French Quarter Magazine: What is your strongest artist's memory?
Laurence de Valmy: There was a psychologically important step for me when I returned to France in 2004 after my year spent in the United States. I was contacted by two young women to participate in an auction of contemporary artists at Drouot. It was pretty flattering for me to have paintings at Drouot and to have buyers even if I was not a known artist. They were sold at a modest price but psychologically, it gave me the idea that it was possible.
French Quarter Magazine: Do you mainly sell your paintings online?
Laurence de Valmy: It is rather a mix… some of my paintings are available on saatchiart.com and others are available through my exhibitions. I am pleased to announce that the curator Renée Riccardo has offered to present my POST series in the exhibition Wrap around 13, which will take place in New York at Arena Suite 806 and will open on July 15th.
French Quarter Magazine: Artistically speaking, is there a dream that you have not yet reached?
Laurence de Valmy: Oh yes, there are more than one (laughs)! I like to think that my career is in front of me. Today, I am still very young in my career as an artist. I think the dream of every artist is to get some recognition of his work. This recognition can have several facets of course. Being represented in a gallery where the art dealer works so that his artists gain visibility from collectors and influential professionals, is of course a seducing dream … and simply to be able to continue doing what I love!
French Quarter Magazine: Thank you Laurence for this interesting artistic interview. Looking forward to contemplating your creations!
Check out Laurence de Valmy's works here:
Exhibition Wrap around 13: Laurence de Valmy, George Horner, Karen Lederer, curated by Renée Riccardo, ARENA at Suite 806, 89 Fifth Avenue, New York, NY. Opening on July 15th, 2-5pm. The exhibition will remain on view through November (by appointment).