Interviews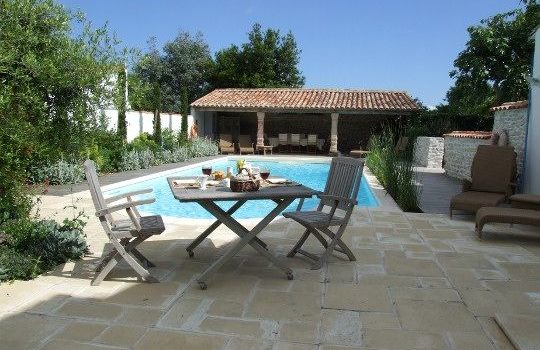 Published on July 21st, 2017 | by Isabelle Karamooz, Founder of FQM
0
Interview with Emmanuelle Bihr, owner of "La Maison au Figuier", located in Bois-Plage on the island of Ré
French Quarter Magazine : Tell us a little bit about yourself,, tell us what led you to open your bed and breakfast? Was your motivation strictly for a taste of change?
Emmanuelle Bihr : More for exchanging and sharing! I'm originally from the East of France, from Lorraine. I went to Hotel management college in Le Touquet (already quite far from Lorraine), and then I worked in the restaurant industry in Metz, always keeping in mind a desire to open a bed and breakfast.
French Quarter Magazine : What triggered you to take the big leap, and fulfill your dreams of opening a bed and breakfast?
Emmanuelle Bihr : With my husband, we had the desire to get out of the East of France, but we didn't know exactly for which region. We just knew that we didn't want to invest ourselves in the East and make our livelihood there. In 1994 we came on a family vacation to the Island of Ré for the first time and we came back every year in the fall, around All Saint's Day. As we liked it more and more, we started looing into houses with the intent of buying one.
French Quarter Magazine : When did you open your bed and breakfast?
Emmanuelle Bihr : After buying the house in 2002, since it was uninhabitable, we had to initiate work in the house for five years, so in May 2007, we made our first opening and we were in operation for three years before we fell victim to a fire in 2010. I closed for two years and during that periode, I just opened on a seasonal basis and we reopened for good on Easter 2012.
French Quarter Magazine : The results are superb. Can you describe your home, tell us a little bit about your guest rooms. How many do you have?
Emmanuelle Bihr : The guest house has four rooms that each have their own individual bathroom and are equipped with stylish Italian showers. The rooms were designed according to our own personal tastes. We didn't want a typical blue and white seaside theme, but rather a restored house with a local style known as rétaise (which refers to the islanders of Ré). Lots of wood, and lots of objects found on the island and in Belgium as well, along with a few small personal items.
French Quarter Magazine : What makes your bed and breakfast standout? What are your strong points? Your amenities in terms of hospitality, in terms of activities, cooking, scenery, environment, and ecology? Give us some good tips of things to do in and around your place.
Emmanuelle Bihr : The first thing that we wish for the guests who arrive to our place tired and worn out is that they can get some rest and feel relaxed. We make the atmosphere of the house and the garden soothing. As we know the island very well, we give them advice on the places that we like to frequent when we're out and about. Sometimes it works the other way around! The clients give  us their favorite places to visit, (It's a two way street). The two main activities are bike riding and the beach. There are also visits to museums on and off the Island. La Rochelle is a city with a very rich historical past.
Of course, there are the gastronomic pleasures at our table and the breakfast that I prepare every morning. It is composed of simple things, but everything is homemade, this is important to me. For me, it's a whole. This is part of a quality bed and breakfast service. This is what differentiates us from an average hotel.
French Quarter Magazine : Do you have any "mishaps," and or tales to tell about the house or the guests that you welcome?
Emmanuelle Bihr : People are so different and interesting… Sometimes I'm astonished by what some people do for a living. Once, we had a guest who was a bodyguard. There are jobs that I  never even knew existed. It can also be the place where they're from. Soon, I'll have some guests whose son lives in Tasmania. You, for example, live in Las Vegas. I get a few Americans, about once or twice per season.
French Quarter Magazine : What type of guest do you welcome? I'm assuming that speaking English is essential.
Emmanuelle Bihr : It is essential because Anglophones don't make the effort to speak other languages most of the time. It's amazing, but some guests don't speak a word of French. The majority of our foreign clients are British, Belgian, and now, the Swiss. They opt for the bed and breakfast option because they like the idea of staying with the locals. Our British clientele is typically people who are 60 years of age or older, and we also get young doctors frequently. Sometimes we host families, but most often it's couples who stay here.
French Quarter Magazine : Have you had any famous people stay here?
Emmanuelle Bihr : A few years ago, we had a few authors who came for the book fair. Not celebrities, some people have important positions in their respective fields, but are not famous.
French Quarter Magazine : Do you have enough time to spend with your guests and swap stories with them?
Emmanuelle Bihr : Yes, mainly in the morning is when most of the conversations take place. It can also be later in the day, but I'm available at any time of the day if they need me. So it's no burden at all.
French Quartert Magazine.: According to your observations, have your clients' expectations changed in recent years?
Emmanuelle Bihr : This is a good question. There may be a certain type of clientele who will ask for more because it's fashionable to do so in this day and age, but the majority of people adapt very easily to how the house works and don't have any special needs or extravagant requests.
French Quarter Magazine : What do you recommend us to do on the island?
Emmanuelle Bihr : You've got to go for a bike ride around the island and go see the oyster farmers at work. Go see the salt farmers, as it's the season for harvesting right now, some will even show you around on their private sites in their marshes. It's interesting! Among other things, we can visit the Eco-museum of Salt in Saint Martin and it's also possible to take a guided tour and go on an outing on a catamaran. On a cultural level, this offer is very diverse.
French Quarter Magazine : Tourists leave happy.
Emmanuelle Bihr : My greatest compliment was when a client told me: "I didn't think of my work for 10 days." That tells me that I've done my job! It's a real satisfaction to hear this because my end goal is to please my customers while they're on vacation. Some people only vacation once a year. We must do our very best.
French Quarter Magazine : What's the average length of stay for your guests?
Emmanuelle Bihr : The average length of stay is four nights. In July and August, stays are closer to a week. We open from the end of March to mid-November. When we are closed, we take care of the maintenance of the house and take a vacation.
French Quarter Magazine : Do you have a Facebook page to publicize and promote your bed and breakfast?
Emmanuelle Bihr : No, not yet, but it's in the works. I'm a little "impervious" to it. I have a friend who pushes me to do it. She started a page, but I haven't posted anything on it. Maybe I shouldn't say it, but I don't really like technology in general. I just can't  seem to get started. I do recognize that it's an essential tool nowadays. However, we do have a website: http://www.lamaisonaufiguier.com. We can be contacted by e-mail, and let's not forget about the word of mouth either. That works pretty well. It's our best publicity. We also have a loyal clientele because the ambiance is pleasant here, and less impersonal than at a hotel. Each of our guests can choose to eat alone if they wish to because we respect their privacy. I've noticed that the eight poolside lounge chairs are rarely occupied at the same time. Yet, most of the people who opt for the bed and breakfast option do so to exchange.
This article was translated in English by John Wilmot.