Interviews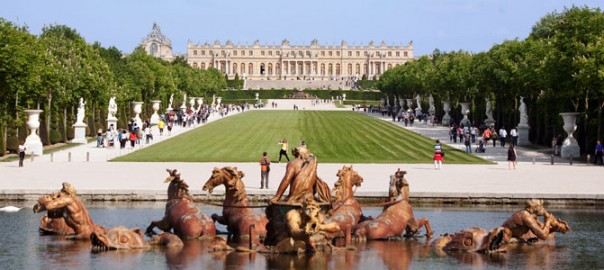 Published on July 23rd, 2017 | by Isabelle Karamooz, Founder of FQM
0
A good time in perspective: the company Astel offers bicycle and small boat rentals and small electric cars adapted to the discovery of the park of Versailles
French Quarter Magazine : Good morning, Mr. Biglary.
Mahmoud Biglary : As you know, we are here at « little Venice", by the grand canal in the park outside of the castle of Versailles. It covers 780 hectares. We rent out small boats on the grand canal which is about 1 km wide and flows down for 7 km. Tourists and visitors from all over the world come and rent those small boats you see on the grand canal. They are always available. We are open every day, 7 days a week, from 10 a.m. to 6:45 p.m. The small boats can easily seat up to 4 people, they're quite pleasant. Rowing on the canal is easy, while taking in the views of the Grandes Eaux, the castle, and the gardens. You can see all the activities going on over there. We also rent the bicycles and electric cars that you see coming and going in the park –  they're ecological vehicles. We're going to board a small boat, and go for a stroll so you'll be able to see what's going on.
French Quarter Magazine : Let's go !
Mahmoud Biglary : Those boats are made out of polyester and are tailored for us by  a specialized manufacturer, with a specific size, structure, specific lines, and double beam width for safety reasons, it's a very light boat and easy to navigate.
French Quarter Magazine : You look like a good rower, like you've done it your whole life.
Mahmoud Biglary : I've been doing it for the past 30 years. As you can see, everything's been taken care of so that people can row very easily. Now, we're in the grand canal, if you look behind you, you'll see that the canal has a cross shape, a little to your right, and you have a magnificent view of the Grand Trianon, on the other side you can see the castle.
French Quarter Magazine : Can you tell us more about this huge structure we can see ?
Mahmoud Biglary : There are exhibitions every year. This structure here, it's by Olafur Eliasson.
French Quarter Magazine : Tell us about your company Astel Versailles, your team, what is its mission?
Mahmoud Biglary : We've been present in the park for 30 years. I started doing this when I was a student with my friends. We started with the bicycles, then the small boats and electrical cars. We have a team of about 30 people during the busy season and between 15 to 17 in the slow season. As for the bikes, we don't rent them out in December or January, and the same goes with the small boats, from November to February. As for the small electric cars, the only month we don't rent them out is January. Otherwise, we're always open.
French Quarter Magazine : Are you the founder of Astel Versalles? When did you create your company?
Mahmoud Biglary : Yes, it happened under various forms in the beginning, with simple authorizations at  first, then as a company for the past 20 years. Now that there is more of us, we have more structure.
French Quarter Magazine : Where does the name of your company come from?
Mahmoud Biglary : Astel stands for : «  Activités sportive touristique et de loisirs,»  sporting tourism and leisure activities.
French Quarter Magazine : How was the situation when you created it, was there a demand?
Mahmoud Biglary : In the beginning, there wasn't much of a demand. Bicycling was still new, and stores selling bikes were rare, but when we started to rent a few of them, it was immediately successful. People would come from all over the place, Paris, St Germain, from all the towns around here, and they would bicycle in Versailles. Then came the Italian tourists, the Spanish ones…
I currently work with a lot of foreign groups from Europe and the United States. Tons of  American groups come here on a regular basis, making reservations and renting bicycles. We work with tour operators. We've had a stable clientele for about 20 years.
French Quarter Magazine : Do you get a lot of requests for the rental of  small boats on the grand canal?
Mahmoud Biglary : For the small boats, we do more individual rentals, only a few groups come regularly. Usually people come when there's sunny weather, then they spontaneously rent the small boats. Same thing for the electric cars. People are on site, and they want to look around but can't walk or only walk a little, so they rent cars. The guest artist who created this cascade behind us is Olafur Eliasson. He is Danish and grew up in Iceland.
French Quarter Magazine : Tell us all about the groves.
Mahmoud Biglary : I'll give you a little overview. Look at the map. We are now at the « Petite Venice » heading down the grand canal, all the activities are listed: bicycles, small boats, little electric cars, but also restaurants, and train rides too. On this side, after that gate, we'll see all the groves and gardens of the castle.
Visiting every grove, and all of the flower beds would  require a  lot of time. The grand canal is shaped like a cross, a 7 km course, a length of about 1 km 9, the grand Trianon, the petit Trianon, the Marie-Antoinette estate. Most of the visitors, when coming for the first time, go to the Marie-Antoinette estate and visit the park as they work their way back to the castle.
French Quarter Magazine : You are going to show me the bicycle facility, so that's where the visitors come to rent them?
Mahmoud Biglary : Yes, bicycles and all the electric cars you see.
French Quarter Magazine : Do people need to register ahead of time?
Mahmoud Biglary : No you don't have to. There's no reservations for individuals, but we do suggest making reservations for groups. Here we are. There's a welcome center here with automated tickets. You take your ticket, and pay for the length of time that you would like to rent for and then you leave your ID behind, picking it back up when you return your rental vehicle. The rows of bikes you can see in the back are there in case some groups of people come here without having had made any reservations and want a bike without too much wait. Those are high quality bicycles, made by Cycle Europe, a great company that carries several well known brands.
We also rent tandems, electric bikes, and children seats.
French Quarter Magazine : I'm ready for a tour of the groves with you now.
Mahmoud Biglary : So, here we have an electrical car for people who want to take tours of the park and the castle's gardens. As you can see, 4 people can fit. The speed allowed is 10 km/h with a few basic rules: we require a driver's licence, the driver must be over 24 year old, no children allowed behind the wheel, and there is a pre-approved area where the car can go – otherwise, it will stop automatically. Each vehicle has a number. This electric car goes very slowly, with a dual security system, and speed control, even when making descents, engine brake, and, an audio disc with 8 different languages available.
French Quarter Magazine : How many visitors do you have per day?
Mahmoud Biglary : It depends a lot on the weather and the amount of group reservations. We rent out anywhere from 10 to 40 vehicles per day, which is the amount of electric cars we have. On the weekends, there are bigger crowds than during the week, and on Monday, there's less people since the castle is closed.
French Quarter Magazine : How many different nationalities among your visitors?
Mahmoud Biglary : I don't know, I think it reflects the number of people who visit the castle. I would say we have a lot of Europeans but less people coming from Asia, Japan, and Korea… than previous years.
French Quarter Magazine : Do you think terrorists attacks impacted the number of visitors?
Mahmoud Biglary : Yes, absolutely, we feel it, we see it, I think figures also show it. Let's move on! Going back to the audio discs, some of them were recorded with stars from their own countries. When Spaniards or Germans listen to them, they recognize them.
French Quarter Magazine : What are the means available to deal with accidents and degradations?
Mahmoud Biglary : When it comes to degradations, we have 20 to 25% of breakage for the bikes we rent. Less for the boats. For the cars, we don't have a precise number but there is a fair amount of degradation. We have mandatory insurance that protect the civil responsibility of the user, the buildings, the park items and anyone that could be involved in an accident. We also have a specific type of insurance for accidents.
French Quarter Magazine : Do you ever have to deal with people who don't follow safety instructions?
Mahmoud Biglary : Yes, it happens often. We have a computer-controlled system for the vehicles. We can see where they are, if they stay on the (allowed) area. We have an alert message if they get out of bounds and if they don't reply, we have a team that will catch up with them to put them back on the right track. If people goof around…
French Quarter Magazine : Tell us about an interesting story – Maybe something that happened that was really funny.
Mahmoud Biglary : I have many of them. Every year, we have amusing stories, I can't think of one right now. One day, I saw a group of Italians who had rented bikes, and they were singing a song called "the Bicycles of Versailles". I asked them why, and they said it was a song they had heard a lot in Italy "on the Bicycles of Versailles". I was pleasantly surprised, it was fun. We often have people who make a wrong turn, who get lost. Lots of fun stories. We have very few bad memories.
French Quarter Magazine : Do you have a Facebook page?
Mahmoud Biglary : No, unfortunately, but we have a website and we will add a FB page for the people who would like to see us. You can also find detailed information at the following link: www.astel-versailles.com
You can also download a map of the area before you come for a visit.
French Quarter Magazine : Thank you, Mr. Biglary, for your time spent answering my questions. Let's go take a tour of those groves now.
This article was translated in English by John Wilmot.