Gastronomy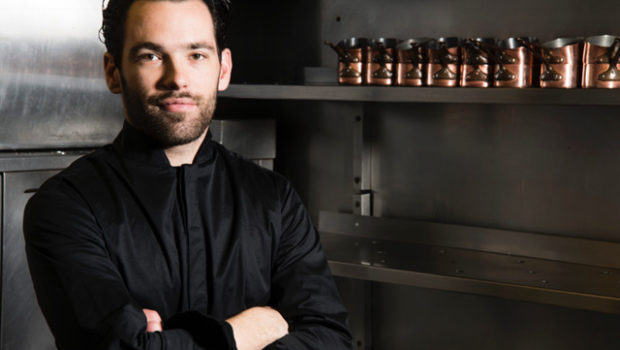 Published on November 8th, 2017 | by Julie Chaizemartin
0
A meeting with Chef Pierre-Henri Morel: "I want to push the limits of French gastronomy"
This is a beautiful restaurant in eastern Paris, located in Perreux-sur-Marne, just a few steps away from the banks of the Marne. The setting is warm and friendly, yellow tones enhanced with wood paneling. The tablecloths are set, and are always impeccably. Because here, we live and breath "gastronomy."
In the kitchen, we meet the young chef Pierre-Henri Morel. He's 32 years old, has a strong personality, and has three toques from Gault & Millau. His challenge: to develop a creative cuisine from high quality products, by bringing his own personal touch that he's developed over the years, in particular, those coming from the culinary traditions of Asia. And a desire. Soon a (Michelin) star?
Every day now for the past 3 years as the head chef of this restaurant, he's found ways to blend the ingredients on the plate into culinary creations that give pleasure to the palate. He's honed his skills in Parisian palaces alongside great chefs. He has worked with Dominique Boucher at Crillon, with Alain Ducasse at the Plaza Athénée and with Eric Desborde at Pershing Hall. Although a man of little words, he prefers to let his dishes do the talking, he's been kind enough to talk to us about his main passion, cooking. Which he thinks that, above anything else, would be a pleasure to talk about.
FQM: Hello Pierre-Henri Morel. Thank you for inviting us to your restaurant, Les Magnolias. We will discover your taste for modernity in the kitchen. You just celebrated your 3 year mark working here. What's your view on this new culinary adventure?
P-H Morel: It's a great challenge. My father and I took over the restaurant as a duo to provide a service to the community on a human level, while all the time focusing on quality. The idea was to be able to achieve a personal and family goal. What guides us is the notion of pleasure, along with our desire to create new recipes, and to push the limits of French gastronomy. These days I'm utilizing the beloved traditional French techniques and merging them with Asian ingredients to expand my repertoire.
FQM: Tell us a little bit about your background. You've developed your skills in some very prestigious kitchens. How did these experiences enable you to acquire the personal know-how of which you have?
P-H Morel: I started at the Crillon Hotel and then I worked at Plaza Athénée. I acquired rigidity there but I wasn't able to have any creative freedom yet. On the other hand, I was able to develop my taste and then I was able to create a finer, more sophisticated cuisine. I learned the meaning of sharing too.
FQM: At Magnolias, a more intimate place, you are closer to your customers. How do you share your cooking with them?
P-H Morel: I like to create my kitchen in a completely transparent way. I introduce myself to small passionate producers who are pleased to share the knowledge of their trade with me. It's up to me to finesse the ingredients on the plate in order to come up with an end product that will be pleasurable.
FQM: Which products in particular do you like to use?
P-H Morel: Well for example, it's currently mushroom season. I think they're really an amazing product, with multiple varieties, but you have to know how to use them. The idea is to revisit common everyday ingredients and tweak them slightly, rework them so that they continue to surprise.
FQM: Surprise, yes, precisely! You are a young chef, 32 years old. What French chef has inspired you the most?
P-H Morel: All the chefs I've worked with gave me momentum, of course. I still make recipes that I learned in my early days. I worked for Alain Ducasse. I won't say that he's a mentor but I was able to observe him and to integrate the techniques of his that still inspire me into my cuisine. I have tremendous respect for these spectacular chefs. It encourages you to push yourself. I do not necessarily call myself a "student of," (a particular chef) but I let my imagination run wild these days in order to move forward.
FQM: If you had to use just a couple of words to define your cuisine, what would they be?
P-H Morel: Simplicity, clarity, pleasure.
FQM: Surprise too?
P-H Morel: Yes, creating something new is important. There are still many different arrangements to discover. There is a multitude of palettes and colors to combine to create new dishes.
FQM: Talking about colors … In your restaurant, we can see various works of art on the walls. Visual art and tableware, is there a correspondence between these? Do you feel a little like an artist in the kitchen?
P-H Morel: The idea here is to create temporary exhibitions that will change every two months in our restaurant. We hope that the visual art will be in harmony with the art on the table. It's an artistic game that we conceptualize in accordance with the season. The colors, the personality, all those things. For me, it's obvious that the presentation of the food must emphasize the ingredients. Again, in accordance with the season, to seduce the clientele.
FQM: You like to bring an Asian touch to your dishes. Why Asia?
P-H Morel: I was seduced by a completely different approach. I worked with a chef who taught me the basics and that's what really made me want to combine these two worlds and add little Asian touches to my French cuisine. There were more subtleties in the aromas. At the beginning, however, I didn't understand this subtlety, or the tastes associated with it. It didn't correspond to the sensations that I was accustomed to. Then, little by little, I learned to understand the ingredients. For example, today I'm integrating miso, it's a fermented soy paste that can be used in different degrees and it brings body to a dish. It can replace traditional thickeners made of starch or gluten. And you can give it hints of caramel or smoke. This type of product also makes it possible to be up to date with all the current diets.
FQM: Are you paying attention to the current demand to eat healthier, lighter, more vegetable centric?
P-H Morel: 90% of our menu is made without gluten. We are attentive to all types of diets. We have a small menu: 4 starters, 4 dishes and 4 desserts per season, which changes each month.
FQM: I think you also have a tasting menu, where the customer doesn't know what dishes they'll be getting prior to receiving them, isn't that so?
P-H Morel: Yes, the idea is to be able to be carried away by the meal of our latest creations. The sommelier will select the wines from renowned small or large production winemakers, and pair them with the food. It's pretty amazing to taste! Forget the expectations and just let your palate be the judge!
A quality team:
Chef Pierre-Henri Morel;
Mehdi Zerirer, sommelier: He has a 30 year long career span. He's worked at places such as; Lapérouse, Le Grand Vefour, Drouant, at the Antwerp table, at Petrossian and Fouquet's.
Marine Mateos, pastry chef: She did 2 years of apprenticeship at the Grand Hôtel Opéra then at the Barrière. She also competed in the world baking champion at the Peninsula-Hôtel in Paris, she joined team Burgundy in 2016 as the pastry chef. In 2017 she was a finalist on the show "Le meilleur pâtissier, les professionnels."
Julien Portenier, sous-chef: He's worked at Montparnasse 25 and Dali, at Drouant and at Cinq Georges V, he then continued his career working in renowned restaurants in Australia then became the sous chef for Yannick Alléno at Terroir Parisien before joining Les Magnolias in June 2017.
Useful information :
Les Magnolias, 48 ​​avenue de Bry, 94170 Le Perreux-sur-Marne. RER E Nogent-Le Perreux. And to discover the complete menu of Les Magnolias restaurant, visit their website: www.lesmagnolias.com
Mini-leeks in their water, perfect egg and Osciètre caviar
Royal Ars Italica Calvisius, petals of ingot caviar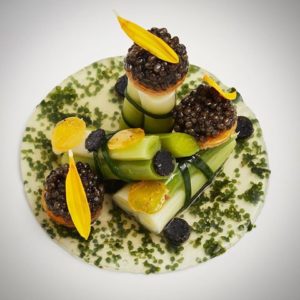 A recipe from Pierre-Henri Morel
Serves 4:
Mini-leek pieces
9 mini leeks
Espelette pepper
9 chive sprigs
Olive oil
Fleur de sel
Wild pepper from Madagascar
Jellied water of mini-leeks
6 mini leeks
1L of water
25 g of sea grapes
4 g agar-agar
Perfect egg
2 eggs
Butter
Sliced ​​bread
2 slices
Clarified butter
Assembly
Caviar Osciètre Royal Ars
Italica Calvisius
Calvisius Caviar Ingot
Jerusalem artichoke flower petals
Pieces of mini-leeks
Wash the mini-leeks and blanch them à l'Anglaise style by adding Espelette pepper.
Blanch the chives in the same water. Cut the leeks into 5 cm pieces, tie them with the chives. Store away.
Jellied water of mini-leeks
Wash the leeks and slice them. Bring them to a boil with the unsalted water. Reserve 500g of the water. Add the agar-agar and the sea grapes to the remaining 500g of water and bring to a boil. Pour on a plate to jell, let this mixture rest for at least 4 minutes allowing it time to set-up. Store away. After the jelly has completely set cut out 4 discs using a 9 cm in diameter ring cutter.
Perfect egg
Cook the eggs at 63 ° C for 50min. Peel the eggs and place between two sheets of parchment paper. Dry at 75 ° C for 15 minutes. Using a ring cutter cut out 12 discs, 2.5 cm in diameter and 2 cm in diameter. Reserve for later.
soft bread
Using a slicer, slice bread into slices that are 2mm thick. Cut out 12 croutons with a 2.5-inch cookie cutter. Brown them with clarified butter. Season with salt and reserve.
Calvisius Caviar Ingot
Using a slicer, slice out 20 1 cm thick slices. Then, use a ring cutter to make discs. Reserve.
Assembly
Place the jellied mini-leek water discs in the center of the soup plates.
Arrange the mini-leeks and brush them with olive oil.
Add fleur de sel and pepper on the jelly.
Make the following assembly:
Croutons – egg disc – Caviar Osciètre Royal. Repeat 4 times.
Arrange by assembling the pieces of mini-leeks, add the Calvisius caviar ingot and the flower petals. Bring the mini-leek water to temperature, and pour over the jelly right before serving.
This article was translated in English by John Wilmot.