Events
Published on January 25th, 2018 | by Isabelle Karamooz, Founder of FQM
2
Paris Chansons, the French band from Los Angeles, is performing in Las Vegas!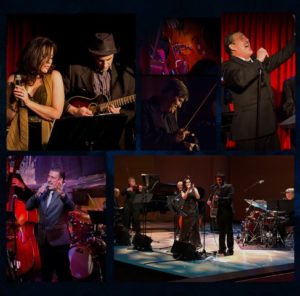 French Quarter Magazine is pleased to introduce you to Paris Chansons, the French band from L.A. Together with her husband, Jacob, a Russian-born singer/songwriter, Julia Kantor launched Paris Chansons. They are known for their original renditions of French favorites from Aznavour, Brel, Dassin, Piaf, Montand all the way to contemporary artists like Zaz. Come and join us ! They will be performing a free concert on Saturday, February 10th at the West Charleston library in Las Vegas.
Julia, when was your first desire to become involved in music and what made you fall in love with French and Russian music in particular?
I grew up in a musical family where my parents sang together.  I was born in Lvov, Ukraine and immigrated to the United States when I was 5.  Although Russian was my first language, I always felt a deep connection to the French language, as if I was French from a previous life. I studied French for years but it was when I spent my third year of college in  Rennes, Brittany, that I became fluent and truly fell in love with "la chanson francaise."   My husband (guitarist and singer in Paris Chansons) was born in Russia and was also raised in a musical family.  So, it felt like the most natural thing in the world that we found ourselves singing together on our first date!  Four years ago, he and I launched Paris Chansons.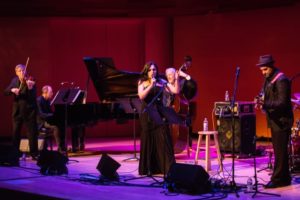 What was the first gig Paris Chansons ever had and what were the first renditions of French favorites?
Our first official show as Paris Chansons was at the Sofitel hotel in Beverly Hills.  We were still evolving our sound as a group – we didn't have our bass player or drummer with us yet!  Now we are a 7 member ensemble!  Our Moroccan/Israeli singer, Max Cohen, sang "Zingarella" by Macias and "La Boheme" by Aznavour.   We brought them "C'est si bon" by Yves Montand and "Padam" by Edith Piaf. It was amazing to see the international audience who attended that first show.  The room was filled with Francophones and Francophiles from all over the world: Russians, Romanians, Lebanese, Israelis, Moroccans, Latinos, Armenians, Danes, Persians, and more.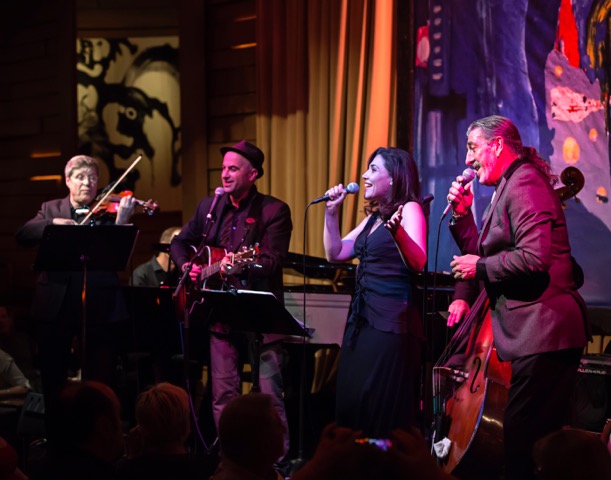 What does music offer you?
Music is the language of the soul.  It is the true unifier. Over the past 4 years, I have seen that French music, in particular, is a bridge that brings people together – people who have had a history of animosity are singing together in harmony at our shows.  It's incredibly inspiring to see this.  A journalist once wrote that "Paris Chansons manages to unite people under the umbrella of "joie de vivre"  She captured our true "raison d'être!"
How do you describe your contact to people on stage?  what compliment do you appreciate the most after a show?
It's an exchange of energy.  When I look at out the audience and see people singing along, dancing, swaying, clapping along, I'm filled with deep joy and appreciation.  And I know that all three of us singers (Max, Jacob and I) feel the same way.
This music (the music of Aznavour, Dassin, Piaf, Macias, Adamo, Brel, Kaas, Vaya Con Dios, Cabrel…) is very emotional for many of the people in our audiences. It's the soundtrack to their lives… it's the song from their first date, the melody their mom sang in the kitchen. Our goal is to perform unique renditions of these classics in a way our audiences have never heard these songs before.  The best compliment we get is "I loved your version even better than the original."
To date, what has been the most rewarding experience involving your musical career?
A truly rewarding experience was when we were invited to perform at the renowned Musical Instrument Museum in Phoenix and the amazing Dakota Jazz Club in Minneapolis.  We have since returned on tour several times at both of these venues and continue to expand our following there.  I love connecting with new audiences and French & Russian cultural partners who help promote our shows in those cities!
How do you find places to perform?
In LA, we perform regularly at the Herb Alpert's Jazz Club and the Catalina Jazz Club and are touring more and more. Our debut performance in Las Vegas came through our agent, Owen Kirschner.
We invite all Francophones and Francophiles to join us on Saturday, February 10th at the West Charleston library where we will be performing a free concert!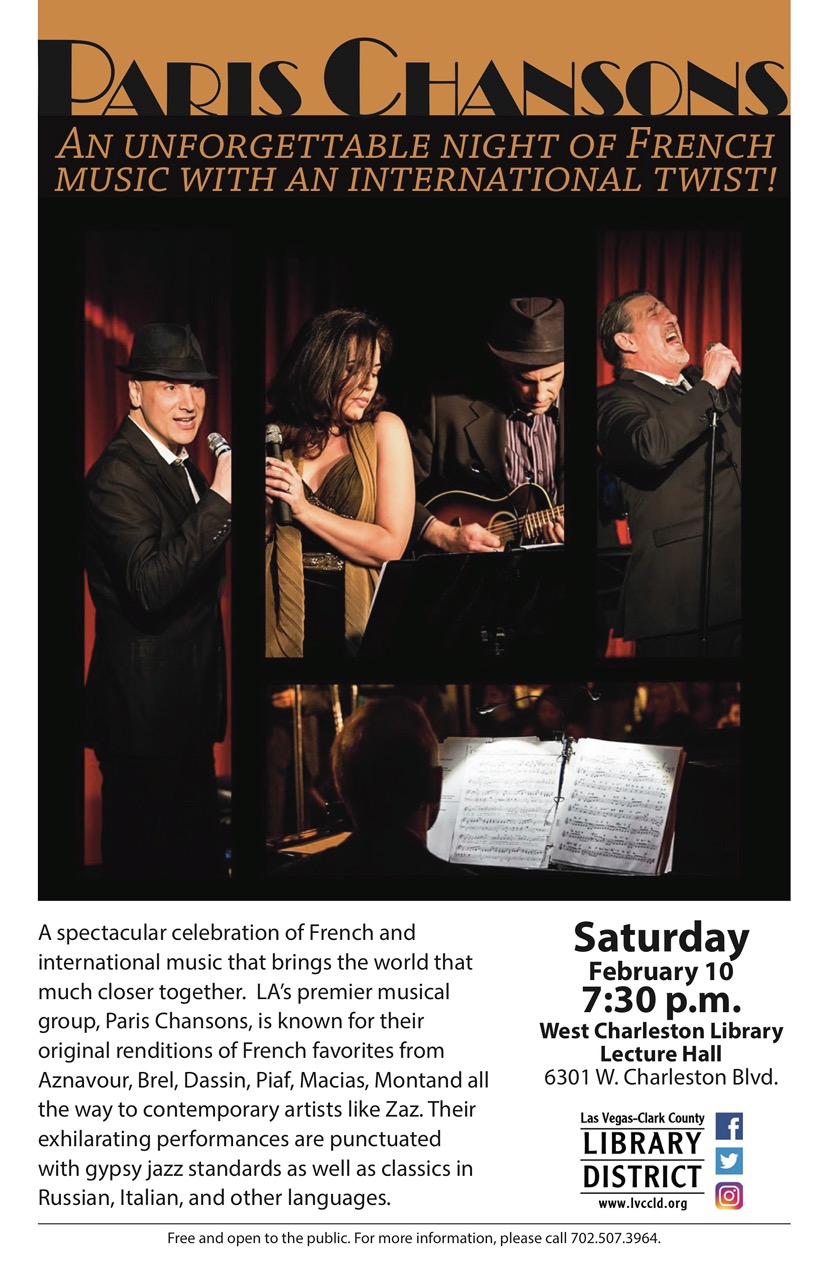 We recently released our first CD which will be on sale at the show and is available through iTunes at https://itunes.apple.com/us/album/le-ep/1310815227
You can see videos and hear audio samples on our site:  www.parischansons.com
This article was translated in French by Anne-Cécile Baer Porter.