Art & Culture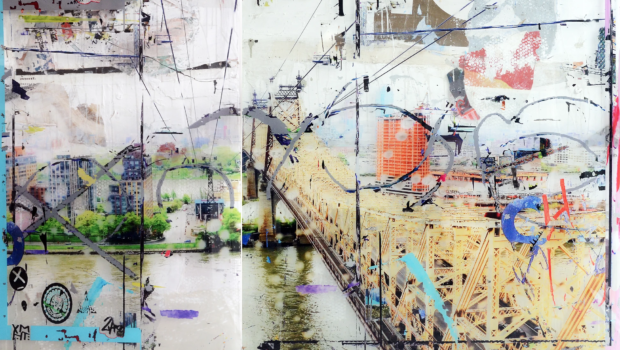 Published on February 8th, 2018 | by Laurence de Valmy
0
Gregory Watin: an artist (well) inspired by the Urban universe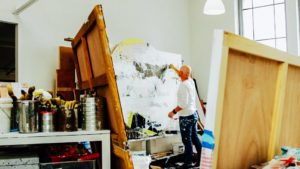 Gregory Watin is a successful French Urban artist whose work "meets a wider echo in the US than in France, perhaps by a filiation of (his) painting with the American Materialists". His colorful and modern luminous works combine different elements (photo, drawings) and materials (wood, cardboard, paper, Plexiglas). His spontaneous gesture communicates the capture of a moment and translates the energy of the urban universe. "We must seek to create what we are" and know how to put oneself in danger according to him. This "bulimic of exhibitions" artist has many projects for 2018 with for February simultaneous exhibitions at Art Wynwood in Florida with F.Got Gallery and at Artup Lille with Galerie Le Container.
How did you become an artist and in particular an Urban artist?
It seems to me that the question of how one becomes an artist does not really arise … It is rather, in my opinion, a form of acceptance, not only of the medium that one uses but also of what is created. First it is the matter that concerns me since my first paintings. Then the urban element in a general way is my universe.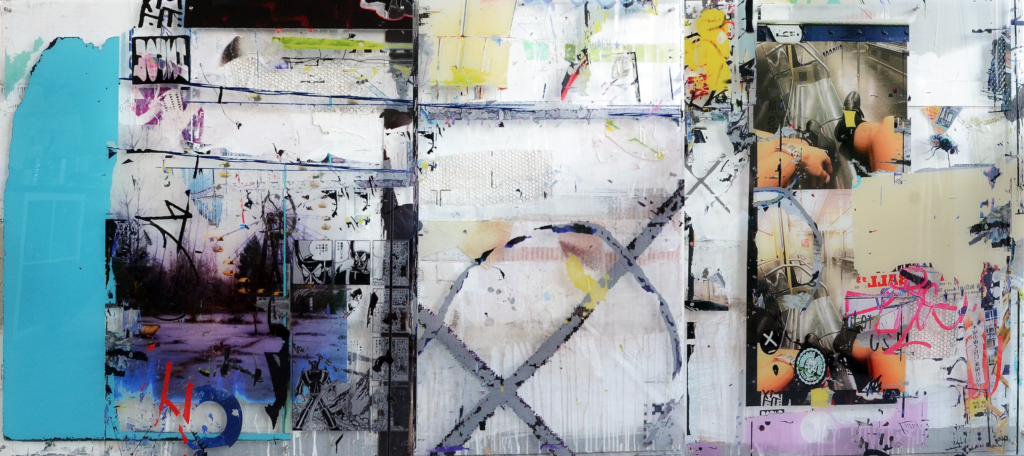 How would you describe your artistic approach?
I do not believe in the will of the artist who would decide what he creates, but rather in his ability to recognize what naturally arises from him. Often we try to create what we would like to be but in this case we are wrong, we must seek to create what we are and accept that. For a long time I made a constrained painting, so that it bends to what I wanted to show, I got tired, I took the risk one day to let things escape, to let go of my creation: from there everything was easier.
You are regularly exposed to the international as well as in France. What are the differences between the French and American art scene?
The French art scene unfortunately turns in circles. A kind immobilism has stifled all forms of promotion of the plastic art, a form also of contempt for French artists in France. The international art fairs offer a meeting with a wide audience and it is a considerable asset because it allows showing work in an honest way, to take the risk of displeasing many but to know that with the multitude of visitors someone will understand your approach. Strangely and unintentionally, my painting meets a wider echo in the US than in France, perhaps by a filiation of my painting with the American Materialists.
How do you get inspired for your new creations?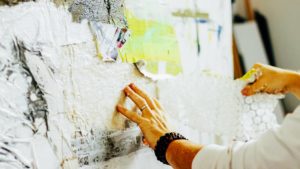 I am very anxious not to be caught up by facility, to make works quickly accessible, I try (it's a daily battle) to put myself in danger and not to let out of the workshop a piece, that would not be to my taste.
What is the question you get most often?
The question most often asked is "where do you get the idea?" People often imagine that the artist walks around with a small light bulb that lights up with inspirations. In reality it is rather a work of substance, an energy that maintains itself that sometimes runs out of steam, so we have to get back to work, it's pretty close to sport, in the sense that the performance stems from a long process. I always realize a large number of works simultaneously, between 20 and 50 in the workshop, because I try to surprise myself and create "accidents".
What is the question you would like to be asked?
There is not a question that I expect in particular but often I would like to be able to explain the background of the work, the idea of ​​a set and not a succession of paintings. I do not work in the moment; I work in the long term, that's why my painting is not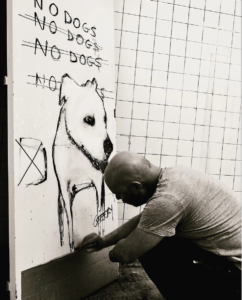 focused on current topics. We are in a very fast and very superficial world so I would like to be able to explain more the substance than the form. But that's the role of my painting and not mine.
What is the project of your dreams?
Dream project, I believe that like many painters, I am bulimic of exhibitions. The desire that my work meets the widest audience, through new collaborations with galleries, be able to offer an overall exhibition of my work. A solo show allows me to better understand the nature of my painting, the issue of filiation between the works.
What are your plans for the coming months?
The coming months are very busy with exhibitions. At this time, I am still waiting for answers for beautiful projects on New York in the spring. In the workshop I am working on new formats, it's been a while that I try to get out of the box; I hope it will lead me to good surprises.