Fashion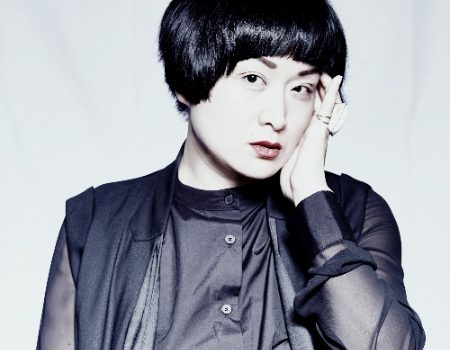 Published on February 15th, 2018 | by Laurence de Valmy
0
Another Garde: a new take on fashion
Soumountha Keophilavong is the Founder of Another Garde, a Fashion platform to help confident and original women tweak their style. They are the girlfriends you contact to get straight to the point and fun styling tips and discover a new guard of independent women designers.
Soumountha is a world citizen, born in Lao, refugee in France, she lived in London for 10 years and now living in NYC with her husband and 3 kids. Her career is a true mirror of who she is and demonstrates that passion is a wonderful source of energy. Her journey is inspiring. Thanks for sharing it with us and introduce us to the universe of Another Garde.
Tell us about Another Garde, how did it start and what are you offering?
Another Garde started in 2015 as an offering fashion essentials to women who refuse to be labeled. Over the last two years, we talked to hundreds of customers and women and the reality is that when you do refuse to fit in a mold, well 'getting dressed can be stress'. So we are now providing a full service to ensure that your wardrobe works for you.
We handpick fashion pieces – crafted to last – from designers and creative who care and understand women's needs. We provide 'how to' advice to help women try new ways to wear items they own by creating personalized styling boards that make sense with whom they are. Every woman can give us a styling challenge and receive a star treatment.
We are privileging empowering fashion over fast fashion, style over trends, and essence over excess. I started Another Garde at a time in my life when I was both happy and lost because I became a mom to 3 kids in less than two years in the craziest, fastest, and yet most challenging place:  New York. I became a shadow of my former self. I always believed that personal style could be empowering. But with age and difficult life changes, I started to feel that mainstream fashion was not serving this purpose. It was too exclusive, disengaging, and was setting impossible standards for women to live up to.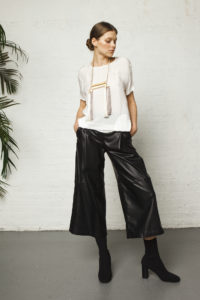 It has not been an easy journey because, to be honest, I initially felt: it is only clothes. I used to work on issues like women refugees, sex trafficking and domestic violence so clothing seemed frivolous. But in truth, clothing and personal style are a genuine vehicle for empowerment. But this has to be done right. Clothes are absolutely pointless if they are so badly made that your waistband snaps when you rush between school drops, business meetings or a night out with the ladies. They are pointless if they are so shapeless that you forget the complex woman who is underneath all those nice labels. Each of us is unique and wants to be visible on our own terms.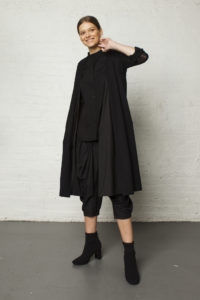 How do you select the designers represented? 
I love working with New York based designers who mainly manufacture in the heart of New York's Garment district and Brooklyn and work with family-owned factories.  We select feminine and minimalist cuts, gorgeous fabrics, great details, and lasting silhouettes. In short the rationale behind our curation is: everything has to feel EFFORTLESS and has to bring joy, let women move and be. Every piece has to create a beautiful memory in your head but also a beautiful body memory. Your body remembers when it has been mistreated. Every piece has to have the power to tell your life story.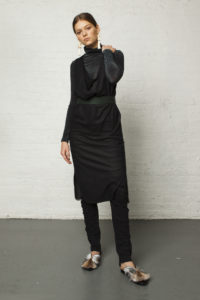 I like designers who have an acute understanding of who they are and who they are not and what it is they are saying to the world. I am attracted by creative people who just draw you into their world through their designs but also their words, imagery, life story and personality. I love designers who are creative and resourceful from a design development perspective. For example, I love zero waste pattern making that allows women to wear pieces in two different ways. And last but not least, I only work with designers who share our values when it comes to mature and confident women i.e. Designers who celebrate these women's needs, their achievements and aspirations and understand what ageing with grace means and requires. 90% designers we work with are actually women. We are also all New Yorkers but have very diverse backgrounds (French, Korean, Japanese, Brazilian, Swedish, Canadian etc.): different origins, same heart and vision. In short, there is an underlying feminism behind what we do at Another Garde so I would probably not work with creatives who do not get it.
You had Lyn Slater and Diandra Forrest as models, and I love the way they embody the diversity of beauty. Tell us about your collaboration with them.
I love these women. They are not only strong and inspiring but they are true and the kindest souls. When I met Lyn, it was love at first sight. She keeps pushing boundaries for herself, for her peers and is an extraordinary role model for the generation of women after us. She is not shying away from being vulnerable about her journey as social welfare academic turned blogger turned icon. I find this very empowering. So with her we want to talk about how women go through complex transitions in life and some processes we cannot control like ageing or body changes. But we can own our own reinvention and transformation. We shot her styling and wearing some of our pieces and just let her rock it out. It is also a continuous dialogue with Lyn because we both want to bring more women into the conversation so stay tuned for more collaboration.
With Diandra, we have been stalking her for a while haha because her activism for diversity in the Fashion industry and beyond is so courageous and passionate. When we contacted her she was a new mom working hard and it almost became natural to make portraits with her baby Rain. As we were talking it became obvious that Diandra's mom had to be part of the creative process because she is so present in Diandra's and Rain's lives: her strength, her elegance and kindness are in Diandra and Rain. The story became a three-generation family portrait and the love between mother and daughter. I feel so blessed we were able to capture this moment; truly magical. Behind the scenes it was also powerful because I was babysitting Rain while her mama was in front of the camera and thought: that is what women should do for each other, support each other. 
What makes you the happiest about your business?
Seeing women leaving my pop ups beaming, a little transformed by the (re)found confidence they have wearing quality clothing. Hearing stories from my customers after their purchases. One of them emailed me three or four times to share whenever she gets compliments. She recently wrote: "WOW! Couldn't help but wear my new dress for the school pickup… A neighbor rushed out of her house to admire it; a stranger stopped her car to give me the thumbs up! Huge THANKS for making me feel so fantastic!" That is what we are about. Women do not need a special occasion like someone else's wedding to feel great. They should feel fantastic every day.
What is the question you're asked the most? What should I wear this with? Also women often ask me 'How do I look?' and I always answer 'how do you feel?'
What is the question you'd like to be asked? You actually asked it: 'what makes you the happiest about your business?' When things are tough – fashion is a highly competitive and unforgiving industry – I have to remind myself the higher purpose. It is key to keep moving forward. At the end of the day, this is way bigger than me. I am just a vehicle.
What are your projects for the coming months?
We want to do more collabs to create meaningful lifestyle content to empower women step out of their comfort zone and not just from a wardrobe perspective, develop our Another Garde collection, speak on platforms about thoughtful fashion, personal style and women's empowerment, and last but not least have a physical presence and series of events to offer personalized styling and wardrobe curation in New York City.
https://www.facebook.com/anothergarde/
https://www.instagram.com/anothergarde/
https://twitter.com/anothergarde