Interviews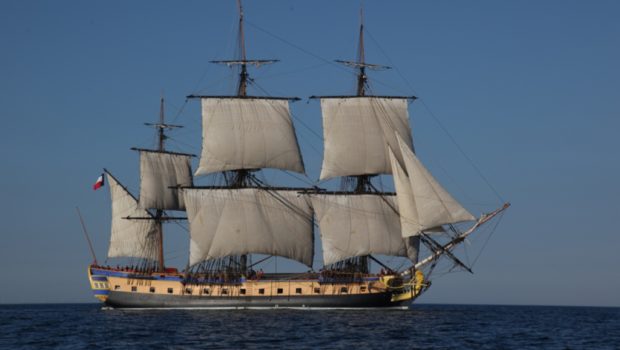 Published on February 15th, 2018 | by Philippe Bouthet du Rivault
0
Interview with Yann Cariou, the captain of Hermione
On June 18, 2017, Philippe Bouthet du Rivault had the pleasure to interview Yann Cariou, the captain of Hermione, a replicated French warship that originally served from 1779 to 1793. The ship began reconstruction in 1997 in the former military arsenal of Rochefort and on September 7, 2014 she was set to sea. 
Philippe Bouthet du Rivault: Well thank you captain, for welcoming us to Hermione's grand chamber.
So, you are back in Rochefort to recruit and train a new crew for the next navigation that will take place in February 2018. So what can you tell us about this recruitment, is there anything new?
Yann Cariou: So, first of all, among the 233 volunteers who have already been trained since the end of 2013, all the way up through 2014, 2015 and 2016, among these 233, only about 110 will come back next year. The others haven't been forgotten, but they've moved on in their lives, they have professions, occupations, and other matters to attend to. That's it, we'll get about 110, maybe a few more who are committed to coming next year, so we'll have to train about 150 all in all. That's 150 normal gabiers and between 50 and 100 youths from the O.I.F. which is the International organisation de la Francophonie.


PBdR: That's something new!
YC: It's a new deal, it's a kind of partnership that we've established with the O.I.F. and we've committed to train around 100 youths.  Currently it's only 100 because they got involved a little late this year, it's at least 50 this year and another 50 thereafter. So, seeing how this didn't exist before, it's all new to us. These young people from the O.I.F. come from long distances. Some come from as far away as Vietnam, Quebec, and Benin, Africa. We have people from all the countries of la Francophonie. We do longer training periods for them, they receive one-week training courses instead of the usual three days and this also includes a day of exploration. Take for example, the region surrounding Rochefort, where there is such a historical legacy.
PBdR: Do you host them on board the ship?
YC: When they come they are housed on board. We have a couple of options here. For example, next Tuesday we start training our regular volunteers, so to speak. It's only for three days as they're generally from the French territory. They'll come back because the three days of training doesn't include enough practice. They just do a little practice. So that's a little about the crew.
PBdR: So, next year's trip?
YC: The trip is all set for early February from Rochefort, a complementary armament to La Rochelle to start it off and then, on February 20 we leave La Rochelle and we'll be ready to go to the Mediterranean. So obviously, the Bay of Biscay (Biscay gulf) in February…
PBdR: It may be difficult!
YC: It can be very rough, especially since neither the ship nor the crew has sailed for over a year and a half! So we may have some adjustments to make: iron out the wrinkles,… So, I'll be at anchor in the strait below Ré Island, waiting for a weather window.
If the conditions are good on the 20th, I'll leave right away, and we'll do the training on the road as they say. Provided it's nice and not too bad; we will not start right away if there are level 8 or 9 winds! If there's bad weather we wait, even if just to train a little in the straight, but sailing will be limited because it's small. We'll tack our way along (the coast) and then, as soon as we pass Cape Finisterre, we'll start to descend and things should go smooth until we get to Tangier – Morocco – which will be the first. .
PBdR: You're not stopping in Lisbon?
YC: No, directly to Morocco; then we head to Port-Vendres, Tangier Port-Vendres… Uh no, excuse me, we're going to Sète for "Escale à Sète" (Stopover in Sète): it's a gathering of tall ships in the Mediterranean.
PBdR: There's a fixed date.
YC: Voilà, it's the 27th (of March). So we'll also go through Barcelona to join the whole fleet, a sort of common route for a fleet that gathers in Barcelona and goes to Sète.
After Sète, then obviously it'll be a tour of ports: Toulon, Marseille, maybe Monaco, Port-Vendres and perhaps Bastia, Corsica is in the talks and afterwards, on our return, Portimao in Portugal. The Algarve (region) in the south (of Portugal) is where they, (the French), are known to be found. In fact, it's kind of a French community in the Algarve.
PBdR: It's true. A lot of French people are relocating in Portugal.
YC: The crew raised the funds to go to Portimao. It's a small port that I visited a long time ago, it was back in 81. Afterwards we'll head back to France. We'll stop in Pasaia, which is in the Basque Country where an organization rebuilt a ship that had caught whales and cod in Newfoundland.
Then, after Bordeaux and a small trip to La Palice on dry land, it's our return to Rochefort on June 16, that means we'll be back in a year.
PBdR: You're fairing on your way back from the trip!
YC: Yes, we're sailing in on our return, because the idea was before returning, to return by means of fairing because if the boat stays there for more than a year. . . Well, that's just a bit pessimistic.


PBdR: And beyond, do not you have another project yet?
YC: No, not for the moment. There are proposals from Rouen, for the Armada in 2019, but to leave Hermione for a stopover that long isn't profitable. We must try to combine something else. Further along there are other big projects: we talked about the "La Perouse" expedition. It's a very, very big project since it's on a global scale and a long journey since it's two years, two and a half years. That's it, but it's starting to come to fruition.
PBdR: I suspect that developing such an expedition takes time.
YC: It does, it takes a lot of time.


PBdR: But it must be exciting to take care of all that.
YC: Behold! It's a great story, and a great adventure of Hermionian proportions.
PBdR: Well, thank you captain for all of this information for the readers of French Quarter Magazine.
YC: Thank you.
This article was translated in English by John Wilmot.
Since the interview, the details about the trip to the Mediterranean can be found here: (https://www.hermione.com/voyage/voyage-2018/)