Art & Culture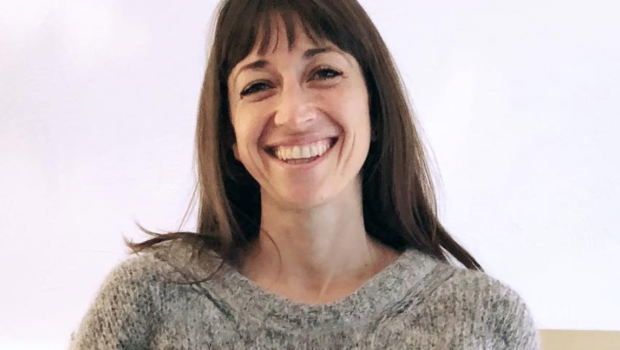 Published on February 28th, 2018 | by Laurence de Valmy
0
Solo show of Marine Futin at the FIAF Montclair
Marine Futin is a woman of many talents: singer, guitarist, composer, painter, producer… pursuing her career in the USA. With already 2 albums Jazz, many concerts (France, USA, Asia) and paintings under her belt, Marine takes the best of both her French culture and her life in America between New York and San Francisco to create and get inspired. She will have a solo show until end of March at the FIAF French Institute Alliance Française of Montclair (NJ) with works of portraits exploring the importance of colors, accessories, and patterns in women's identities around the world.
Tell us about yourself: Where do you live? What is your background? 
I have been living in San Francisco for about a year after 5 years spent in New York. I studied business and right after I graduated, I created MCO, an artistic production company. I wanted to produce and develop my artistic projects, which are painting (I draw with soft pastels) and music (I lead a folk jazz band). I moved to New York in 2011 because I wanted to record my debut album in the heart of the world jazz scene, so I could play and perform with musicians I was inspired by.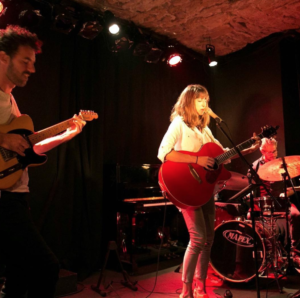 You're both a musician and a painter. Tell us about the different aspects of your art. 
It's an alternative circle. I've been doing both since I'm little. I painted for 10 years in France, and then music took a bigger place in my life. Now that the album has been released, I am going back to pastels. I feel like it goes accordingly to an emotional flow: each media enables me to express different things, and I love to switch from one to another, from sounds to colors. They complete each other.
How is it to be a French singer in the USA? How do you promote your new album?
It's fun! Especially since I sing in French. I love this idea of music being a universal connector. Being here helped me to develop the "musical" aspect of my music, and I learnt how impactful it is, as much as lyrics are. I feel like a song goes beyond the words: the way you sing it, the melody, the rhythm of the vocal .. it all says something, and we absorb it.
Where does inspiration come from?
Emotions inspire me the most. I am fascinated by our way of connecting to each other, the interactions we create…
What is your biggest achievement?
Two things come to mind: My debut album that I released 3 ears ago. As an artist, I feel like achievement comes when your inner creative vision gets out of you. It was so important to me to bring it out! Also the past year I have been working on a project that very close to my heart: Passionate about self-expression and self-growth through the act of creating, I developed workshops aiming to enable a person to express their thoughts and feelings spontaneously using color of pastels, helping people to discover a creative voice that is entirely their own. I lead weekly workshops at my studio, and for corporate teams at companies like Facebook, Stripe, and WeWork. It's been an incredible journey!
Who are your main artistic influences? Visually, Women are my biggest inspiration. Musically, I love singer songwriters like Tingsek, Emiliana Torrini, Ben Mazué, and Jazz Band like E.S.T or The Bad Plus ..
What is the question you're asked the most? What's you typical day like.
What is the question you'd like to be asked? What's the next project you're working on?
What are your next projects?
I am exhibiting my work at FIAF Montclair on February 23rd. The exhibit features two of my collections, "Regards," a series of older work, and a new series "Femmes." Both explore the importance of colors, accessories, and patterns in women's identities around the world. I was curious to understand the stories that our cultural backgrounds and educations tell about us. How do we define ourselves as independent minds and entities when we have learnt over and over a certain way to be, feel, and think, often unconsciously? All the work is original and made with Soft Pastels, then reproduced on contemporary supports to create a unique piece of art.