Art & Culture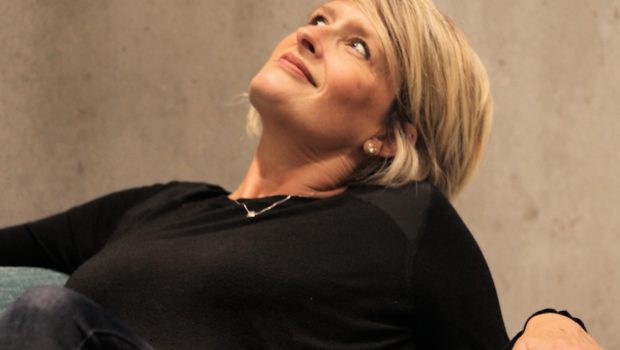 Published on May 6th, 2018 | by Laurence de Valmy
0
Carole Jury plays with color and brightness in her powerful abstract paintings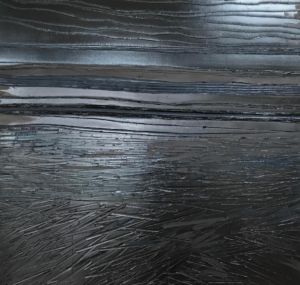 French abstract painter, Carole Jury's signature resides in her broad textured strokes, her ability to capture shadows and lights and her eye for color with canvases from vibrant reds to calming blues, subtle nuances of whites to powerful blacks.  After only a few years in the US, Carole's work has been shown in many exhibitions in the US, she's also a partner of interior designers like Bo Concept Princeton or Bertrand & Claude (NYC) and her work is represented by Azart gallery (NYC) Alessandro Berni Gallery (NYC), Art Gallery of Music & Art (Las Vegas) and The Artists Gallery (New Hope, PA).
A passionate artist and a charming person. Thanks Carole for sharing your story!
Tell us about yourself: Where do you live? What is your background?
I arrived in Princeton – New Jersey, four years ago with my family. When we decided to move, I was in charge of the Communications department in a French Chemical Company. I saw this move as a life opportunity to transform my passion for art and interior design into a new career. I had never dared to dream about it before. It was an amazing project! New life and New Challenges!
Tell us about your art and how do you get inspired for your new creations?
I like playing with textured strokes, nuances of color and brightness. Photography is another of my passion. The majority of my paintings are inspired by my photos, which give me a guide for colors, textures, and reliefs of my abstract painting. Oil paint naturally lends itself plasticity and superimposition. It's for this principal reason that I love working with this medium.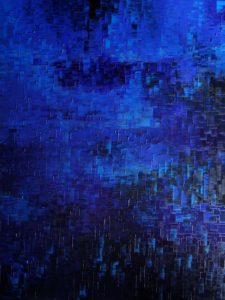 Can you describe your artistic process?
I combine the two medium of expression -photography and painting in my process, starting from photography and then transposing it to painting to create my series such as Dark sea or La Vie en Rose. I use all kind of tools like knives, spoons, brushes and whatever I have in my studio. I like integrating new materials like fabrics; metal…It's a toy building set!
Who are your favorite artists or influencers?
Even if I'm interested in many art movements, my favorite artist remains Pierre Soulages. Strength and refinement emerge from his paintings. I love it…Furthermore, I'm extremely passionate about interior design and I need to imagine my own paintings in an interior design. I consider that interior design is an art and therefore my paintings are part of the process.
What is the question you ask yourself the most?
Many questions happen when you're creating. The goal is precisely not to ask because it affects the freedom of expression and the naturalness of the gesture.
You have an eye for design and often work on specific commissions for your collectors. What is the process of these projects?
A specific commission is more than an order or an act of sale! At first, it's a meeting and a kind of sharing on lifestyle. At first, I need to access the first circle of intimacy to know what the collector likes or dislikes, how he will live with my works and what he expects of art… Next, I keep my artist freedom to suggest what I've imagined for him and which art correspondence is for his own interior design personality. This step defines the rest of the work…He can like the project or not.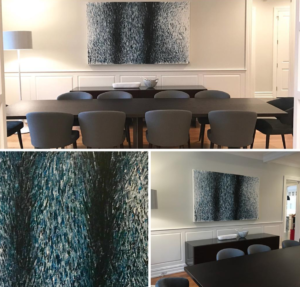 What are your projects for the coming months?
2017 has been a great year with many exhibitions in the United States (NYC, Houston, Raleigh, Washington, Miami), artistic encounters with galleries like Azart Gallery in New York, Artists Gallery in New Hope and Gallery of Music & Art in Las Vegas or artists like Capucine Safir and Valérie Carmet …
2018 began with a solo exhibition at Princeton University where I was invited for two months and SCOPE NYC with Azart Gallery. In May, I'm thrilled to exhibit "La vie en Rose series" at the Artists Gallery in New Hope, PA. On May 16th, I'll be at Gallery of Art & Music in Las Vegas for an Art Performance Day. The singer and guitarist Tiphanie Doucet will give me the swing of this art-action. Several other projects are discussed and I have to be patient…
Website: www.carolejury.com
Facebook:    @art.paintings.carole.jury
Tweeter: @carolejury2
Instagram: carole.jury