Art & Culture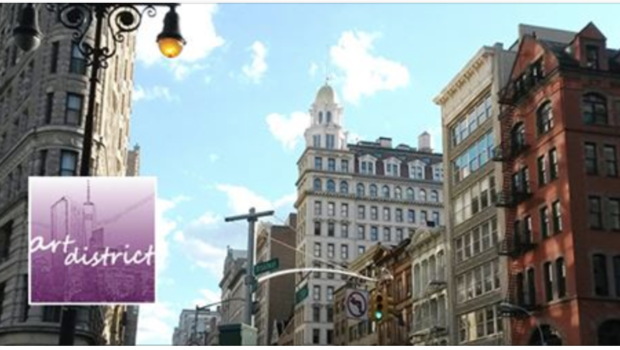 Published on July 5th, 2018 | by Laurence de Valmy
0
Art between the ears with Art District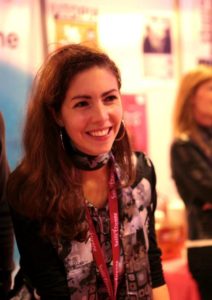 Art between the ears? This is the challenge of French journalist Julie Gabrielle Chaizemartin who created the Art District web radio in 2016. A successful bet, that meets its audience through a quality programming mixing art reports and Jazz / Soul music. The magic of the web radio is precisely that it can be heard anywhere either live or through the podcasts of the broadcasts according to the interests of each person. Julie and her team have many projects including short film, theater and jazz festivals as well as the digital TV Art District. We met Julie who told us about her career and her initiatives.
How did you come to create Art District? What was your goal?
I created the Art District web radio firstly because I'm in love with the radio since I started to work with the radio as a student. I have indeed hosted a cultural broadcast for 7 years on local radio IDFM Radio Enghien in the Val d'Oise. I learned everything there, the interview, the report and the editing. After several years in the world of cultural journalism, I wanted to create my own media that reflects my passions.
The idea was also to create an artistic sound atmosphere. Indeed, art and history of art in general are themes that are not treated much in radio, because of their visual appeal. Now, through sound, we can tell beautiful stories and embark the listener in a universe. That's what we do on the Art District by telling stories about the arts, theater, literature, film, history and archeology. And it works !
I want to add that the idea of ​​Art District Radio is a concept that did not exist in the French radio landscape, since we made the bet to bring together two worlds, art and jazz, for listening both "relaxing" and cultural. Thus, we sprinkle musical programming with a zest of culture to offer the listener an artistic and cultural content that punctuates his days. The aim is also to offer listeners a warm and intimate radio atmosphere thanks to jazz and soul music.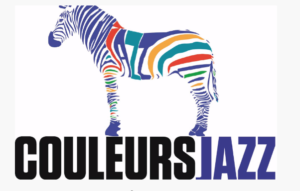 What are the means you use to make the radio known?
There is our website and social networks. We share a lot of our podcasts on twitter and Facebook in particular. We are also present on audio streaming platforms (Deezer, Radio.fr, Itunes, TuneIn, OrangeRadio …). And then we created partnerships with a jazz label in New York, thanks to which we released unpublished recordings of Louis Armstrong (which made us win more audience) and a Parisian jazz place for example. I travel a lot to museums and exhibitions to promote the radio.
We also organize events: a short film festival, which took place in Nogent-sur-Marne near Paris at the Royal Palace cinema on November 2nd. The room was full, it was a success! So we will be doing the 2nd edition next year in the same place, with also a theatrical evening on the theme of short theater. Finally, we are preparing a jazz festival that will take place on July 20-22, 2018 in Maintenon near Chartres. We have a very nice talent set, but I do not say more today. We will unveil the programming in the spring.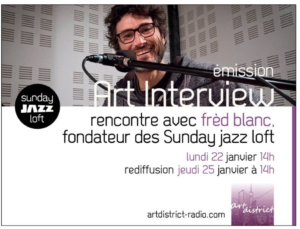 How was your team formed? Who are your collaborators?
The team was formed little by little. Initially, I was alone and I defined a schedule of programs. From there, I contacted journalist friends, art, culture and jazz lovers to animate the chronicles. We are 17 animators and columnists today and the majority has been with me for a year now. Fidelity and regularity is important because the listener is waiting for an appointment, a voice he knows, every week.
Do you have an anecdote to share?
There are many, of course. I can tell you, for example, that people often ask me how often we are on air and in what geographical area we broadcast … and as we are a web radio, we can be heard from any place! It's the magic of the web! I also like to say that for the first edition of our short film festival we received 1892 nominated films, which is really amazing! The prettiest anecdote is perhaps this one, the dedication of an auditor: "Art District has managed the tour de force to make me switch from FIP! Go ahead! ". Not a bad feedback …!
What would be the project of your dreams?
Well, I think I already realized it with this web radio!! But my dream now is to be able to go into reporting for longer periods of time to create sound series on themes that are close to my heart, including testimonials from people like you and me, because the radio is a fabulous media to create the archive sound and emotion.
And your future projects?
The goal is to make listeners even more loyal to our programming of course. We also started making live jazz concerts to record these unforgettable evenings. And right now, we are working on the development of our digital TV Art District TV, which also offers art & jazz content. And of course our two festivals in preparation, the jazz festival in July and the short film festival whose 2nd edition will take place in November 2018. 
jgc@artdistrict-radio.com