Interviews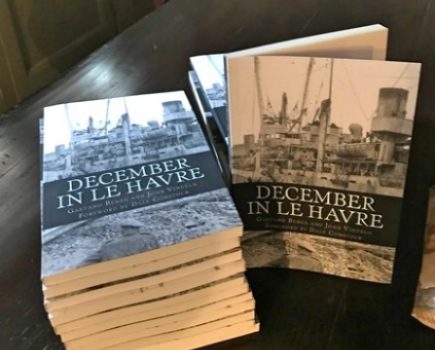 Published on July 7th, 2018 | by Isabelle Karamooz, Founder of FQM
0
December in Le Havre: Interview with American Author John Vinuela
What does it mean to be a writer?
Being a writer is about capturing emotions and the honesty of those emotions. People experience events, history, together, so there are many perspectives- it's impossible to true to all perspectives. The best a writer can do is to be emotionally honest to himself. The only thing that is under  our direct observation is our private emotions. It's a writer's job to answer to those emotions.
Some of our readers will soon discover your book and do not know much about "December In Le Havre: A Story Based On True Events From The Life of Gaetano Benza." Are you able to tell us a bit about it?
The story is biographical fiction, largely true, about an Italian American teen drafted into the army during the Second World War. He is traumatized by the experience of combat, but settles in Le Havre where he spends the remainder of the war. His commanding officer sees himself as a teacher of sorts, attempting to shape Gaetano by arranging opportunities, such as driving a priest to the frontline. He, also orders Gaetano to supervise German prisoners who end up cooks in the American kitchen. In fact, he befriends one of the German soldier who is taken by him; moreover, life gets complicated when he falls in love with a French girl. His love interest causes an internal conflict which never resolves. Though Gaetano was the obvious priority I had to respect history. I had to respect France. The history of Le Havre had already been recorded by French writers.  I didn't want to write anything which crossed into their efforts. The memoir is a group of sketches, fuzzy memories in chronological order, led by emotions. It's not a "perfect" book. But it's not meant to be. It's important to note that December In Le Havre is told in the first person by the German prisoner whom Gaetano befriended. I used pieces of fiction at times, because some truths simply belong to the war and Gaetano alone.
…But, who is Gaetano Benza in a few words?
Gaetano was a passionate red blooded Italian American from Brooklyn who was in love with life! He was family. If you knew him, you loved him, and he loved you. He loved to cook, sing… serve people. He always gave of himself.
Talk to us a bit about your writing habits. Do you write early in the morning, or through the night? Pen or laptop?
Like many writers, I'm certain, there is always a running narrative a story in my head. I work all week, so the actual process takes place during the weekend. I'll write or edit all day Saturday and Sunday, with breaks here and there. If an idea strikes me during the work week, I grab my phone and use it as a notepad. If I can't get to my phone, then pen and paper it is.
What inspires you to write?
People inspire me. At the front of that line is my wife and my children. After people I am inspired by the process of writing itself- where it takes me, leads me at times.
Which novelists do you admire?
I admire a few: John Steinbeck, Robinson Jeffers, and Tim O'Brien are writers who I hold in the highest regard.
What historical figure do you admire?
There are two: I'm always caught by Winston Churchill and Malcolm X
Are you an author that interacts a great deal with your readers?
I do like to interact with  readers. I enjoy a good literary discussion.
What else do you do connected with your books?
I play guitar and piano. I write music and I'm constantly looking for honest expression in musical construction;  the same as in writing.