Gastronomy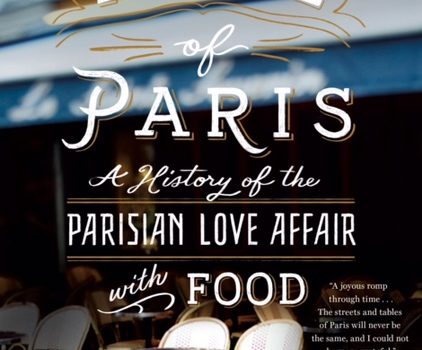 Published on July 10th, 2018 | by Isabelle Karamooz, Founder of FQM
2
A Taste of Paris: Interview with American Author David Downie
I am delighted to introduce you to American author David Downie, a native San Franciscan who moved to Paris in the mid-1980s. His feature articles have appeared in numerous magazines and newspapers worldwide and Downie is keen to share Paris with his readers. He has written several non-fiction books about Paris, among them « Paris, Paris: Journey into the City of Light »; « Paris to the Pyrenees; and A Passion for Paris: Romance and Romanticism in the City of Light » and his latest book being: « A Taste of Paris: A History of the Parisian Love Affair with Food, » a delectable culinary history of the gastronomic capital of the world.
French Quarter Magazine: Why did you come to Paris?
David Downie: For too many reasons to list. Among them, a desire to live in a handsome, historic city where the quality of life was high, where I had friends who were interested in things other than making money and social climbing, a place where I could reinvent myself and live cheaply while writing. I did not need a car, I could sign up for health insurance and retirement, and I had a sense that social democracy was alive and well. The madness of the reactionary Reagan era was far away. I joined the French system—social security, taxes, retirement, health—immediately and it was one of the best things I have ever done. Of course I also loved the food and wine !
French Quarter Magazine: What do you love most about Paris now that it's your home?
David Downie: Mostly, the same things I loved 30 or 40 years ago. It's all right to live in the margins, to dedicate yourself to art or literature and not earn a lot of money, to be yourself, to be open and critical and not to have to pretend all the time that everything is great and beautiful and wonderful and positive—the institutionalized optimism and inability to deal with moods of so many Americans is extraordinarily phony and tedious.
French Quarter Magazine: When you first arrived in Paris, what impressed you most?
David Downie: The sense of history, the respect for culture, and the good living. Also, the freedom from religion. In America we have « freedom of religion » whereas in France we have freedom FROM religion. What a relief ! Also « intellectual » was not a dirty word, whereas in the America of the Reagan era the mantra was « greed is good. » That has returned with the lamentable era of the current US president. I will refrain from further comment.
French Quarter Magazine: What made you decide to write « A Taste of Paris? »
David Downie: I am a professional writer, that's what I do for a living. This is my 14th published book. The material and the inspiration come from way back, from my early wanderings in Paris in the 1970s and '80s. I have long thought of the city in terms of a « gastronomic topography » that coincides to a large extent with the history of the city and its outward expansion in a spiraling or snail-shell shape. The history is very rich and to me infinitely fascinating. So after many decades of writing about Paris, history and food I decided to bring the threads together and spin a yarn, so to speak, about the centuries-old Parisian love affair with food and wine. It's a celebration, a memoir, an urban adventure.
French Quarter Magazine: What is one of the most interesting things you learned in doing research for your book « A Taste of Paris? »
David Downie: Just how much of French gastronomy from the very beginning came from or was heavily inspired by Italy. It is amazing. Even some of the favorite iconic foods and dishes eaten today by the French are actually ancient Roman or Italian in origin. I have a feeling my French readers will not be pleased by this revelation !
French Quarter Magazine: What's the role of a food critic today when everyone's a critic (ie Trip Advisor, Yelp)?
David Downie: Well, I suppose you could ask what's the role of journalism in general, or political science, or photography, when everyone is an armchair expert on politics, a photographer and journalist. The world desperately needs real bona fide expertise. Would you go to a Trip Advisor or Yelp self-styled guru if you were sick, or would you go to a doctor or surgeon with a degree and expertise ? The political mess in America today is the result of amateurism : voters preferred an « outsider » to a professional politician. And look at the results ! Like most serious journalists and reviewers I spent years training and going through the old-paradigm system of vetting before I could publish articles or books. Now anyone can do anything they want, immediately, and the result is a proliferation of useless verbiage and garbage. Bring back the professionals, please ! Critics need to know how to write and also how to eat, how to interview, how to check sources, ask difficult questions, go behind the scenes, and so forth. I can't tell you how many improvised critics praise absolutely uneatable food. It is shocking.
French Quarter Magazine: To someone who has no idea what French cuisine is, how would you define it?
David Downie: That is a fascinating but impossible question to answer, I would need an entire book to do that. Put it this way, French cuisine is the result of centuries, of millennia of cross-pollination, of trial and error, of the melding of peasant, bourgeois and aristocratic cooking traditions. It is a very complex set of interlocking cuisines, plural, that reflect the regions and socio-economic strata of the country over time. It also happens to be one of the great cuisines of the world—one of them, not THE great cuisine. But it does offer dozens of wonderful classics, and it has a lively (if sometimes outlandish) experimental side that keeps foodistas and fashionistas watering or foaming at the mouth.
French Quarter Magazine: Are Paris restaurants better or worse than when you arrived?
David Downie: Neither better nor worse, there are some that are wonderful, and there always were wonderful places, and there are many – for tourists or the pretentious fashion-set – that are remarkably awful. I would say that the low point was probably 25 years ago and that the quality of ingredients has improved a lot in recent years. Also, there are a lot of dedicated younger cooks who are tired of the usual industrial run-of-the-mill style of sourcing food and cooking. So, all in all, I think one eats just as well and possibly better now than 40 years ago. It's important to think beyond the standard restaurant scene. The food scene is also about bread and pastries and produce and markets and so forth. That scene is very vibrant.
French Quarter Magazine: What Is your favorite neighborhood In Paris? Your favorite local restaurant?
David Downie: I'm not sure I have a favorite neighborhood, I think I have favorite areas within certain neighborhoods. Most of them are in the historic center of town, admittedly, and I do have a soft spot for the Marais, where I have lived for over 30 years.
As to my favorite local restaurant, if I tell you then I won't be able to get a table there anymore ! My advice is to read my book—you'll discover the places I like and also the ones I avoid. To be honest with you, I will say that I prefer traditional places, bistros and brasseries and cafes. I have eaten in many, many upscale starred properties and I am afraid that style of dining really no longer thrills me, though I recognize the talent and skill of its practitioners and wish them well !
This article was translated in French by Anne-Cécile Baer Porter.