Interviews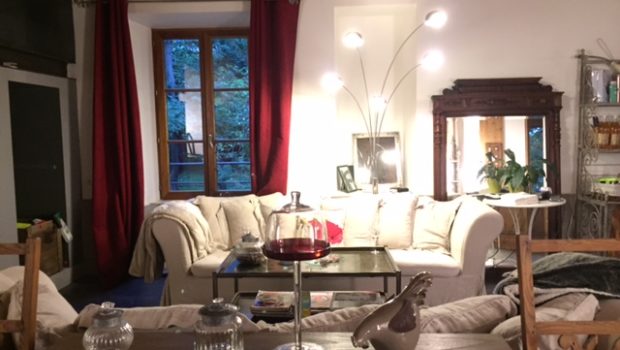 Published on July 23rd, 2018 | by Isabelle Karamooz, Founder of FQM
0
Interview with Florence Bonthoux, director and pastry chef at "Les Délices de Lavoûte"
After her college studies, and working odd jobs without truly finding her own path, Florence Bonthoux, at the age of forty, makes it a point to find out what she really likes. Circumstances led her to the pâtisserie. It was her calling. She found adult training in 2011 – 2012. Then she began working in restaurants to make pastries because working in a bakery didn't really suit her. At the same time, her friend Frédérique, who had been thinking for some time about opening a B&B, suggested that they join forces: this was obvious. After discovering the ideal home, the idea sprang up: it would be a bed and breakfast and a tearoom. Unfortunately circumstances and location had made it impossible to open a tearoom. That was of little importance to them, they decided to open a pastry workshop in conjunction with the B&B. Today, Florence works on individual pastry orders and organizes all kinds of events. She had been searching for happiness for years and has today found it in the art of pastries.
French Quarter Magazine: How about a few words on your B&B? Describe your maison to us. How many rooms do you have?
Florence Bonthoux: Our maison is an ancient windmill. So we already had a very beautiful building to begin with. We remodeled and were able to make three bedrooms that can welcome up to eight people. There are two double rooms and a bigger one that can welcome two, three, or four people. We also offer guest tables, which means that the people who stay here can also have their evening meal in bed.

French Quarter Magazine: What are your amenities, when it comes to welcoming guests, activities, meals, proposed products, ecology, nature? A little bit of all of this…
Florence Bonthoux: A little bit of all this, yes! I think our biggest amenity is to be caring and considerate. I can tell that's what our guests appreciate. We are all the same, we all like to be spoiled.
We are curious and happy to share a little piece of life with them while they spend their time here.
French Quarter Magazine: Can you tell us about a few of the place around the B&B? Tell us about things to do and places to visit.

Florence Bonthoux: Auvergne has a very rich historical, natural and gastronomic heritage. The closest is the castle of Lavoûte-Polignac, a thousand-year old castle where the Lavoûte-Polignac family lived for centuries. You can visit it, right around the entrance of the village, next to our place. In this area, you will also find the Lavoûte-Polignac fortress, which also belonged to the Lavoûte-Polignac family, as well as several castles which were the first castles of the Loire. The most ancient ones, are farther upstream on the Loire river.
Among other things to do, there are a number of outdoor activities to do as well. The road that leads to Saint Jacques of Compostelle: A very well-known pilgrimage in France and abroad. There's canoeing in the Loire River, and lots of hiking trails. There is the town of Le Puy-en-Velay, which contains buildings that are architectural gems. As far as gastronomy goes in Auvergne, we mainly have cheeses and charcuterie, which alone are worth the trip.
French Quarter Magazine: Can you tell us about an experience or an incident that happened in your B&B?
Florence Bonthoux: About the B&B, something happened not too long ago. Last year, we welcomed a German family who spent three days here. They were delighted, so they decided to come back the following year. Among our guests, there was a young woman, who was also German. They met and they talked. When they came back the following year the woman was also here. They met again without having planned it. It was unexpected to see them together again at the same table a year later. I find it wonderful when people meet again without predicting it or planning it. That was a beautiful coincidence.
French Quarter Magazine: What types of people do you invite to your B&B? We can see there are Europeans.
Florence Bonthoux: We welcome many foreigners. This year we have had people from all over the world. We've had Japanese guests, lots of people from Northern Europe, England, Denmark, Belgium, Germany, but also Italians and Spaniards. We also welcome people from Latin America, Argentina, lots of people from Australia and New-Zealand. We also have French people from larger cities like Lyon, Saint-Etienne, etc. They come to spend a weekend in the countryside. They have a short commute, spend the weekend and go home.
French Quarter Magazine: Have you noticed any specific expectations from your guests?
Florence Bonthoux: No, no crazy whims or anything like there can be in Las Vegas, as I imagine it, those people who have extravagant requests. We have a touristic clientele, particularly what is called green tourism. Those types of tourists like to stay close to nature, and appreciate simple things, not extravagant things. I think that if we had opened a B&B in Saint Tropez, Nice or Cannes, maybe we would have eccentric things, but we have simple people.
French Quarter Magazine: What is the average length of stay for your guests?
Florence Bonthoux: Rather short on average, I would say two nights. Many guests only stay for one night. During vacation season, we have guests that stay for four, five, six, seven or even eight nights.
French Quarter Magazine: When are you open during the year?
Florence Bonthoux: We are opened all year long because I have the pastry side, and I work 365 days a year. December will mark our second year of full activity. We are now able to determine that our slowest period of time for both the pâtisserie and for the B&B is still the winter season, namely February and March.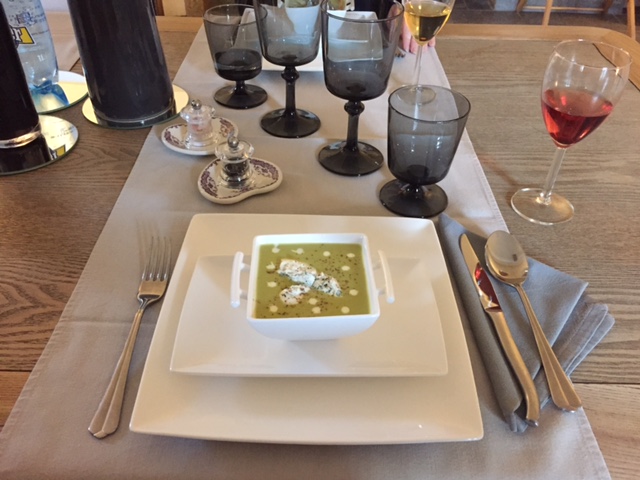 Photo by Isabelle Karamooz.
French Quarter Magazine: Do you offer pastry workshops to your guests?
Florence Bonthoux: Yes. They are offered to the guests as part of their stay here. Usually we arrange plans with the people who are interested in the pastry classes ahead of time, while they are planning their trip. We find a day that will work for them where I am also available. Usually the classes are held  in the afternoon. This allows the people who have arrived earlier in the day to settle in a little bit, then we start doing pastries. Often we prepare the dessert that will accompany that evening's meal. It's great, especially when children are involved. The children who take part in the pastry class are very proud when they arrive at the table for dinner and they can say that they made the dessert. That's great to see.
French Quarter Magazine: What are your favorite pastries?
Florence Bonthoux: Pavlova is my specialty, a cake made with meringue, chantilly cream and fresh fruits. That's what I do the most because it is a cake that is seldomly found in the pastry shops. I'm the only one who makes them in our region, so people come from quite a distance to pick up a Pavlova.
French Quarter Magazine: Is it your favorite?
Florence Bonthoux: Yes. My second favorite is a cake I discovered not too long ago. It is called the Megève. It's a chocolate cake that's also made with a meringue and it has chocolate ganache. It's very simple, it's way less flamboyant than the Pavlova, which is radiant and very colorful, but it's also quite delicious.
French Quarter Magazine: How did the Megève get it's name, and what is it exactly?
Florence Bonthoux: Megève is a town in the Upper Savoie region, It's a ski resort town. I don't know how the cake got it's name, but it suits it very well.
French Quarter Magazine: Do you have a Facebook page?
Florence Bonthoux: Yes, https://www.facebook.com/lesdelicesdelavoute/
 http://www.lesdelicesdelavoute.com/
French Quarter Magazine: Can you book a room online?
Florence Bonthoux: In order to book a room online, you can go directly on our website, but you can send us an email or call us.
This article was translated in English by John Wilmot.